Discovering Holland
The Netherlands Explained
| | |
| --- | --- |
| Dates + location | 5 - 11 July 2020, Groningen, the Netherlands |
| Level | BA/MA/PhD/Postdoc/Practitioners |
| Coordinator | Prof. Dr. J.S.A.M. van Koningsbrugge |
| Fee excl. housing | € 450 |
| Contact | summerschool nrce.nl |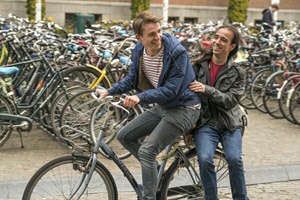 Seen from outside, the Netherlands seems like a country that has its things in order: neat streets guide you through our cities, straight canals transport our water and orderly politicians take care of our affairs. There is, however, more to this country than meets the eye. Dutch society and its politics are complex and hard to figure for those who come from countries that are structured differently. How come the Dutch have a good working country while there – ostensibly – is not one strong political player? How do all the Dutch political parties reach their agreements? What is the secret to the innovative Dutch economy? And how has Dutch culture become so influential over the world?
In this summer school, students will get to know the Netherlands better and gain insights in the working of this, as it is often perceived, well organized country. Through lectures and subsequent discussions students will be introduced to the main developments in Dutch Politics, Economics, History, and Culture. Participants will learn that the standard image of a neatly organizes country might be true on the surface, but that, in reality, there is more complexity than one might expect.
Participants will be taught by a group of excellent historians and other specialists who are used to bridging cultural gaps between the Netherlands and other countries. During the interactive lectures, your own contributions will be highly valued and you are encouraged to bring your own perspectives on the Netherlands into the discussions.
The course serves as an introduction to the Netherlands and no previous knowledge of the country, its history or language is needed. In the end participants will better understand how the Netherlands, shaped by a struggle against water and a culture of consensus, has become the country it is today. Many of the stereotypes about the country indeed have a core of truth, but the reality is far more complex than one might expect at first.
Lecturers
Prof. Dr. J.S.A.M. van Koningsbrugge, RUG
N.A. Kraft van Ermel, MA RUG
Dr. T. de Graaf, Fryske Academie
Dr. W Groenendijk, Gasunion
Dr. A. van der Staay, Ministry of Internal Affairs
Prof. Dr. M. Pushkova, RGGU Moscow
| | |
| --- | --- |
| Last modified: | 13 November 2019 11.59 a.m. |