Summer Schools and Why You Should Enrol
| | |
| --- | --- |
| Date: | 29 May 2021 |
| Author: | Avital |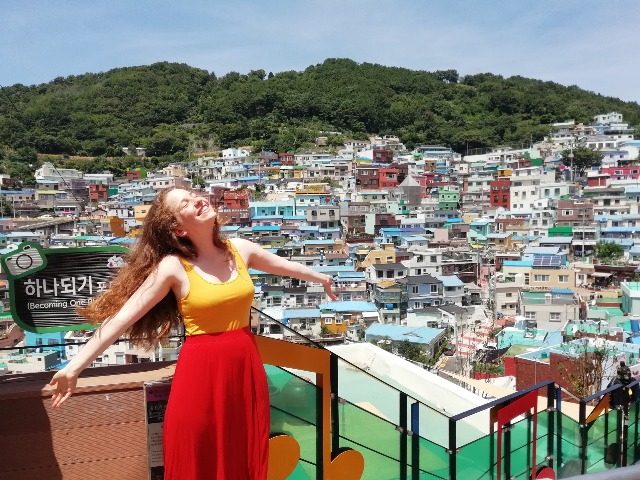 Classes during the summer? Before you say that I'm crazy for even suggesting it, you definitely should consider the many interesting summer schools the UG is offering this summer. Whether you'd like to learn a new language or branch out and learn something new outside of your own field of studies, participating in a summer school is a great opportunity to gain some new skills and meet new people with similar interests.
Personally, my absolute favourite summer school was in 2018, when I got a scholarship from the UG's Centre of East Asian Studies to spend 3 weeks at our partner university Pusan National University in Busan, South Korea. During that time, I learned everything about Korean culture and history, the Korean language and went on fun excursions. How did I get this opportunity? One day as I was mindlessly scrolling through Nestor while in the University Library (I may have been procrastinating a bit), I came across a call for applicants on the 'nice to know' section. I didn't have any summer plans yet, so in a very spontaneous moment, I simply applied. Two weeks later, I got an email telling me that I would be spending part of my summer on the other side of the world.
Ever since then, I'm always on the lookout for fun opportunities like this. This year, (also thanks to a message on our student portal) I will be participating in a Summer School on Brazilian Studies organised by our partner university UFMG in Brazil. Due to the ongoing pandemic, it will take place online, but it will still allow me to get to know a country and culture I don't know much about yet.
Have I managed to convince you to consider summer schools? Curious which ones are out there? Then keep reading to find a summer school programme that may suit your interests!
Want to learn a new language?
Do you always tell yourself that you really need to learn a new language? Do you already speak a few languages but are they just not enough? Trust me, I know the feeling. That's why the UG's Language Centre is offering intensive summer courses this summer! In just 2-3 weeks, you'll improve your language skills or learn the beginnings of a new language, together with a group of fellow students. You can learn Spanish, Arabic, Japanese and several other languages. The courses take place online and the focus is on speaking rather than just grammar, ensuring that you'll be able to communicate in the new language in no-time. Curious to know more about the structure of these courses and meet the teachers before signing up? The Language Centre is offering free webinars on 1 and 2 June to give you a taster. You can sign up for these webinars online. And hey, maybe we'll meet each other in one of these courses, as I'm also considering which language to pick up next!
Interested in Medical Sciences?
Are you studying at our Faculty of Medical Sciences and would you like to use your time wisely this summer? Are you not a current UG student but would you like to learn from our talented academics? The UG is offering several Medical Sciences summer schools this summer, which will take place online which means that you can join from wherever you are in the world. From the implementation of Data Science and AI in Health to Transplantation Medicine, there is a wide range of topics that will be covered this summer. Want to see the entire overview? Check out this page!
Do you like literature?
Do you love reading and would you like to broaden your horizons? The summer school on Migrant and Minority Literature might be an interesting one for you! This summer school will examine the function and meaning of cultural transfer of new narratives written by minorities and migrants. You will study their works as important tools in building sustainable societies. The concept of cultural transfer as well as the various definitions of 'minorities' and 'migrants' will be discussed and examined in their historical and political contexts, giving you a better understanding of these topics.
Ready to work in an international environment?
Nowadays, most teams - whether during your studies or work - consist of people from various backgrounds. What's completely normal in one culture, might be inappropriate in another. That's why it's really important to be aware of cultural differences and know how to approach people in a respectful way. Intercultural competence is considered one of the top 10 work skills needed for the workforce of the future. It entails recognizing cultural differences, understanding how these differences influence interaction and maximising that knowledge in order to minimise misunderstanding. The summer school on Intercultural Competence could be interesting for you if you'd like to develop an understanding of these dynamics and gain skills that will be essential in many different environments. Are you interested? Send in your application as soon as possible, as the application deadline is already on 1 June!
These are just a few of the options available to you. There are many more summer schools, from Science and Engineering to Sustainable Development, and from Corporate Governance to Philosophy. The complete overview of summer schools can be found here.
Are you looking for a programme outside of the UG? Then I suggest browsing through this overview of summer schools in Europe. Some of them are online, others are on-site in some of the other student cities in the Netherlands and many European countries. You can easily filter based on your field of interest, dates and price to find a programme that fits what you're looking for.
So, did you not have any plans for this summer yet? Hopefully, you've just found some!
Are you already enrolled in a summer school? Let us know which one in the comments.
About the author
Avital
Hoi hoi! My name is Avital, Israeli by nature, Dutch by nurture and always on the lookout for cute cats! My life motto is "when in doubt, dance it out"! When I'm not dancing around my room, I'm most likely learning yet another language or working on my Linguistics degree.
Comments