Fun things to do during the break (pandemic edition)
| | |
| --- | --- |
| Datum: | 21 december 2020 |
| Auteur: | Avital |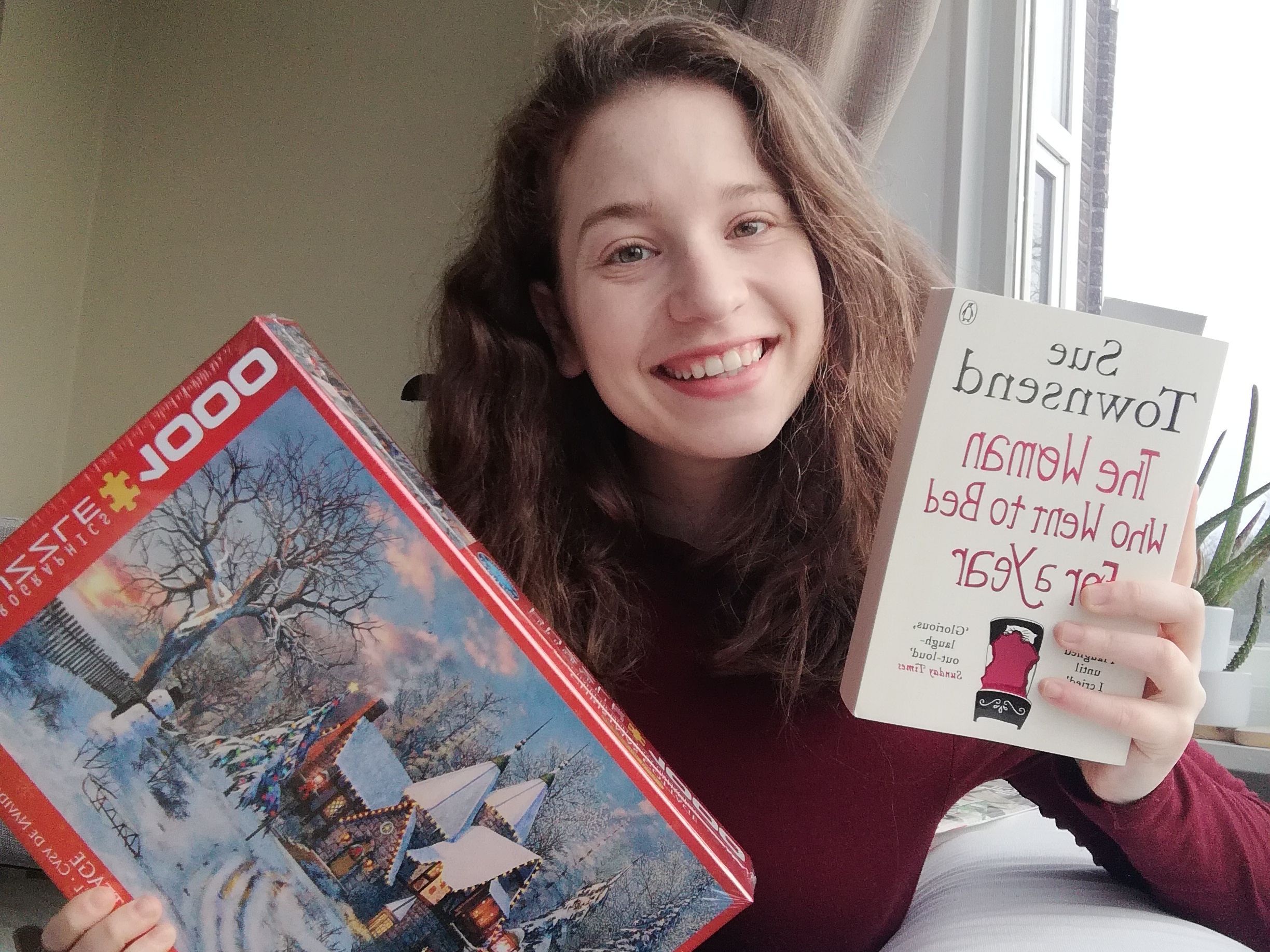 Being in lockdown isn't ideal, I know. That's why I'm bringing you a bunch of fun things you can still do to enjoy your winter break! All of these activities are things you can do on your own, with your flatmates, or even digitally with friends who live far away. I hope that these ideas cheer you up and show you that there's so much you can still do, even in the current circumstances!
Digital game nights:
If 2020 has taught us anything, it's that there's so much you can do online! Whether it's watching a movie together with someone in another country through Netflix Party or having fun game nights with friends while remaining socially distant - the possibilities are endless!
There's a good chance that since this whole pandemic started back in March, you have participated in an online pub quiz or two. Why not create a homemade trivia quiz yourself? You can invite your friends and family (who perhaps have never even met before) for a fun night of meeting new people and good laughs. Decide on a theme, do some research for your questions and make sure to tell everyone to dress up (if your theme is Disney, they can be different characters, for example). Then, afterwards, you can send a little prize (chocolate) to the winner of the quiz and the person with the best costume. Not only will creating the quiz keep you busy for a little while, you'll also bring a smile to your friends and family's faces. And if it's a success, perhaps one of your friends can host the next one!
Puzzles, puzzles and more puzzles!
Grandma Avi is here to tell you that puzzles are in fact fun! I'm talking about jigsaw puzzles here. Personally, I like them to be as difficult as can be, so I know for sure that they will keep me busy for at least a few days. As a self-proclaimed pro puzzler, I own about 11 puzzles ranging from 750 to 2500 pieces. My favourite puzzles are the ones with either a lot of one colour or ones with a lot of similar characters. You can do your puzzles on a table (better for your posture, said grandma) or on the floor (my controversial method of puzzling). I suggest making sure you have enough light, putting on a cosy playlist, getting yourself a cup of hot chocolate (with whipped cream and marshmallows, because, well, why not?!) and you're ready for festive puzzle success! Are you living with flatmates who are also staying home this year? Invite them to your cosy puzzle sessions!
Tackling the pile of unread books in your room:
If you're anything like me, you love reading and you LOVE buying too many books. With uni and my 2 student jobs, this means that a large pile of unread books is staring at me at all times, just patiently waiting to be read. The break is the perfect time to finally read them! You bought them for a reason, and it probably wasn't for them to collect dust on a shelf. Books will allow you to travel to different places and forget about this weird pandemic for a bit. Plus, reading is just another activity you can do in your PJs and still seem intellectual!
Find (foreign) series to binge on Netflix:
Netflix is probably my most prized possession during any break from uni. My favourite thing is to find good (and preferably long) series to binge watch. Sometimes I just rewatch series I love and skip to my favourite parts, but I also like trying new (foreign) series. It feels a bit redundant to recommend The Crown and The Queen's Gambit here, but just in case you haven't watched these yet - you should! They are really well-made and super interesting!
A great series that I love rewatching is Orphan Black, where the main actress (Tatiana Maslany) plays around 12 characters. It's just a masterclass in acting and it's fantastic!
Some foreign series I love include Fauda (action-packed, made in Israel, an awesome mix of Hebrew and Arabic!), La Casa de Papel (exciting story, crazy characters and a whole lot of Spanish) and Il Processo, an Italian series I just started watching recently.
Are you looking for a very light-hearted series? I highly recommend Gilmore Girls! It's sweet, relatable, has so many pop culture references and is just really funny. It also has 7 seasons and a 6-hour long reunion special, so it'll definitely keep you entertained for a while.
Have you done all of these things and are you still looking for more? You can always cook new dishes, go outside to Groningen's most Instagrammable spots or check out this blog for more tips!
Do you have some fun lockdown-friendly ideas for us and your fellow students? Let us know!
Over de auteur
Avital
Hoi hoi! My name is Avital, Israeli by nature, Dutch by nurture and always on the lookout for cute cats! My life motto is "when in doubt, dance it out"! When I'm not dancing around my room, I'm most likely learning yet another language or working on my Linguistics degree.