The Best Autumn and Winter Recipes
| | |
| --- | --- |
| Datum: | 07 december 2020 |
| Auteur: | Avital |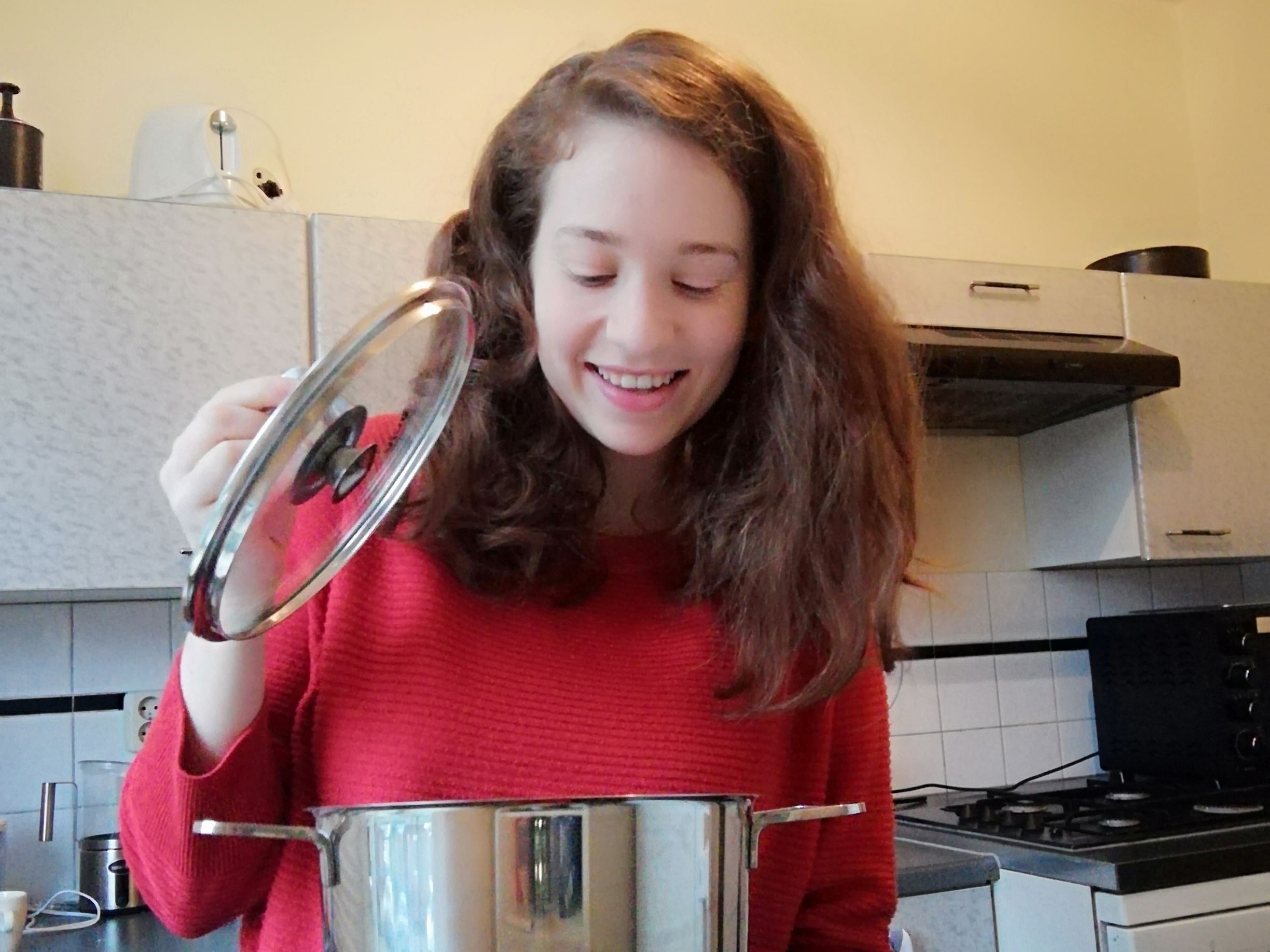 The best thing about autumn and winter, aside from the lights and the huge amounts of chocolate, are the warming comfort foods to cook. In my student house, we eat together at least once a week and have a few dishes we love making again and again. In this blog, I am sharing some of our favourite recipes, in order to hopefully give you some cooking inspiration. Of course, all of these dishes are budget-friendly and easy to make for multiple people.
Stamppot with a twist:
You might be familiar with the classic Dutch stamppot, but just in case you aren't, the idea is simple: mashed potatoes are mixed with a winter vegetable. There is stamppot with kale (boerenkool), sauerkraut (zuurkool), carrots with onions (hutspot) and red cabbage with apples (rode kool). Traditionally, a 'rookworst' (sausage) is eaten with the stamppot, and gravy is poured over both. In my house, we have a stamppot with a twist. To the mashed potatoes, we add endive, sun-dried tomatoes, mushrooms, red onion, peppers and grated cheese. First you stir-fry the vegetables separately while you boil the potatoes, and once you have mashed them, just add all of the vegetables to the pan. This is really easy to make, very tasty and the leftovers make for a perfect lunch the next day.
Stuffed peppers:
Stuffed peppers are cheap, easy and look great on your plate. We start by cooking rice, and stir-frying some vegetables (peppers, courgette and corn). Once the rice is cooked, we mix it with the veggies. You then need to cut the peppers that you'll be stuffing. We usually cut off the crown and stuff the entire pepper. That way, it can remain upright in the pan or oven dish. You can also cut the pepper in half for smaller portions. Once you have filled the pepper with the rice mix, sprinkle some grated cheese and Italian seasoning on top.
You can either put the peppers in the oven (approximately 15-20 minutes at 200 degrees Celsius) in an oiled oven dish or cook them in a pan in a bit of water and tomato paste, for a softer end result.
If you'd like an even more elaborate version of this, I suggest trying this recipe - it's delicious!
Tip from the chef: keep the pepper's crown and put it back on the pepper before you put everything in the oven (or pan). It makes for a really cute presentation of your dish.
Risotto, in every possible version:
Risotto is an Italian rice dish which is a staple in most student houses. The great thing about risotto is that it's filling, warm and just an allround comfort food. This is a simple basic risotto recipe, which you can customise by adding whatever vegetables you like.
When cooking for four, my flatmates and I add approximately 200 grams of chestnut mushrooms and the same amount of shii-take. These are much cheaper at the market on the Vismarkt than they are at the supermarket. We then top it off with some fresh arugula.
Tip from the chef: are you vegan or cooking for your vegan friends? No problem! Just switch out the butter and parmesan cheese for vegan alternatives (which you will find in most supermarkets!).
Tiramisu in a glass:
There's nothing quite as festive and cosy as a good dessert that is presented perfectly at the end of a dinner. That's why I'm bringing you my favourite homemade speculaas tiramisu. For this, you'll need to crush enough speculaas cookies to cover the bottom of the glass. Then, pour espresso on it - enough to make the cookie crumbs soggy. Beat one tub of mascarpone (add vanilla extract for extra sweetness) and add this on top of the soggy cookie crumbs. Now, add another layer of crushed speculaas cookies. To top it off, add some chocolate shavings. We keep it really simple, all you need is a bar of chocolate and a potato peeler - two things I'm sure you have at home!
Tip from the chef: the tiramisu will look even more festive if you serve it in either a wine glass or a gin-tonic glass. You can prepare the tiramisu directly in the glass and put it in the fridge. Just make sure to not leave it in the fridge for too long.
Looking for more inspiration?
If you'd like some more inspiration on what to cook, I suggest taking a look at Asmo's blog about winter recipes.
You can also find a lot of recipes on Pinterest. Just add the ingredients as your search terms, and there you are - endless recipes for you to try. BBC Good Food and All Recipes are my other favourite sites to find new ideas. The great thing about finding recipes online is that you can easily narrow down your search, for example if you have particular dietary requirements or are cooking for a larger group of people.
Not sure whether you understood the recipe? On YouTube, you will find many cooking videos ranging from simple and quick meals to fancy multiple-course dinners. I find it helpful to watch someone go through all of the steps on video, so I can see exactly what I'm supposed to do.
Do you have a particular dish you love to cook during autumn or winter? Share it with us below so we can try it too!
Over de auteur
Avital
Hoi hoi! My name is Avital, Israeli by nature, Dutch by nurture and always on the lookout for cute cats! My life motto is "when in doubt, dance it out"! When I'm not dancing around my room, I'm most likely learning yet another language or working on my Linguistics degree.