5 Most Instagrammable Spots in Groningen
| | |
| --- | --- |
| Datum: | 27 november 2020 |
| Auteur: | Ariana |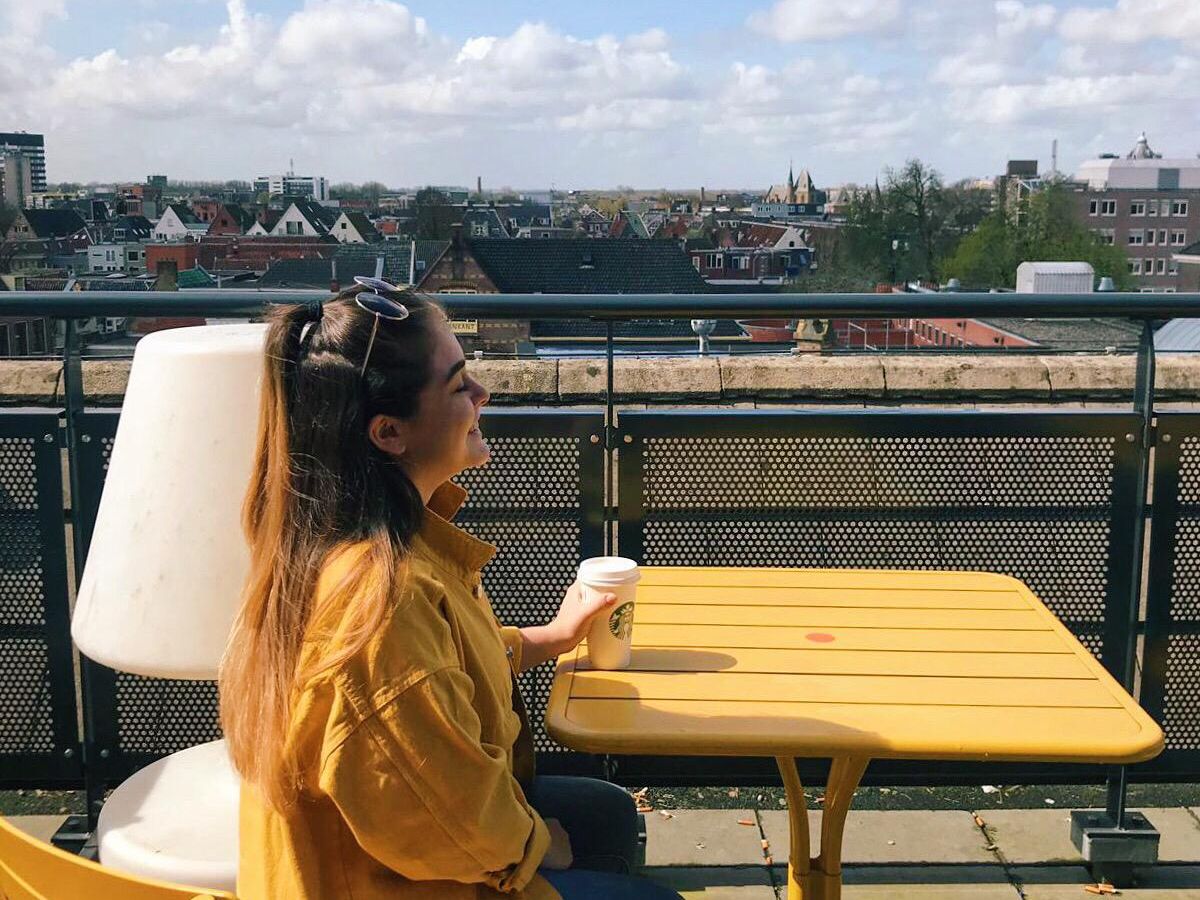 Living in Groningen has lots of perks... and being full of photo-friendly streets and cute corners is one of them! There are pictures of the city that you just need to have - whether you're new, or have been here for ages. It's never too late to get out and go take those Insta-worthy shots, so here are 5 of my most Instagrammable spots in Groningen:
1. Het Hoge der A
Let me start off with an easy one, simply because it is my favorite spot in the city. These two gorgeous streets are lined with some of the city's most beautiful old houses, with little boats running up and down the canal in the middle.This is a great photo backdrop for every season, especially around sunsets and winter nights when you will get the best photos with amazing light. Also, this is a really popular spot, as can be seen on the University's official Instagram profile. Personally, I'd say this location is cute and cozy… or as the Dutch say, gezellig.
2. The City Center: Grote Markt and Martinitower
You haven't really lived in Groningen until you've uploaded lots of pictures of the landmarks. In case you haven't done this yet, the Grote Markt is the best spot to snap some typical Groningen pics and l you need is to do is stand in the very middle. Point your camera to one side - and you get the Martinitower. Turn around and point it to the other side and you get the famous Drie Gezusters! Some might say that the square itself is quite boring, but its surroundings - not at all.

3. University: Academy Building and UB
Speaking of the typical pictures every student should have... the Academy building is another one to tick off your list. This building is one of my personal favorites for two reasons: It's absolutely gorgeous to look at, and,it also makes me feel like I study at Hogwarts (a.k.a my childhood dream). You will take the prettiest pictures during the afternoon and right before sunset.
Right in front of the Academy, you'll find the University Library (aka the UB), the place where students spend most of their days during the final weeks of the blocks. It's not the most attractive place to take pictures of, but it's definitely on the 'most-photographed-list' because almost everyone who goes to the UB uploads a story (to show off how hardworking they are). If you're looking for the best photo spot in the UB, head over to the 4th floor terrace around sunset, where you'll get great views of the Groningen sky!
4. Zernike
Zernike has pretty sweet spots to hit if you're looking for some aesthetic pics. First, there's the food court, full of cozy spots to chill with your friends, beautiful hanging plants, chandeliers, and lots of natural light. If you're there, make sure you upload a story to let everyone know you're having a better day than they are. Once you're done, swing to the second best spot: the small garden behind the Duisenberg building which I discovered on a walk around campus. It's full of trees and has beautiful swings which makes it the perfect location for a fun pic and as a bonus, it's usually pretty empty, so no need to worry about people messing up the background.

5. Noorderplantsoen

Finally, the last spot - adored by the whole population of Groningen. In my opinion, the Noorderplantsoen is basic - everyone goes there, and takes the exact same photos. That said, it's always a fail-proof picture location all year-round. No matter the season or time of the day, the Noorderplantsoen always serves up pretty views (even in winter!) which will be perfect additions to your Insta feed. The best pics, however, are during the summer festivals and autumn.

Next time you're out in the city, make sure to take out your phone and snap some pics of these beautiful locations and tag us with #universityofgroningen and #thecityisourcampus to share your experience and let us know about your favorite spots. The beauty of Groningen is that almost everywhere you look, you'll find cute views that are perfect for a picture, so don't be afraid to walk around and get creative!

Did you take some amazing pictures of the city? Send us your best insta pics to socialmedia rug.nl, and you might get featured on our official Instagram. Also, what are your favorite locations? Did I miss a spot? Let me know in the comments below!
Over de auteur
Ariana
Hey! I'm Ariana and I'm a Costa Rican student with a passion for photography, dancing, and cute dogs. Aside from writing blogs, I'm doing my Bachelor's in Media Studies. If you see me around smiling at my phone, I'm probably looking at memes (or cute dogs).