Doing Your Master's At The UG
| | |
| --- | --- |
| Date: | 03 March 2021 |
| Author: | Avital |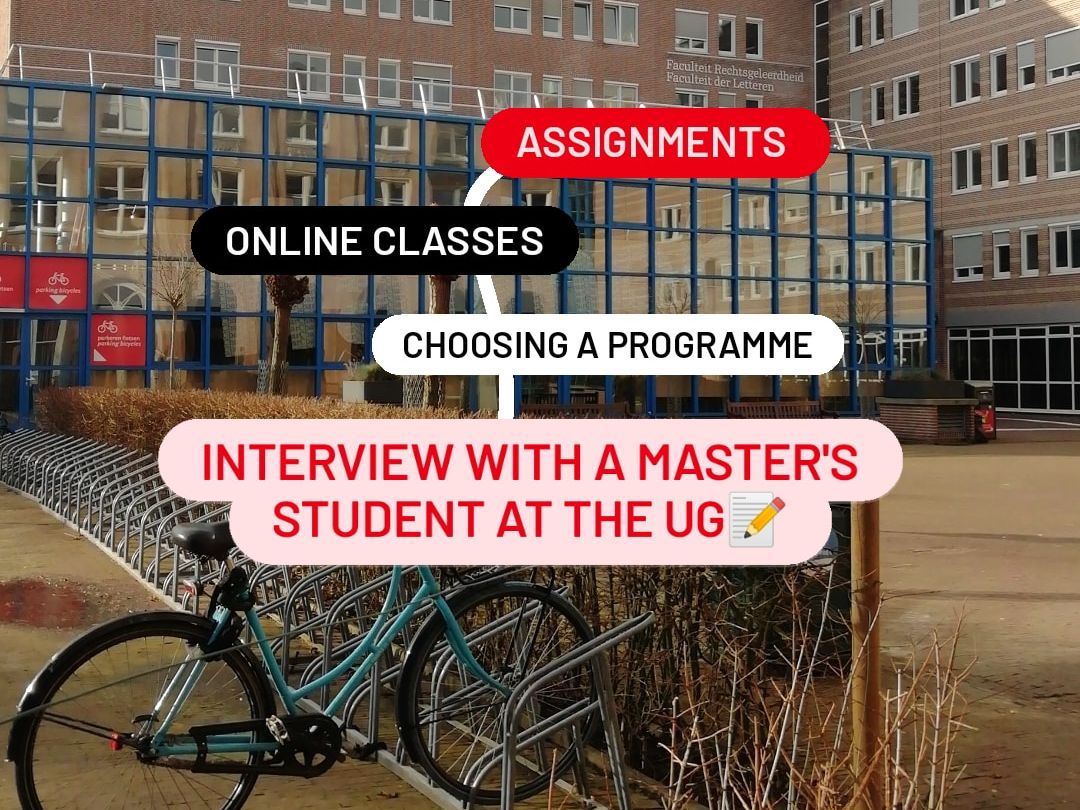 For the past year, ever since the pandemic started, most of our education has moved online, so what has changed and what has studying a Master's at the UG been like during this time? As part of the upcoming Online Master's Week (22 to 26 March 2021), I interviewed my friend Alex about his experience so far as a Master's student at the UG. I hope this interview gives you an idea of what studying a Master's programme is like, how you can make your choice for a programme that suits you and how the UG has adapted to online teaching.
Hi! Can you briefly introduce yourself?
I'm Alex, I did the European Languages and Cultures Bachelor's at the UG, with additional courses from the Dutch-taught programme in Linguistics (Taalwetenschap).
What programme are you currently studying and can you give a brief introduction of what it entails?
I'm currently studying Language and Communication Technologies, a Linguistics Research Master's. In this Master's we mostly look at the way computers can be used for linguistic research, as well as how linguistic knowledge can help improve natural language processing, for example analysing huge amounts of texts or training a computer to translate from one language to another.
How did you make the choice to study this particular programme? Did you talk to students/professors, attend an info session?
I attended talks about the Linguistics Research Masters at a Master's event and talked to some of the professors there, as well as to some of the teachers of linguistics courses I'd taken. I was pretty sure that I wanted to go on to do a Research Master's in Linguistics and I knew I was interested in the more computational side, so LCT was the logical choice.
Were there particular courses or aspects of the programme that stood out to you?
In my programme, we study both years at different universities in Europe, which gives you the experience of studying in different countries. I'll be going to Trento in Italy for my second year, if the coronavirus situation allows it, which is quite exciting. We're also expected to do an internship in our second year, which I'm looking forward to, but mostly, I enjoy the more computational side of linguistics because my Bachelor's at the UG was mostly focused on theoretical linguistics or sociolinguistics.
How have you experienced the programme so far? What has been the best and what has been the most challenging?
It's been really fun and interesting! I really enjoy my courses, although they have at times been challenging because I hadn't done much programming before. I have a number of classes together with the Information Science Masters' students, my favourite of which is currently Natural Language Processing. Most of my other courses are together with the Language and Cognition Research Master's students and because there aren't as many students the classes are more informal, which is also nice.
Now that everything's online, can you give us an idea of what the programme looks like (a typical week)?
I'm taking three courses this block, so for me that typically means a lecture and a seminar or lab session for each course, all of which are two hours long. In the lab we have the opportunity to work on our assignments online and ask questions. Last semester we had a number of group projects, which had the benefit of making it easier to get to know students in the class, but this semester it's mostly individual projects or weekly assignments. In general the workload is doable as long as you keep up with the work, although in January it was a bit stressful with all the courses having deadlines.
Most of my courses use Blackboard Collaborate for teaching. The teacher just uploads the lecture slides and presents it there and we can ask questions either through the chat or by speaking up. It's nice that all the lectures are recorded now so you can go back to rewatch if you missed something or didn't understand certain parts. Other teachers used Google Meets for seminars because there you can see everyone's face if people have their webcams on. We're a small group so that was actually quite nice for getting to see who's in your class. My favourite option for the seminar/labs is GatherTown though, a virtual environment where you get to walk around as a character and see each other's camera and can hear each other if you stand close together. It makes it feel more like you're in a computer lab where you can approach the teacher for questions or go over to discuss with another student.
Have there been any opportunities to get to know your fellow students outside of your classes?
In GatherTown, the teacher has put down some games that we can play during the break, so you can play poker together or solve a sudoku which definitely makes it easier to get to know people. Another teacher also had us pair up to discuss the homework assignments every week outside of class, with the pair changing every week so slowly you got to have a talk with another student every week. I really enjoyed that, often it was only about the homework at first but then you'd quickly get talking about other things.
Do you already have plans for after your Master's?
Not sure yet!
What's your number one tip for choosing a Master's programme? Or for making the most of your Master's?
Make sure you choose something you enjoy so it'll be easier for you to keep up with the workload of the Master's programme.
Are you currently looking for a Master's programme? Join our upcoming Online Master's Week from 22 to 26 March 2021 to find a programme that suits your interests! During that week, you'll be able to attend online presentations about all of our Master's programmes, learn more about student life at the UG and get answers to any questions you may have. You will find an overview of all the presentations on this page and can register here.
About the author
Avital
Hoi hoi! My name is Avital, Israeli by nature, Dutch by nurture and always on the lookout for cute cats! My life motto is "when in doubt, dance it out"! When I'm not dancing around my room, I'm most likely learning yet another language or working on my Linguistics degree.
Comments