How to: Make the most of a University fair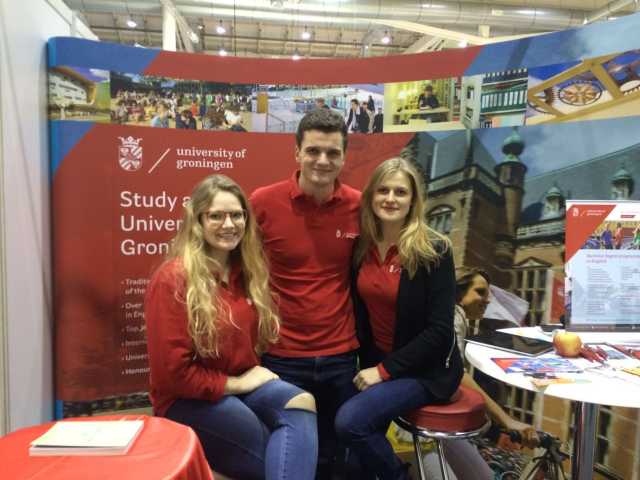 There's more to visiting fairs than avoiding eye contact whilst trying to grab as many freebies as possible!
Tip 1: Don't be shy
It may be intimidating to walk around a job fair and seeing eager representatives everywhere - however, do not fret. We are there to help you out, even if you are not exactly sure yet what you want. If you just want to grab a brochure and a pen - you can do that as well but remember that our staff and students can answer all sorts of questions. Seriously, we don't bite!
Tip 2: Think before: what do you want to study?
Before you go to the fair, look into what universities are attending and which programs they are offering. Quite often, the choice in where you go to Uni will be partly based on your future aspirations - so a programme has to be appealing to you academically. Also, you will need to know if you are eligible to apply! I may not know everything about each programme we offer, but I do know where to find the information and who to ask.
Tip 3: Figure out your priorities
When it comes to choosing a University, there are many points to consider. The location, rankings, tuition fees and the student life are factors that come to mind - although there are many other factors. Before you attend a fair, think about which factors matter most to you and be sure to speak to the different representatives about these topics!
Tip 4: Student life is important!
You don't want to go to university just to study - it will be one of the best experiences of your life. The representatives at University fairs are quite often students or alumni who live in Groningen. They will know all about the student life - so ask them about the topics which matter to you! Do you want a city with good nightlife, do you want to join a specific club, do you want a city with good sport facilities, or do you want to know where to get the best pizza? Ask our reps!
Tip 5: Attend presentations
Presentations at fairs are a good way to hear about all relevant practical information, such as accommodation, tuition fees and application demands and processes. It's also a great chance to get off your feet and take a seat after going from stall to stall during the fair!
Want to speak to one of our representatives? Check out when we'll be visiting fairs close to you!
Selma
UG Prospectives Team
Comments