Discover Groningen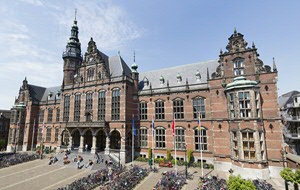 Nothing tops Groningen
A popular saying in Dutch culture is "Er gaat niets boven Groningen", which translates to "Nothing tops Groningen". Ask any of the 50.000 students living in Groningen and they will have countless stories about Groningen and its many lovely spots. Chosen as one of the happiest cities in Europe, Groningen offers a great combination of historical architecture, bustling nightlife and interesting cultural events.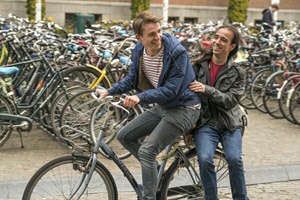 Getting around on your bike
When visiting Groningen for the first time, you will immediately notice that there are bicycles everywhere. The Dutch are famous for cycling everywhere and Groningen is no exception to the rule . It's so much part of the culture that we have even made a bike-themed Spotify playlist! With almost twice as many bicycles as inhabitants and an infrastructure that is specifically designed to put cyclists front and centre, cycling is the most efficient and fun way to get around in Groningen. And as a bonus, it keeps you fit and healthy!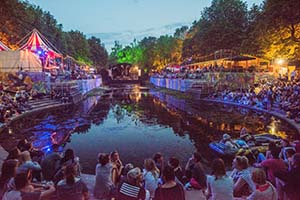 Groningen: cultural giant
While small in population, Groningen is a cultural giant, both nationally and internationally. In the historical city centre, every building and alleyway has its own story to tell, some dating back over 600 years . In one of Groningen's many museums, you can learn almost anything about the rich history and culture of the city. If you want to step out of the past and into the present, Groningen has vibrant markets, modern art museums, cultural events and awesome music festivals to offer you. One of the most famous local festivals is Noorderzon , which features a striking combination of modern art and music and hosts over 135.000 visitors every year.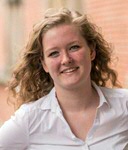 "As the motto says: "Nothing tops Groningen". Literally and figuratively."
Katja Mulder, LLB, 2017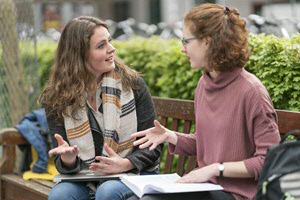 Always a great place to be
Whether you just want to relax by yourself or want to have fun with your friends, Groningen has just the thing for you. There are pubs and restaurants on every corner and most of them are open all night long, guaranteeing you a great time for as long as you like. Looking for a quieter place to just relax and enjoy the weather? Groningen has many green spaces where people from all over the city gather to play sports, read or just sit in the grass and catch up with their friends. Just walking through the city and finding all the great spots in it is an adventure in itself. On our student blog, we have a weekly post outlining the things to do in Groningen each weekend, to make sure you don't miss out on anything! #nothingtopsgroningen
Around the city
Feeling adventurous? Explore the countryside around Groningen. Go windsurfing on one of the nearby lakes, cycle through the beautiful landscape or visit the seal shelter near the coast at Pieterburen. With the excellent public transport facilities of Groningen, taking a trip is easy, quick and comfortable.Most other European destinations are less than a day away, either by using the train or the nearby Eelde Airport . No matter where you want to go, Groningen is the gateway to Europe.
Would you like to know more about the student city Groningen? Have a look on the GroningenLife website!
| | |
| --- | --- |
| Last modified: | 13 June 2023 08.44 a.m. |