We work with representatives from a wide range of countries to guide you through the application process. Our representatives can help you with all your admissions questions and explain the different degree programmes we offer. They can also provide you with information about living in the Netherlands and what your life as a student in Groningen would be like.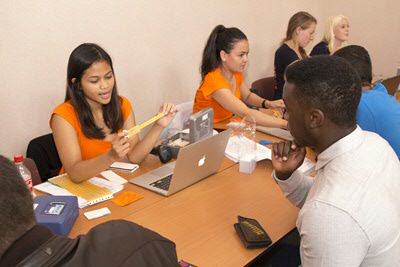 Our representatives are here to help you, so please feel free to contact them for up-to-date advice on scholarships, visa- and immigration requirements, etc. They're more than happy to offer support and a helping hand, and can even contact the University on your behalf, if necessary. Please note that a representative can never guarantee admission to one of our (selective) programmes. Admissions are the sole responsibility of the Admissions Board of the programme that you applied to.
If interested in a programme taught in the Faculty of Law, please contact the Faculty directly via their information request form, as limitations exist in applying through agents listed below.
Contact one of our representatives:
Country
Organisation
Contact details
China
Representative Office China

Ms. Liu

rugchina0031 gmail.com

Cyprus
Steppingstones

Nicos Chrystostomou

Nicos chrysostomou.eu

India
Representative Office India

Meenakshi Kaul

m.kaul rug.nl

Indonesia
Representative Office Indonesia

Ponti Caroline

info2 growoffice.net

Ireland
EUNiCAS

Guy Flouch

guy eunicas.com

Mexico
Inova Education

Jack van Witteloostuijn

jack inovaeducation.com

South Africa
Global Education

Liza Manoussis

liza global-education.co.za

Taiwan
Holland Education Association Taiwan

Dual Wu

dualwu gmail.com

United Arab Emirates
Netherlands Education Council (NEC)

Fauz Gataby

fgataby swissec.com

United Kingdom
A Star Future

Mark Huntington

mark astarfuture.co.uk

Vietnam
Phuong Nguyen Consulting Business

Phuong Nguyen

phuong pnp-consulting.com

Zimbabwe
Global Education

Liza Manoussis

liza global-education.co.za
Should you need information concerning the University's representatives then please,
contact
Heidi Scholtz at the international marketing office.
| | |
| --- | --- |
| Laatst gewijzigd: | 17 september 2021 09:37 |