Tove, Pedagogische Wetenschappen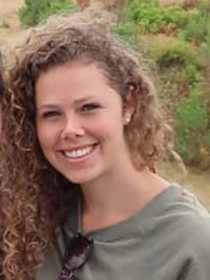 "A teacher!" I always used to shout as toddler when someone asked me what I wanted to be when I grew up. That's why I was full of enthusiasm when I started my studies to become a teacher. However, during this period I found out that I preferred to work one-on-one with (young) adults, so after a year I decided to switch to 'Pedagogical Sciences'.
By visiting different universities in the Netherlands, by participating in student-for-a-day programs, and by talking to students, I weighed my options well. It was interesting to notice the differences between cities: each had its own unique vibe. After visiting a few of these cities, I came to the conclusion that I wanted to study in Groningen. In none of the other cities I visited I experienced the welcoming atmosphere, great vibe and liveliness that I could feel in Groningen.
I have definitely experienced the fun part of studying here: the freedom and autonomy that comes with being a student, as well as the great social events and vibrant student life of Groningen. In spite of this, I wasn't always doing as well in my personal life. I had the feeling that I had to live up to the expectations of others and to my own 'ideal picture' that everything should be fun and should always go well. Everything I did had to be perfect, and it was precisely this that got me stuck. I incurred a study delay and my student life went different than how I had envisioned it beforehand. Nevertheless, during my studies I gradually figured out who I was and want I wanted to do. This is something from which I benefit on many more areas in life than just my studies. Therefore, besides learning a profession, I think that studying is a great time to grow as a person. This is the time to focus on yourself and make decisions about your own future.
My advice to you would be to weight all the options you have well: visit different cities and consider various studies. Make sure to listen to your gut feeling and don't be scared to make choices. There are no wrong choices, wherever you will end up you will gain experiences that you can use for the rest of your life. Along the way you will find out what you want, take your time for this and above all: enjoy this special time!
If you have any questions for me, please send me a message so I can hopefully help you with your choice.
| | |
| --- | --- |
| Last modified: | 28 April 2020 10.50 a.m. |