Arabic
اهلا وسهلا بكم في درس اللغة العربية
The Arabic language courses of the University of Groningen Language Centre are introductions to the most spoken version (Egyptian/standard Arabic). This form is spoken in Egypt, but is also understood in other Arab countries in the Middle East and the Gulf countries.
The main focus of our Arabic courses will be on conversation in everyday situations in relation to cultural customs in the Arab world. In addition, attention will be paid to grammar, vocabulary, and pronunciation. You will also learn to read and write the Arabic script (level 0 > lower A1), so you are able to recognize familiar written words in the Arab world such as toponyms and street signs. Level Lower A1> A1 and Level A1> A2 are more focused on conversations and everyday situations.
Language of Instruction
The target language is the language of instruction as much as possible. When necessary, the course is taught in Dutch and/or English.
---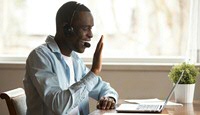 These courses will be taught as an online interactive group course via Blackboard Collaborate; our online classroom for the coming period! One lesson lasts 90 minutes. Per lesson you should count on 2-3 hours of self-study. Read here about everything you can expect from an online language course.
---
Intensive summer course
This August, we will be offering an intensive Arabic summer courses for level pre A1 > A1. An intensive language course lasts two weeks, during which you have lessons four days a week. Each lesson lasts two hours and fifteen minutes. You will also spend about 15 hours a week on independent study. View the schedule and register via the links below.
Get a taste during the free Webinar Week!
Sign up for the Arabic webinar, during which you can find out about the courses and the virtual classroom, ask questions and get a taste of what to expect.
Schedule and registration
Rates
Student
Discount
Full
€ 250
€ 360
€ 390
Optional Rosetta Stone account for online independent study: € 105
---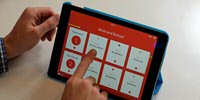 Interested in the Middle East and want more besides our Arabic language course? Take a look at the site of Middle Eastern Studies of the University of Groningen.
---
| | |
| --- | --- |
| Last modified: | 14 July 2021 2.59 p.m. |