Alumni Stories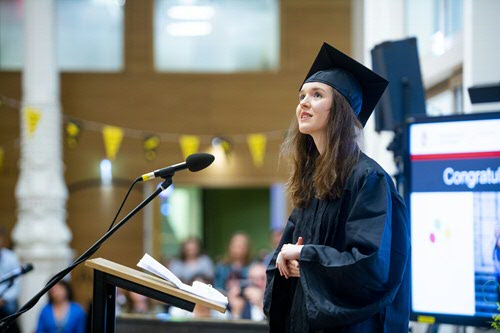 Curious about what studying at Campus Fryslân or University College Fryslân is like? Read the experiences of our alumni students! They have been there, they have done that, and now they use their knowledge in all kinds of working fields!
Chris Lijzenga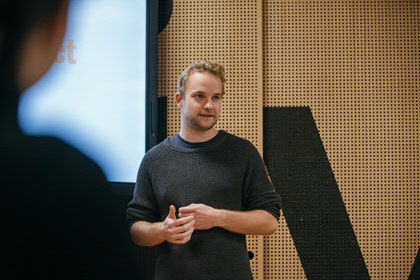 Could you briefly introduce yourself and your current position?
My name is Chris Lijzenga and I currently work as a Sustainability Advisor for New Zealand Trade & Enterprise, the country's trade and investment agency. I moved back to New Zealand shortly after completing my Masters in Leeuwarden at Campus Fryslan. I had planned to stay in the Netherlands longer, but the pandemic had other ideas.
Why did you start studying in Leeuwarden?
I was born in Leeuwarden but moved to NZ when I was 2 years old, so coming back to study there was an incredible opportunity to get to know my home city, get to know my extended family better and get a taste of the real Dutchie life. I've been raised by two Frisian parents but it's not quite the same as actually living in Friesland.
Why did you start with the new SE program?
I chose the Sustainable Entrepreneurship program because it aligned very closely with my passions for sustainability, policy and business. I never intended to be an entrepreneur myself (although I still might…) but instead saw the program as a way to upskill myself on sustainability more generally so that I could pursue a career in that space. There aren't yet many jobs in the sustainability world so having a study background makes all the difference, especially at entry-level.
What did it bring you?
The program was great in several ways. I loved how varied it was, with modules covering everything from business modelling, statistics, economics, entrepreneurship and business. Every module had both an academic lens and a practical lens, which I really appreciated after my bachelor degree which only taught the academic side. The small class size and emphasis on group work was another highlight. It helped create such a nice class community feeling, and many friendships were formed. Because of the smaller size, the professors were able to get to know everyone and teach in a much more relaxed, authentic way.
What did you learn in college which you are using in your current job?
A lot of the sustainability in business knowledge has been very useful in my current job. I work with New Zealand exporting businesses on their sustainability strategies, so it is helpful for me to understand the full spectrum of sustainability and how it can be applied. Everything from certifications, reporting, carbon emissions and supply chains are covered in my role, and the masters gave me a good fundamental knowledge in all these areas. I definitely feel more comfortable talking about sustainability in a credible way.
How do you look back on your time at CF?
The last couple of months of my time at CF was when the pandemic first hit, so we were all cut off and had to finish our SEP in isolation. This wasn't ideal, but when I think back I remember all of the good times and amazing memories we had before covid arrived. It's a special kind of environment to have a small building in a small city where you and your classmates all live, bigger universities or enormous class sizes just aren't the same. I felt like an international student, but also like a local, living among my extended family and going to the Febo.
What's the best remembrance/memory you've got of your CF time?
Graduation was quite special, because it was after the first wave of covid and most of the class hadn't seen each other for a long time. Half the class had even left the Netherlands already to go back to their home countries, so for the small group of us that did manage to get back to Leeuwarden, it felt like a very memorable reunion.
University College Fryslân
Marc Flessa
Why did you study in Leeuwarden?
When looking for Bachelor programs, I mainly focused on the actual content of the different programs, the university's reputation and factors like class sizes and interactivity. Both the country and the city I would study have honestly been of only secondary importance to me. However, after having decided I would apply for the Bachelor's program Global Responsibility and Leadership and even more after my acceptance I started to increasingly engage with what it would look like and mean to study and live in the Netherlands and in Leeuwarden. This only increased my excitement for my study time in Leeuwarden. Personally, I was in particular thrilled to study in a city which is big enough to offer all one could need, for example in regards to shops, but which is also not too big and hectic. Furthermore, the beautiful countryside surrounding Leeuwraden and the proximity to the North Sea and the Ijsellmeer have made Leeuwarden so attractive to me.
Why did you choose this specific program?
There are actually quite a lot of reasons which made this program so appealing to me. First, I saw it as an unique opportunity to be part of the very first cohort of students to actually study Global Responsibility and Leadership. I was convinced that this would provide me and the other students with the wonderful opportunity to effectively shape the program and grow with and within it. Second, I was greatly attracted to the idea of highly interactive and small-scale education and the highly liberal, open, cosmopolitan and thought- and discussion-provoking atmosphere. Third, the international outlook of the program in both its structure and content greatly appealed to me. Fourth, the truly interdisciplinary approach gave me the opportunity to follow my different passions and interests and reflect on complex challenges from different perspectives. And finally, as naive as it might sound, I was hoping that this program would be the perfect place to educate me and others to try to make the world a better place.
What did it bring you?
Something between a lot and everything. In other words, studying Global Responsibility and Leadership at Campus Fryslân greatly impacted not only my (future) career and equipped me with highly useful tools and knowledge, but it made me the person I am today. It made me more reflective, open, critical and curious, more self-sufficient, self-confident, diligent and perfectionistic. The program, the people and the overall atmosphere have been the perfect breeding ground to critically reflect on both myself and my personal opinions, attitudes and development, as well as on the world as a whole. Both personally and academically, I learned that regardless of how complex a problem or an issue looks from the outside, reflecting on all aspects, it is often even more complex. But just as its many facets make a diamond sparkle, the complexity of today's world is what makes engaging with it and finding solutions so necessary, but also attractive, inspiring and thought provoking.
And lastly, my studies also enabled me to develop so many deep and inspiring interpersonal relations. I had the pleasure and honor of meeting so many inspiring and simply fantastic people and making so many great friends, friends for life.
How do you look back on your time at CF?
I look at my time at CF with great pleasure due to all the great experiences I have had there and with great sorrow because it is already over. Of course, not everything has been perfect during my study time at CF, assignments have been annoying, courses stressful and bureaucratic processes complicated. Furthermore, the Corona pandemic has had far-reaching consequences ranging from the cancellation of my exchange program to online education and the inability to see my friends and the CF staff for months. However, all in all, when looking back at my time at CF I mostly think of all the amazing experiences I had here, what I learned and how I developed. Also in hindsight, I can say it was absolutely the right, the perfect decision to study here.
What's your best memory of your CF time?
I must admit that it is quite hard to pinpoint one specific memory as there were so many, but if I would be forced to pick one it would probably be that I could give one of the opening speeches of the very first academic year of our faculty. This has not only been an immense honor, but especially in hindsight, it manifests my deep attachment to the faculty and the program.
What is the most important thing that you have learned?
From all the things I have learnt, the most important one probably is to always think, critically reflect and to always look beyond the surface. Based on René Decartes who also thought, worked and taught in Friesland and his famous quote 'cogito ergo sum' (I think therefore I am) I would conclude that (critical) thinking is core to becoming a responsible leader and hence the very essence of Global Responsibility and Leadership.
What are you doing nowadays?
Right now I am studying the Master International Relations at the Central European University in Vienna.
Zarina Buckert
Why did you study in Leeuwarden?
I mainly started studying in Leeuwarden because of the unique programme Campus Fryslân had to offer. I wanted to study in the Netherlands and I could not find a programme that matched my interests as well as Global Responsibility and Leadership did. Therefore, the city was not important to me. Fun fact: I had never even visited Leeuwarden before the first day of moving there!
Why did you choose to study GRL?
I chose to study Global Responsibility and Leadership because of the interdisciplinarity of the subjects and relation to global problems. It makes me feel useful to learn to understand the challenges we are facing and to work on possible solutions. Although it was a bit scary to start the programme in the first year of its existence, I thought this would be a great opportunity to help shape the study.
Why did you study at UCF?
I chose for UCF because of the small-scale education and possibility for alternative examination. I have a very critical opinion towards the education system where written exams (with predefined questions and answers) are the foundation of knowledge-testing. Examination at CF is based on various assignments, both individually and in groups, which was very attracting to me. Furthermore, the international aspect of the community was a reason for me to choose the programme.
What did it bring you?
Studying at CF has brought me a lot of new experiences, friends, opportunities and (self-)knowledge. I work at CF, while also pursuing my MSc there. I have made great connections and have developed both academically and personally. Overall, to be honest I don't think words can properly describe this, and you really have to experience it to understand.
How do you look back on your time at CF?
As I am still part of the community (currently studying Master Climate Adaptation Governance - red), I can not objectively look back at CF as a whole yet but I will look back at the time as a GRL student ;) Especially the first 1,5 years when we lived together with all students (although we were only a small number haha), were super special. We have made very intense connections and have grown academically together. What was special being the first cohort is that sometimes it really was a team-effort, instead of an individual challenge to pursue the study. I am mainly very proud of all of us that have graduated now, and the community that we helped build. Looking back, I would not have wanted to miss this!
What's your best memory of your CF time?
The best remembrance of my time at CF were, despite all the hard work, the parties that we had in our student accomodation and in one of the many bars/clubs in the city centre. At first I did not expect it, but Leeuwarden really is a fun student city! Especially after exam weeks we used to plan an evening with everyone to party and de-stress from all the work, which led to many great memories.
What is the most important thing that you have learned?
The most important thing I have learned is that, although it sounds a bit cheesy, you have to get out of your comfort zone to grow. Going to a study that did not exist yet, in a city that I did not know, with people from around the globe that I hadn't met yet, studying such a broad and interdisciplinary topic was intimidating. But looking back at what we have achieved, it was crucial to get out of the comfort zone and take on the challenge.
| | |
| --- | --- |
| Last modified: | 18 November 2021 4.49 p.m. |