Inschrijving, toelating en kosten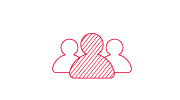 Inschrijving
U kunt zich aanmelden voor de Executive Master of Accountancy door een e-mail te sturen naar Annelina Antonides en Desirée Andriessen (ema.feb rug.nl) én via inschrijving bij Studielink.
Toelating
Of u wordt toegelaten tot de EMA-opleiding van de RUG is afhankelijk van uw gekozen universitaire curriculum of gevolgde vooropleiding. Wanneer u de BDK track A&C van de RUG, gevolgd door de Master A&C variant Accountancy, heeft afgerond kunt u direct worden toegelaten tot onze EMA-opleiding. Mocht u een andere opleiding hebben gevolgd, dan dient op basis van uw vooropleiding vastgesteld te worden of u direct toelaatbaar bent.
Wilt u weten of u toelaatbaar bent tot de EMA? Neem dan contact op met onderwijscoördinator Ingrid Luttmer: i.m.luttmer-noest@rug.nl.
Kosten
Het collegegeld van de Executive Master of Accountancy bedraagt € 5.450,00 per studiejaar (september t/m augustus), ongeacht het aantal te volgen vakken en af te leggen tentamens. Voor de kosten van buitenreguliere tentamens (binnen hetzelfde collegejaar) wordt verwezen naar de tarieven voor losse EMA-tentamens. Genoemde tarieven zijn exclusief literatuur.
Restitutie van een gedeelte van het cursusgeld vindt uitsluitend plaats in het geval een student na een voorlopige toelating in september niet definitief ingeschreven kan worden voor de Executive Master of Accountancy. Er zal in dat geval een bedrag van € 3.500,00 worden gerestitueerd.
De vergoeding voor losse EMA-examens is als volgt:
Landelijke schriftelijke examens: € 400
Mondelinge examens: € 300
Overige examens: € 200
---
Hoe financier ik mijn opleiding?

Klik hier voor de verschillende opties.
| | |
| --- | --- |
| Laatst gewijzigd: | 28 april 2020 14:22 |