Xtra: The 'Covid Volunteers' initiators
Faculty of Medical Sciences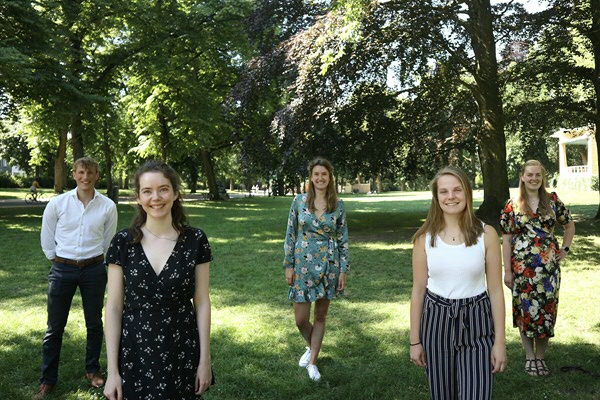 Alongside the three candidates who were nominated for the GUF-100 prize by the faculty committee, one position has been added for a special 'candidate': a group of five students.
These students are Freek van den Berg (Master's student of Medicine), Lotte Klein (Top Master's student of Clinical and Psychosocial Epidemiology), Nicole van der Horst (Bachelor's student of Medicine), Erzsi Tegzess (Master's student of Medicine) and Maaike Wildekamp (Bachelor's student of Human Movement Sciences). They are all excellent students who also take part in many extra-curricular activities – but what unites them in the context of the GUF-100 prize is that shortly after the outbreak of the COVID-19 pandemic and the resulting 'intelligent lockdown', they set up a volunteering website: www.covidvrijwilliger.nl. Via this website, (para)medical students were able to be linked up with Northern healthcare institutions that needed (para)medically skilled volunteers due to the coronavirus pandemic.
The jury is aware that more students have been involved in this website and, importantly, that many other UG students have been involved in all sorts of volunteering initiatives that have arisen in response to the COVID-19 pandemic. It is fantastic that there are so many students who evidently want to offer hope and support to society and who want to and do genuinely commit themselves to those in need in difficult times.
Through awarding a GUF-100 prize to the founders and team leaders of the 'Covid Volunteer' website, the jury wishes to honour all of the UG students who have helped others in these times . In addition, so as to not disadvantage the other excellent candidates who have been nominated for the usual GUF-100 positions, the jury has chosen to award an extra GUF-100 prize to the 'Covid Volunteer' group in addition to awarding 'the' GUF-100 prize to one of the regular candidates.
| | |
| --- | --- |
| Last modified: | 15 March 2022 1.21 p.m. |