San Francisco: Alumni Reception with UG delegates
When:

Fr

22-09-2017 17:00 - 19:30
Where:

Consulate General of the Netherlands 120 Kearny St, San Francisco, CA 94108, USA
About 200 University of Groningen (UG) alumni live and/or work in San Francisco, which opened up an opportunity to organize successful events in the area. Since the initial kick-off event in January 2016, it was time to meet again on September 22, 2017. The event took place in the Consulate General of the Netherlands, where the director of the Ubbo Emmius Fund of the UG, Mr. Gerbrand Visser, presented the most recent developments at the UG; a fresh autumn blow straight from Groningen.
The UG counts on the support of alumni and friends that are concerned with the University. Especially for its fundraising, the University of Groningen established the Ubbo Emmius Fund. During the alumni meeting Dr. Arnoud Everhardt, an UG alumnus who recently moved to San Francisco, gave an inspiring presentation and insight on his PhD research on Piezoelectricity: Innovative Green Energy. He states that his research was made possible through donations and support of a group of alumni in the Netherlands: 'Without the support of these alumni I would not be standing here, I could not have done it without them'.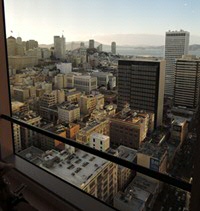 Networking
The evening ended up with drinks in Minna Gallery, where there was plenty of time to catch up with fellow alumni. It was good to see so many alumni at the meeting, some of them living in the Bay Area for ages and some just arriving, but all of them having one thing in common: the University of Groningen!
Event Details
Location: Consulate General of the Netherlands
120 Kearny St, San Francisco, CA 94108, USA
Time: 17:00 - 19:30
Program:
17:00 - Welcome and registration
17:30 - Presentation by Mr. Gerbrand Visser, director of the Ubbo Emmius Fund of the University of Groningen (2015-2018)
17:45 - Presentation by Dr. Arnoud Everardt on Piezoelectricity: Innovative Green Energy
18:00 - Move to Minna Gallery for drinks
18:10 - Reception (drinks and canapés will be served)
19:30 - End