Geneva: Visit to the Permanent Mission of the NL to the UN
| | |
| --- | --- |
| When: | Th 15-03-2018 15:00 - 19:30 |
| Where: | Permanent Mission of the Kingdom of the Netherlands to the United Nations |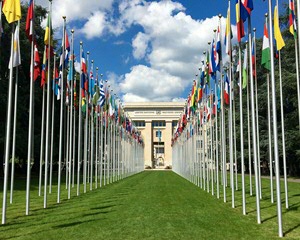 Looking back to the event
It had been a while since the last time the University of Groningen (UG) alumni gathered in Geneva. Since then, plenty of new alumni have moved to the city and it was time to meet again in interesting locations: The Permanent Representation of the Kingdom of the Netherlands to the United Nations in Geneva (PR UN Geneva), where a few of your fellow alumni work at the moment. Also, there was a great chance to visit the headquarters of the United Nations, Palace of Nations during the day. There was a guided tour to the most important rooms and halls of the Palace, where many important historical negotiations have taken place. Alumni learned about the architecture, history and current affairs of the UN location.
After the tour, our alumni group moved to the offices of the PR UN. Alumni currently working there warmly welcomed us to visit their offices and hear about the latest updates about their work. Our alumni Anna Houck, Maurice Paulussen and Wouter Biesterbos gave presentations about their work at the PR UN. The topics covered were economic, human rights and humanitarian affairs at the office. It was quite a unique chance to be able to visit their office, and to be able to gain an insight on their fascinating work. The Alumni Relations & Fundraising Department is thankful for having this opportunity. Also, the director of the department, Gerbrand Visser, gave a presentation of the current affairs of the alma mater.
Of course, there was also time to catch up an talk with the other former Groningers during a borrel after the presentations.
Event Details

When?
March 15

Visit to the Palace of Nations
15:00 Meeting at Pregny Gate of the Palais des Nations - Note the time change!
14, avenue de la Paix
16:30 Tour finishes

Where?
Palace of Nations
Address: Palace of Nations 1202 Geneva


---

Reception a the PR UN
17:00 Welcome and drinks
17:30 Gerbrand Visser, the director of the Alumni Relations & Fundraising (2015-2018), will give an opening speech
17:45 Presentation and discussion with alumni working at the PR UN, Geneva
18:15 Drinks
19:30 The End

Where?
Permanent Representation of the Netherlands to the UN in Geneva
31-33 Avenue Giuseppe-Motta, 1202 Genève
Costs?
This reception at the PR UN is cost-free
For questions, please email: internationalalumni@rug.nl