Prof. Sabine Otten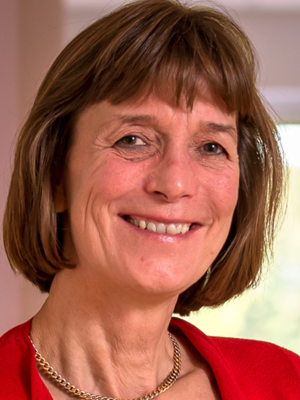 Testimonial by Sabine Otten, Professor of Intergroup Relations and Social Integration and currently Director of Education, Faculty of Behavioural and Social Sciences.
How did you end up at the University of Groningen?
While working in Germany, and after very inspiring stays abroad in the US and in Australia, respectively, I saw an advertisement for a position in the Social Psychology group in Groningen. Working at a Dutch university seemed like a nice opportunity to enhance my international experience even further. Moreover, I felt that the available expertise at the Psychology Department and my own expertise would nicely complement each other. Honestly, I was planning to stay only a few years and then return to Germany. However, I did not take into account that I would fall in love with my Dutch partner. Thus, moving to Groningen became a win-win situation for me, for my career, and my private life.
What is it like working for the University of Groningen?
In November 2002, I came from Germany to Groningen to work at the University of Groningen. Meanwhile, I am a Full Professor in the Psychology Department, where more than 30% of the staff, and – at least in the Bachelor - more than 50% of the students are not Dutch. Since I started working in Groningen, the University has become much more professional in taking care of the inclusion of its international members. Communicating in both Dutch and English, offering fully English-taught programs, training teachers' intercultural competence and promoting international classrooms – these examples all testify that internationalisation, diversity and inclusion are high on the University's agenda. Back in 2002, welcoming international students and staff was much less professional, but nonetheless I never had any reason to doubt that I was welcome at the University of Groningen.
How would you describe your work?
I am a professor in Social Psychology, and my area of expertise is 'Intergroup Relations and Social Integration'. My work is very varied and diverse. Doing and supervising research, writing articles and chapters, presenting at conferences, teaching students, advising PhD candidates and, most recently, helping to manage the teaching at our department as Director of Education. Sharing with students and junior researchers the persistent fascination and passion for my discipline is probably (one of) the most rewarding aspects of my work.
As Director of Education, I am responsible for the development and realisation of the curriculum in the Bachelor and Master Psychology degree programmes; in close cooperation with the Faculty Board, my task is to assure the quality of our education and to organise a teaching program that is both efficient and effective. Most recently, due to COVID-19, this role has become especially demanding, leaving hardly any time for staying involved in research. The rapid switch to online teaching and testing brought about many challenges for both staff and students. I am impressed by and grateful for the hard work, cooperative attitude, creativity, and competence of our teaching and support staff, but also by our students' flexibility, cooperation and understanding in these difficult times.
What makes your job at the Faculty of Behavioural and Sciences so much fun, and interesting?
The many layers of my work make it and keep it interesting, fun, and challenging in a – mostly – positive way. I love the freedom that working in academia still implies; being able to choose my own research interests and approaches in teaching - is a great asset of working at the University of Groningen. The moments, when I talk with my students and young researchers about social-psychological research and can see and feel that the spark leaps over, are highly rewarding. Moreover, I get a lot of satisfaction and motivation from working in a field with very high societal relevance (e.g. understanding intergroup conflict and cooperation). Furthermore, I deeply enjoy being part of a very diverse staff and student population.
How do you find the University of Groningen as an employer?
Overall, I think the University of Groningen is an employer that takes good care of its employees. In the last years, however, and especially since COVID-19 challenged our academic life, work pressure has been steadily increasing. For many of us it has become difficult to maintain the excellent standards of their work as teachers and advisors without making sacrifices regarding their ambitions and passion for research, their private life or even their health. In times of crisis, people generate additional energy that helps them to get things done. Yet, after such periods, they will need a rest and an opportunity to recharge their batteries. I hope that our university is aware of that!
How would you describe the University of Groningen to outsiders?
A university that is modern and innovative, but also appreciative of its traditions. The University of Groningen is ambitious, performance-oriented, but also supportive and caring.
Do you think Groningen is a nice city to live and work in?
Groningen is a wonderful city to live in! Friendly, laid-back, enough green and open space, with local charm, but also international character. I also love the fact that the University's buildings are all within biking, and often even walking distance.
| | |
| --- | --- |
| Last modified: | 24 September 2020 3.40 p.m. |