Dr. S.A. (Scott) Eldridge II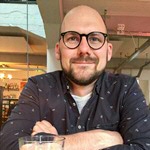 Scott Eldridge II works as an assistant professor at the UG department of Media Studies and Journalism. Researching, editorial work and teaching are the main tasks he keeps himself busy with: 'I really enjoy my work, it is a nice mix of things.'
How did you end up working at our university?
"I was doing my doctorate work in Sheffield. There was a research network established between The University of Sheffield and University of Groningen. I got to know researchers from the Centre for Media and Journalism Studies in Groningen through this network. I participated in some of the research activities and I came over for an Erasmus visit. When the opportunity came in 2016 to work here, it was nice to build upon those connections."
Why did you specifically choose UG?
"It was an opportunity to expand my research and to push that forward. On top of that, the University of Groningen and the Centre for Media and Journalism Studies are globally recognized as doing excellent research in the areas I'm working in. So there was that advantage. It was too good to pass on."
How would you describe the work that you do here?
"I would say I have three main activities. Teaching is one of them. I teach media as well as journalism studies to students, which is very enjoyable. Then the second part is my own research. I also do editorial work. At the moment I'm working on a journal with other researchers. And I also am program coordinator of the master. It is a nice mix of work activities, I enjoy it."
What do you think of this university as a workplace and as an employer?
"I rate it quite highly. I have worked and studied at different places abroad, and it tends to be better than others. I have always felt fairly well supported. It is also a good environment for people to blend research and teaching. Despite all the real challenges education is facing nowadays, I never feel like those challenges are coming from the university. The university comes across as having our backs."
How would you describe our university to outsiders?
"It is a good environment for research, and for developing research with colleagues, particularly in the way it is organized in specific research centers. It is a vibrant community and more international than you maybe would expect. I think it also benefits from its long run. There is something to be said for a university that has this classic background. To be able to work in a classic faculty like the Faculty of Arts gives you access to a long history of research, teaching and scholarships that can be quite nice to be part of."
What do you think of Groningen as a place to work and live?
"Groningen has a lot more going than you would expect from a city this size. More energy, more things to do, more cultural opportunities. I do enjoy living in this city for that. And I also like that, whenever you take a bicycle ride or go for a run, within five or ten minutes you're out of the city and in the nature. So you always have the option to escape the city in order to relax.''
| | |
| --- | --- |
| Last modified: | 24 September 2020 3.42 p.m. |