Staff members with discipline Geography, Physical
Academia develops at the interface of different fields. This is one reason why the University of Groningen is home to a wide range of fields, each with a great number of subject specialists. The overview below, which is based on a standard categorization of fields, will help you find the right expert for each field. If you cannot find the expert you are looking for in this list, try searching via a related field or faculty; you may find him or her there.
Physical geography, Landscape, Earth & Environmental Sciences, Soil science, Hydrology, Historical Geography, GIS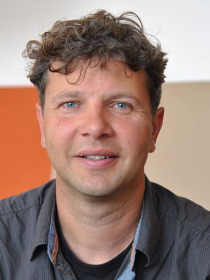 Function
Director of Education and Associate Professor Landscape Geography
Research interests

My research is focussed on the complex interaction between people and the natural environment. Some topics related to this broad theme have my particular interest:

- The present perception (and presentation) of past human behaviour.
- Modelling/understanding the way plant remains end up in different types of archaeological context to facilitate more nuanced interpretation.
- Understanding the interaction between ecological, physical-geographical, and cultural forces in various landscape types
- Improving transdisciplinary cooperation and exchange of ideas.
- The relation between Art and Environment. I am co-supervising the PhD project by Anna-Rosja Haveman on Artistic Approaches to the Coastal Landscape of the Netherlands.

Selection of research projects

Living dikes
A NWO financed project led by dr ir Bas Borsje from Twente University. Together with a Postdoc researcher, I will investigate the way new coastal defence strategies will affect the existing landscape and how this is related to the history of coastal landscapes.

On suitable grounds
A NWO funded project led by prof dr Hans Huisman, dealing with the introduction of crop cultivation in the Netherlands. I co-supervise the PhD-project carried out by Ana Smuk, dealing with palaeoecological analyses.

Fields of opportunity
In 2015, I was awarded a NWO VENI grant to study early crop cultivation in the coastal salt marshes of the Netherlands and Germany. The project has ended, but some papers are currently underway. The project includes collaborations with Prof Dr Karl-Ernst Behre, Dr Welmoed Out, and Dr Niek Scheepens. Function
Assistant professor