Van Tol, Prof. Marie-José

Marie-José van Tol is an assistant professor at the Faculty of Medical Sciences. Her research focuses on disentangling the countless factors that make people susceptible to depression, anxiety disorders, suicidal tendencies, schizophrenia and other serious psychiatric disorders. Her work combines knowledge and methods from various fields, such as clinical psychiatry, neuropsychology, cognitive psychology, neuroradiology and neurosciences.
Van Tol studied Psychology at Utrecht University and was awarded a PhD by Leiden University. For her PhD research, she studied the regular and the unique neurocognitive evidence base for depression and anxiety disorders. After having been awarded a PhD, Van Tol joined Prof. André Aleman's Cognitive Neuropsychiatry research group (UMCG). She then did a senior post-doc focusing on abnormal glutamate metabolism and functional connectivity in depression in the Cognitive and Affective Neuroimaging Laboratory at the Leibniz Institute for Neurobiology. In 2013, Van Tol returned to Aleman's research group to join the Apathy Study group, where she studied the mechanisms of neurostimulative treatment for apathy in people with schizophrenia. In 2014, Van Tol was awarded an NWO Veni grant and a Fellowship from the Netherlands Brain Foundation. She is also a member of the Young Academy Groningen.
Previously in the news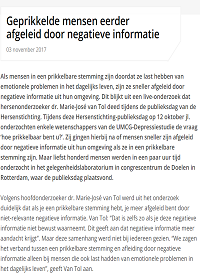 Contact and further information
| | |
| --- | --- |
| Last modified: | 24 April 2023 09.43 a.m. |