Fraaije, Prof. Marco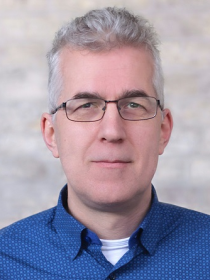 Prof. Marco W. Fraaije studied Molecular Science at Wageningen University & Research, where he also gained his PhD. He was then a postdoctoral researcher at the Department of Genetics and Microbiology at the University of Pavia (Italy) and has worked at the University of Groningen since 1999. When he was an assistant professor, he led several studies centred around discovering new biocatalysts (enzymes) and researching their function.
At present, he is Professor of Molecular Enzymology. In 2016, he was awarded a Vici research grant and in 2018, he received the BIOCAT Science Award for his academic contribution to the biotechnology research field. Fraaije has published hundreds of articles, with a main focus on biocatalysis and enzyme engineering. His research revolves around discovering and designing new enzymes, focusing particularly on flavine adenine dinucleotide enzymes: those that use vitamin B2 to function.
In addition to the academic applications of his research, Fraaije is also building a bridge between the worlds of academia and industry. For example, he is the co-founder and current advisor of start-up company Gecco Biotech. Additionally, he has coordinated several EU-funded initiatives, among which the ROBOX project. This project is mainly aimed at designing robust enzymes that can be used in oxidation processes. These enzymes can replace chemical reactions that are currently being used in production processes. The aim is to reduce the need to use precious metals and toxic substances. Furthermore, his research group is working on computer-based engineering methods to adjust enzymes quickly for biotechnological applications.
Previously in the news
Contact and further information
Publications
| | |
| --- | --- |
| Last modified: | 09 June 2023 8.36 p.m. |