Franke, Prof. Lude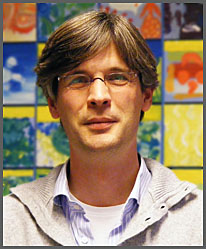 Lude Franke is Associate Professor at the Genetics Department of the University of Groningen/University Medical Centre Groningen and Head of Research and Education in the Dept. of Genetics, UMCG. He is a statistical geneticist, working on analyzing data on the genetics of complex and autoimmune diseases (e.g. celiac disease). He has been awarded an ERC Starting grant (2014), NWO VIDI grant (2014), NWO VENI grant (2009) and a Horizon Grant (2009) to work on identifying molecular effects due to disease-causing mutations.
In his spare time he is also a graphic designer. This chance combination of skills can sometimes make life as a genetics researcher a bit easier: if you can explain your research visually, more people can understand what you are doing. Lude Franke is one of the founding members of the Young Academy Groningen and has also been appointed member of De Jonge Akademie (National Young Academy).
In 2021 Franke was awarded a Vici grant. Many diseases have a genetic basis, but cancer is often caused by mutations that arise during life, whereas other diseases are caused by genetic differences that are inherited from parents. Frankes project uses gene networks to test whether a unifying principle exists that links these different types of mutations.
Previously in the news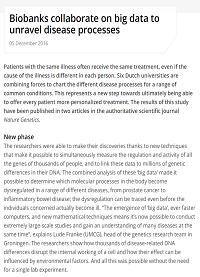 Contact and more information
Publications
| | |
| --- | --- |
| Last modified: | 09 June 2023 8.36 p.m. |