Kuipers, Prof. Oscar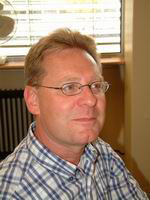 Oscar Kuipers is professor of Molecular Genetics of Prokaryotes at the University of Groningen, and a member of the department of Molecular Genetics of the Groningen Biomolecular Sciences and Biotechnology Institute. Prokaryotes are micro-organisms without a nucleus, such as bacteria and Cyanobacteria. The field of molecular genetics studies gene functions and regulation and the interaction between genes. This research results, for example, in increasing knowledge about the gene modification of bacteria and is very important to biotechnology. Kuipers studied Biology at Utrecht University and in 1990 gained his PhD in the department of Biochemistry of the same university. After that, he worked at NIZO Food Research in Ede and the Wageningen Centre for Food Sciences.
Each year Kuipers supervises the (always successful) University of Groningen student team that competes in the iGEM competition in Boston. In 2012 this team became world champion, with a biological detection system to check how fresh meat is. In 2011 Kuipers received the 'Simon Stevin Master' Award by the Technical Sciences Foundation (STW) and a grant of EUR 500,000 to spend on research. In the same year he became member of the prestigious Royal Netherlands Academy of Arts and Sciences (KNAW).
At the end of May 2013, the EU awarded Kuipers a grant of € 1 million to make synthetic peptides, with particular attention to the development of new antibiotics.
Previously in the news
| | |
| --- | --- |
| Last modified: | 27 June 2023 1.38 p.m. |