Romeijn, Prof. Jan-Willem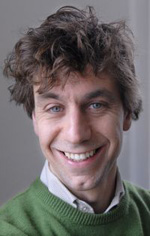 Jan-Willem Romeijn (1975) is professor of Philosophy of Science. He studied physics and philosophy in Utrecht. He graduated with honours in both degree programmes. In 2005 he was awarded a PhD with honours by the University of Groningen, Faculty of Philosophy, with a thesis on inductive reasoning. Romeijn's research concentrates on chance, probability theory, philosophy of science and psychological measurement theory. He also teaches course units on subjects such as philosophy of science and philosophy of physics.
In 2009 Romeijn was voted Lecturer of the Year at the University of Groningen. In 2010 he was awarded a Vidi grant by the Netherlands Organisation for Scientific Research (NWO). These grants are intended to help talented researchers develop their own line of research and set up their own research group. Romeijn intends to use the grant to research the nature of probability and the statistical methodologies used in science and business to calculate odds.
According to philosopher of science Romeijn, the controversial 'discovery' by CERN of neutrinos that travel faster than light will certainly result in valuable insights. If the findings are right, important scientific insights will have to be adapted. If they are not, they will form interesting study material for philosophers of science. Read his article: 'Measurement error or not, CERN neutrino research provides valuable insights' .
Previously in the news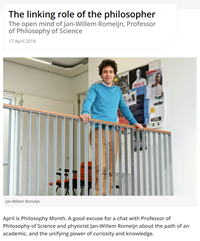 Contact and further information
Publications
| | |
| --- | --- |
| Last modified: | 09 June 2023 8.36 p.m. |