Stamhuis, Dr Eize

Eize Stamhuis is Associate Professor of Experimental Marine Zoology and Professor of Biological Fluid Mechanics & Locomotion at Bremen University of Applied Sciences. He is also co-founder of the Bionica Innovatie en Expertise Centrum [Biomimetics Innovation and Expertise Centre] in Groningen. Biomimetics is all about finding inspiration in nature. The discipline also attempts to understand nature and use the lessons learned to develop innovative solutions to technical and medical challenges.
Nature has already thought up solutions to many technological problems, often in the distant past. 'Imitating nature exactly isn't very practical, but we can certainly be inspired by it', says Stamhuis. In his research he specializes in the biophysics involved in fish swimming and birds flying. He shows how researchers and designers can learn from animals and the laws of physics in nature, from fluid dynamics to birds' flight behaviour and the swimming behaviour of fish. Whether it's a car design inspired by a boxfish, or the adjustment of boat screws based on a penguin's flipper movement, Stamhuis knows all about it.
In his wind tunnel at Zernike Campus, Stamhuis discovered the smart power of sea birds. An alliance with two pioneering entrepreneurs led to the Albatrozz start-up for new wind turbine blades.
Video
Previously in the news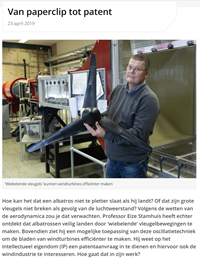 Contact and further information
Publications
| | |
| --- | --- |
| Last modified: | 24 July 2023 08.42 a.m. |