Van den Berg, Prof. Caspar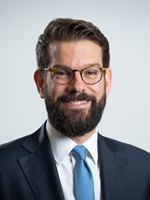 Caspar van den Berg is Professor of Global and Local Governance at the UG's Campus Fryslân. He studied Social Sciences at Utrecht University and obtained his PhD in Public Administration at Leiden University in 2008.
In his research, Van den Berg focuses on politics, governance and identity at the international, national and regional levels. He has appeared in the news often as of late, due to his research into the differences between Dutch shrinkage regions and urban areas. He sees the farmer protests of the last few months, for instance, as partly being the result of a clash between the city and countryside, with the latter fighting for the emancipation of rural culture. In his opinion, similar tensions can also be seen in the annually recurring discussions surrounding "Black Pete" (Zwarte Piet). He perceives these tensions as 'the retaliation of forgotten regions'; as an attempt to be heard and taken seriously. In this vein, he is also investigating the voting behaviour of residents of these regions.
Alongside his professorial work and his research activities, Van den Berg has been a member of the Council for Public Administration (Raad voor het Openbaar Bestuur, ROB) since 2019. The ROB is an important advisory body to the government and Parliament.
In February 2023, Prof. Van den Berg was appointed as Dean of the University of Groningen/Campus Fryslân. He succeeded Prof. Andrej Zwitter.
Previously in the news
Contact and more information
Publications
No matching publications were found.
| | |
| --- | --- |
| Last modified: | 12 July 2023 3.52 p.m. |