Frequently asked questions invasion Ukraine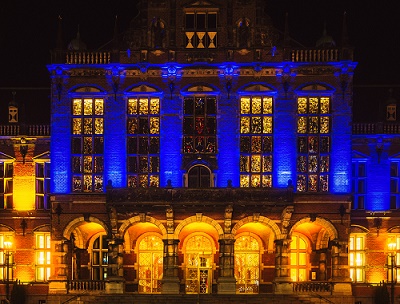 Note: general information for Ukrainian refugees can be found on the website of the Groningen municipality in Dutch, English, Ukrainian and Russian. Similar information can also be found on the website of the International Welcome Center North.
Are you a student who fled from Ukraine looking for information about Dutch higher education institutions? Please visit studyinholland.nl.
These frequently asked questions are regularly being updated in response to new developments.
Questions on work, financial matters and staying in Groningen
Questions on studying in Groningen
The Russian invasion of Ukraine is causing me to incur a study delay. What can I do?
If this causes you a disproportionate delay, your degree programme can always decide to be lenient. If you experience problems, please contact the study advisor of your degree programme.
I am a student from Russia or Belarus. Can I still register for the new academic year?
NOTE: the application deadline of 1 May has passed. You therefore cannot apply anymore.
At the moment, Russian and Belarusian students can still enroll at the UG. We are in close contact with the Immigration and Naturalisation Service (IND), should this change, and will communicate about that (here). We also kindly ask you to keep a close eye on the website of the government and the website of the IND.
Can I continue my current study programme at the University of Groningen?
There is no general policy for this. This varies by study programme. Contact the study programme of your choice or one similar to your current study to discuss options.
I cannot submit my original diploma and transcripts due to the war. How can I prove my admissibility?
When applying, you do not yet need to submit your original diploma and transcript. You may submit an unofficial document, such as a print screen of your university's grading system, or an overview of your courses and their credits taken from a course catalog or created by you. Once you have submitted this, and any other required documents, the Admissions Board will assess your application and make a decision on your application. This decision will be communicated to you via email.
If you are admitted, we would usually like to receive a certified copy of your diploma and transcript, however, we understand that this is hard to come by at the moment. The Admissions Office has procedures in place for students who cannot access their documents due to war situations, but what form these will take will depend on your specific situation. If you do not have your original documents, we recommend that you contact the Admissions Office about this, either by indicating this in your application when submitting it via OAS or by sending us an email once you receive your decision letter.
What initiatives are being undertaken from within the university to support students and staff affected by the Russian invasion of Ukraine?
Ukrainian students and staff at the UG are our first priority. We will remain in close contact with them via email, among other things, and have designated contact persons for them. We have also informed them of where they can go in case of mental health issues or financial issues, for example.
For students who are affected financially, the UG has set up an emergency fund that can be used for living expenses, if necessary.
Language Centre
The UG's Language Center has several intiatives underway, including a Dutch Survival Kit, a free online course in Dutch and a free course in Ukrainian on 10 and 17 May. For more information, please visit rug.nl/language-centre/ukraine/
Research visit at research group Steven Hoekstra
The research group of UG phycisist Steven Hoekstra offers support for a short-term research visit for Ukranian scientists of all levels (Scientist, PhD student, PostDoc). Research is oriented on high precision spectroscopy of ultracold atoms and molecules. Please visit the ScienceForUkraine website for more information.
Other initiatives
Faculties themselves also organize initiatives and meetings. For example, five free spots are available for Ukrainian students at the Summer School: The Politics of European Law and the Law of European Politics (more under the heading Practical information at the bottom of the page). The Centre for Religion, Conflict and Globalization also offers spots to Ukrainian students.
Professor Hedderik van Rijn is working on an adaptive language learning tool for Ukrainian refugees. He is looking for Ukrainian/Russian speakers that also speak another language.
Elianne Zijlstra from the Faculty of Behavioural Sciences worked on a so-called mylifejourney book for Ukrainian children. In this workbook, they can write and draw about their journey, their memories about Ukraine and their hopes for the future. The book can be downloaded in Dutch, English and Ukraine for free via lifebookforyouth.com/mylifejourneybook.
In this episode of the UG's own podcast, In Science, professor Hedderik van Rijn and associate professor and chair of De Jonge Akademie Marie-José van Tol talk about initiatives and actions within the Dutch and Groningen academic community and what can be done to help refugees and people at risk.
Furthermore, there are regular information sessions, lectures and solidarity meetings. For these, keep an eye on the social media channels of RUG faculties, among others, as well as the general social media channels on which we share these.
Can I follow language courses?
The UG's Language Center has several intiatives underway, including a Dutch Survival Kit, a free online course in Dutch and a free course in Ukrainian on 10 and 17 May. For more information, please visit rug.nl/language-centre/ukraine/
Interested in learning English for academic and professional purposes? Then the English Academy for Newcomers might be of help. The Groningen department is an initiative of UG scientists Marije Michel and Seyit Gök.
Can I use your facilities if I am not affiliated with the UG?
The University Library (UB) of the UG has 2 PCs on the ground floor for external users, who are not a student or employee at the UG. People that want to use these PCs can go to the service desk on the ground floor.
They can also get access to the study rooms, but only for access to the library collection. For this purpose, a day pass can be requested at the service desk on the ground floor.
The UB provides Eduroam internet. You can log in to this network using the credentials of your own university.
Unfortunately, study places are not yet available. Outside of exam periods, you may, however, use the 'train seats' and reading table located on the first floor without reservation. Please look at the University Library web page for more information.
There are also other locations you can go to for PCs, internet and working stations, such as Forum Groningen.
What will happen to your partnerships with Russian organizations?
The UG has decided to freeze all relations with Russian and Belarussian non-university partners with immediate effect. The UG is following national policy when it comes to cooperating with knowledge institutions in Russia.
Who can I contact for further questions?
If you are a student, please contact study rug.nl or your study advisor if you have any further questions regarding the war in Ukrain, the UG's response, or the possible implications for your study.
Are you a student or employee and have questions about HR-related matters (working at the UG, individual cooperation, for example) for refugees from Ukraine? Then please contact crossborderlabour@rug.nl.
Are you a student or staff member with questions about UG policy regarding the Russian invasion of Ukraine? If so, please contact the International Strategy and Relations (ISR) department, isr@rug.nl.
Staff can also discuss any remaining questions with their manager.
Would you like to offer your help?
| | |
| --- | --- |
| Last modified: | 13 June 2022 09.44 a.m. |