Ceremony of Merits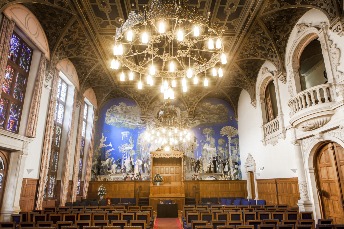 ---

All kinds of employees make exceptional contributions to our university every single year. With the new Ceremony of Merits, we recognize those employees and honor them.
In 2023, the Ceremony of Merits will be held on Friday 7 July in the Aula of the Academy Building. The walk-in is from 3.15 p.m. and the programme starts at 4 p.m. The ceremony can be attended by invitation only.
Exceptional contributions
A small group of people who have made exceptional contributions to the university will be invited to the Ceremony. This concerns academic staff, support and administrative staff, as well as students: all of them contribute in their own way to the standing of the UG as a top university. The ceremony will not be an academic ceremony with professors in toga's.
The Ceremony of Merits is the successor to the annual Summer Ceremony and the yearly December Diner. This year, the following awards will be presented:
GUF-100 prizes

Wierenga-Rengerink Dissertation Prize
The ceremony also honours the recipients of the NWO Vici grants 2023 and the winners of the Ammodo Science Award 2023.
GUF-100 prizes
The GUF-100 prizes for excellent students were first awarded in 1993, on the occasion of the 100th birthday of the Groningen University Fund (GUF). Each prize, awarded to the most excellent student from each faculty, comprises a one-off grant in the amount of €2,500 to be spent on studies or research.
Wierenga Rengerink Dissertation Award
The Wierenga Rengerink Dissertation Award comprises a €7,500 prize and a medal, and it is awarded since 2015 to the PhD student who writes the best dissertation UG-wide. The winner for this year is known and will be announced during the Ceremony of Merits.
More information about the programme will be announced soon.
Recap 2022
The Ceremony of Merits for 2022 was held on Friday 1 July. During the Ceremony, several prizes were awarded. Please read more about the prizes and the winners in this news article.
Photo's
During the ceremony, photographers Pjotr Wiese took pictures. They can be found on his website.
| | |
| --- | --- |
| Last modified: | 08 June 2023 2.54 p.m. |