J. (Jun) Yue, Prof
Associate Professor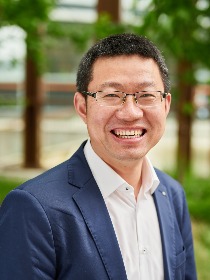 ---
Jun Yue obtained his bachelor degree from the Department of Chemical Engineering at Tianjin University in China in 1997 with specialization in Industrial Catalysis.
He earned his PhD degree in Process Engineering from Université de Savoie (currently known as Université Savoie Mont Blanc) in France in 2008. His PhD work was focused on gas-liquid transport and reaction properties in microreactors, which was further supported by a joint PhD program with Dalian Institute of Chemical Physics, Chinese Academy of Sciences in China.
Between September 2009 and July 2014, he has been working as a postdoc in the Laboratory of Chemical Reactor Engineering at Eindhoven University of Technology in the Netherlands where his research on microreactors has been extended to further cover liquid-liquid and gas-liquid-liquid systems.
Since August 2014, he has moved to the University of Groningen and is currently associate professor in green process intensification. His current research interests mainly include the development of novel reactor concepts (including among others microreactors and centrifugal contactors) in general and the use of intensified reactor technologies in green (bio-based) chemicals and materials synthesis in particular.
| | |
| --- | --- |
| Last modified: | 25 June 2022 11.22 a.m. |