dr. M.C.S. (Muirne) Paap
Associate Professor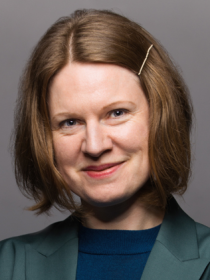 ---
In December 2018, I was awarded a personal grant (€800 000; type FRIPRO) by the Research Council of Norway for the project "Supporting specialized psychiatric care in remote areas: A computer adaptive diagnostic interview for personality pathology". This project has now been succesfully concluded.
The goal of this project was to develop an adaptive instrument for assessing personality disorders. Members of the project group were: Aleksander Heltne (PhD student), Dr Niek Frans (postdoc), Dr Benjamin Hummelen, Dr Sara Germans Selvik, Prof. Johan Braeken, Prof. Bernard Veldkamp, and myself as project leader. Click here for a short description of the project.
I am the main PhD supervisor for Aleksander Heltne (Oslo University Hospital, University of Oslo) and co-supervisor for Guido Williams (Leiden University). I was co-supervisor for dr. Sabrina Soe-Agnie (Radboud University Nijmegen), and dr. Marleen Wessels (University of Groningen) who have succesfully defended their theses.
National and international collaborators:
Helse Nord Trøndelag, Norway

Department of Special Needs Education, University of Oslo, Norway

Division of Psychosocial Research and Epidemiology, Netherlands Cancer Institute, Amsterdam, The Netherlands

Research group for personality disorders, Oslo University Hospital, Norway

Regional Kompetansetjeneste for rehabilitering i Helse Sørøst, Sunnaas Sykehus HF, Norway

Institute for Social Medicine, Epidemiology and Health, Charité Universitätsmedizin Berlin, Germany

The EMGO Institute for Health and Care Research, VU University Medical Center, Amsterdam, The Netherlands

Department of Research Methodology, Measurement, and Data-Analysis, University of Twente, The Netherlands

Centre of Educational Measurement at the University of Oslo (CEMO), University of Oslo, Norway

University of Birmingham, UK

Harvard Medical School, USA
| | |
| --- | --- |
| Last modified: | 09 March 2023 1.39 p.m. |