prof. dr. J.L. (Jan-Luuk) Hillebrands
professor Experimentele Vasculaire Pathologie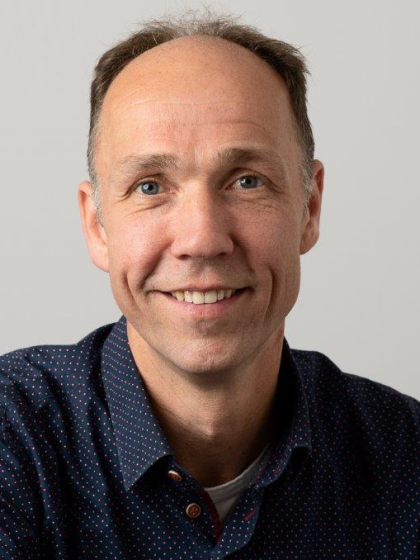 ---
Research
Research interests
Biosketch
Jan-Luuk Hillebrands (1972) is a medical biologist and tenure track Professor of Vascular Biology at the Department of Pathology & Medical Biology, Division of Pathology of the University Medical Center Groningen (UMCG). He studied Medical Biology at the University of Groningen after which he started his PhD training at the Department of Cell Biology - Immunology section of the UMCG. In 2001, he received his PhD cum laude on the pathogenetic mechanisms underlying development of transplant vasculopathy. He then moved to the Rossini lab (Diabetes Division, University of Massachusetts Medical School, Worcester, MA, USA) where he was a post-doc until 2003. During his stay in the USA, he worked on the phenotypic and functional characterization of regulatory T cell subsets in a rat model of autoimmune diabetes. After his return to Groningen he was awarded an NWO-VENI grant as well as a personal Career Stimulation Program Grant from the Dutch Kidney Foundation. In 2007 he was awarded a Career Development Grant from the Dutch Diabetes Foundation and in 2009 an NWO-Medium Investment Subsidy was granted for an advanced microscopy system (TissueGnostics TissueFAXS system, https://www.rug.nl/umcg/onderzoek/faciliteiten/microscopyUnit/object221867840).
His main current research interest is the development of cardiovascular disease (in particular atherosclerosis) in the context of chronic kidney disease and diabetes, with special emphasis on phenotypic modulation (including calcification) of vascular smooth muscle cells. He is workpackage leader within the NIGRAM consortium (Dutch Kidney Foundation FGF-23 - klotho - vitamin D axis) in which his focus is on the expression and characterization of vascular Klotho in health and vascular disease. Furthermore, he is interested in targeting renal fibrosis using cell-specific targeting strategies. His expertise is on basic research including animal models of renal and vascular disease.
In addition to his research activities he has been involved in various teaching activities for students Medical Sciences, Dentistry and Life Sciences since he started his PhD training. Currently, he is responsible for teaching basic histology in the new medical curriculum G2020. He co-edited the Dutch histology textbook "Functionele histologie", 14e druk ISBN: 9789035237988, Reed Business Education (2014).
He is UMCG co-coordinator of the International Research Training Group GRK1874/1 "Diabetic Microvascular Complications" (collaboration University of Mannheim/Heidelberg (Germany) and the University of Groningen/UMCG) (http://www.umm.uni-heidelberg.de/ag/grk1874/). Since 2012 he is member of the Scientific Advisory Board of the Dutch Kidney Foundation.
Publications J.L. Hillebrands in PubMed:
http://www.ncbi.nlm.nih.gov/pubmed/?term=hillebrands+jl
Fields of Specialisation
macrovascular disease, diabetes, transplantation, vascular biology, vascular progenitor cells
Research lines
1.  Development of transplant vasculopathy after experimental and clinical renal transplantation with focus on vascular progenitor cells and smooth muscle cell phenotypic modulation
2.  The FGF23-klotho-vitamin D axis in chronic kidney disease: implications for the    development of atherosclerosis
3. Development of macrovascular disease (PAD/CAD) in human type 2 diabetes: role of vascular progenitor cells/myeloid cells
4.  Protective role of gasotransmitters in renal disease and atherosclerosis 
5. Therapeutic targeting of interstitial myofibroblasts in experimental renal fibrosis in mice
 6. Identification of novel genes associated with renal ageing in mice (collaboration Dr. R. Korstanje, Jax Laboratories, Bar Harbor, ME, USA) 
ID: 85074