I. (Isabel) Estrada Vaquero, Dr
Associate Professor; Coordinator MSc BA Change Management (since January 2021-); Coordinator Digital Business Focus Area (since January 2021)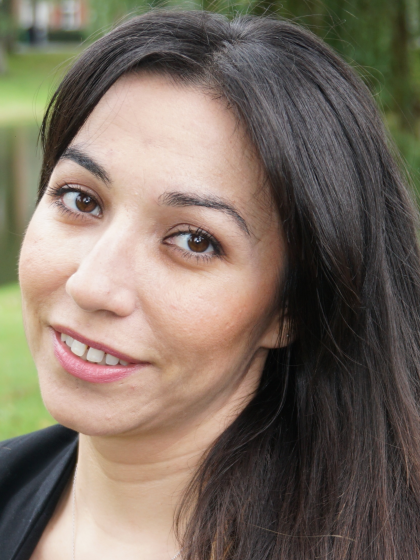 ---
The full CV of dr. Isabel Estrada Vaquero is available here
Dr. Isabel Estrada is an Associate Professor at the Department of Innovation Management & Strategy, Faculty of Economics & Business (FEB), University of Groningen (UG). Before joining the UG in August 2012, Isabel earned a PhD student position at the University of Valladolid (Spain), co-funded by the European Social Fund and the Regional Government of Castilla y Leon. She received her PhD title in April 2012, with a dissertation on 'Collaboration and Value Creation in Multi-Partner R&D alliances'. With this work, she received the 'Distinguished Doctoral Dissertation in Social Sciences Award' (2012-2013, University of Valladolid) and, with a related project, the '10th Juan José Renau Piqueras Award in Economic Research' (Campus Ontinyent Foundation, University of Valencia).
Isabel teaches/has taught courses on Organizational and Collaborative Innovation in different education programmes (Master of Science, Research Master, Executive Master, Bachelor and Pre-Master) and she has been the Faculty Coordinator of the of the MSc BA Change Management programme and Focus Area Digital Business since 2021. Along her career, she has received several teaching awards, such as the 'Best Newcomer Award' (FEB, UG, 2013) and, more recently, a 'Fellowship for Innovation of teaching Award' (UG, 2017).
Her research focuses on collaborative innovation strategies, with an emphasis on 'particularly challenging' collaborative strategies, such as alliances between competitors (coopetition), multi-partner R&D alliances and Industry-University alliances. Her work has been published in journals such as Research Policy, Long Range Planning, Bristish Journal of Management, Industrial Marketing Management, Journal of Small Business Management, Journal of Knowledge Management, and Innovation: Management, Policy and Practice, as well as several book chapters.
Isabel is also a fellow of the 'SOM Research Institute' and a member of the Connecting Innovation & Creativity (CONINC) Signature Area'. In addition, she serves as regular/ad-hoc reviewer for journals such as Research Policy, Journal of Management Studies, British Journal of Management, R&D Management, Industrial Marketing Management and Long Range Planning. She has been involved in several research projects, like the project "How can larger organisations also be innovative organisations?" funded by the European Investment Bank (EIBURS Line of Research 2015-2018) and coordinated a project on conflicts in research consortia (EURAM 2020 Grant Scheme; grant ID: 42). For valorization and enrichment of research and teaching activities (e.g. expert consultation, guest lectures), she seeks to connect with relevant organizations and is a member of the ' Value in Collaborative Innovation-VinCi Center of Expertise' (no income received). In 2021, Isabel has been appointed Co-Chair of the SIG Strategic Management of Euram and, since 2018, serves as editorial review board member for Journal of Management Studies (both positions are unpaid).
| | |
| --- | --- |
| Last modified: | 25 June 2022 2.31 p.m. |