prof. dr. C.G. (Catrien) Santing
Hoogleraar Middeleeuwse Geschiedenis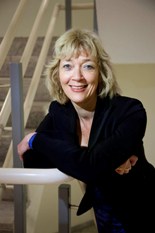 ---
- Laqueur revisited. Between Constructed Bodies and Bodily Materiality. Publication of the papers at the international symposium, held in Groningen, 22 & 23 November 2010: together with prof. dr Mineke Bosch, Modern History.
- Loose Heads, with Barbara Baert (Louvain) T he representational tradition in word and image of loose heads, the iconification of separate body parts and its cultural-historical significance in relation to changing concepts of sensations/pain, cruelty and their practice. registration free but required.
- Blood Symbol Liquid , with Jetze Touber (University of Utrecht), papers to be published 2011. The shifting composition of the material and symbolic components of blood are studied in a broad chronological and thematic perspective. Blood serves as an excellent indicator of a nexus of late medieval and early modern Cultural Change, in which matter and meaning seem to have segregated progressively.
- Heart of the Matter . The aim of this book project is to analyse and chart the sociocultural construction of the dead human body and parts thereof in Rome for the period between 1475 and 1625. This analysis is based on a comparison between the various motivations for the anatomisation of the human body and the conflicting tendency aimed at keeping human cadavers intact. Increasingly, religious relics took on a "bodily shape", a development that resulted in the public display of complete corpses. This underscored the fact that religious faith acquired a more physical dimension, a tendency that towards the end of the sixteenth century culminated in the notion of "the body as a machine of faith". The heart became the most important devotional instrument and a veritable object of veneration. At the same time, though, the new influx of ancient manuscripts revived the controversy involving the primacy of the heart versus that of the brain, prompting the discovery of the blood circulation system, which was a subject of major concern to Rome-based physicians.
Santing participates in: Medieval Memoria online. The aim of the project is to create an application that will enable researchers to select and analyze source material that is essential for the study of medieval commemoration practices (also known as memoria) http://memo.hum.uu.nl
The Modern Devotion as a vehicle of reflection and education and as an instrument of social and cultural cohesion within a German-Dutch trans-regional context, ca. 1350- ca.1580. Project Department of History RuG with the Ruhruniversität Bochum.
Vertel hier iets over uw projecten.
| | |
| --- | --- |
| Laatst gewijzigd: | 25 juni 2022 13:08 |