dr. A.M. (Aurora Marijke) Martin
associate professor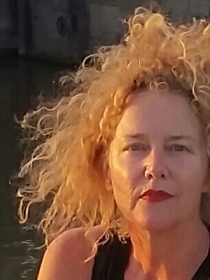 ---
Martin teaches in the Bachelors and the (Research) Masters; in the domain of modern and contemporary architecture and town planning, in and beyond Europe.
Specific attention is paid (Ma) to civic culture (the supposed inter-relation of ville and the cité), to the imagining and representing of the (ideal, dystopian) city over time (discourse and design analysis), and to place making processes (including Colombia, Prague and sub-Saharan African "native" housing estates) as emancipatory episodes, then and now.
Bildung (citizens education and emancipation, and the human and non-human actors involved) through architecture and place making offers a red thread through all modules.
Architecture and Town planning (history) are situated in their societal, politico-economical and cultural contexts.
Lectures, seminars, excursions and other student-related projects depart from a contemporary perspective, resulting in a critical, applied analysis of architecture history.
International contacts in the field of urban policies, architecture and academia are brought in for guest lectures, exchange programs, summer schools and during yearly international (Ma) excursions (London, Vienna, Medellín, Prague, Berlin etc).
Main goal is to give students insight into the complex processes of - and motives behind conceptualization, production and reception of the built environment through architecture and urban design. Together with a selective set of theoretical and methodological tools, such will result in an academic, critical attitude toward both historically oriented research and contemporary/future design challenges.

Students are encouraged to participate in ongoing (in situ) research, write and co-edit peer reviewable articles, and to publish their own 'journal' (Civic Culture).
| | |
| --- | --- |
| Last modified: | 25 June 2022 12.24 p.m. |