dr. A.M. Martin
associate professor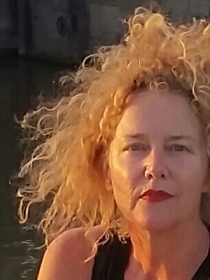 ---
1
CURRICULUM VITAE
Aurora Marijke Martin
Associate professor History of modern/contemporary Architecture & Urbanism, University of Groningen (NL).
ACADEMIC EDUCATION
1997 PhD 'The Birth of the modern City: Maastricht (NL) 1650-1905'
Supervisors: Prof. Dr. E.R.M. Taverne (University of Groningen) & Prof. dr. F. van Voorden (Technical University Delft)
1986 MA in History of Architecture & Urbanism, University of Groningen, the Netherlands
1984 – 1986 Researcher at Institut Français d'Architecture, Paris, France (supervision Bruno Fortier)
LANGUAGES
Native: Dutch | Fluent: English, French (German)
PROFESSIONAL EXPERIENCE SINCE 1991 (working at University of Groningen, NL)
Education: responsible for content, format and organisation of course units/lectures in the field of Architecture, Town Planning + Health at all levels of the academic curriculum; active participation in renovation/renewal of Ba
and Ma curriculums; supervision of PhD-research; organisation/supervision of student exhibitions, foreign excursions and international (Erasmus) exchange projects/internships; organization of international summer schools.
Research: author and editor of articles, books, congress papers; participation in (international) congresses and seminars; fund raising for personal research and academic projects; participation in international grant proposals; cooperation/exchange contracts with universities in various countries.
Focus: late 18th Century till nowadays – urban transformation processes – broad international perspective (including non-Western, Central European regions) – civic culture in urban discourse/design – urban representation (through cinema, art, literature) – urban health strategies.
Selection:
2020 Visiting professor Archip/Prague
2019 (Oct) Fieldwork Douala (Cameroun) and Libreville (Gabon) on public native housing – with PhD student.
2019 (Jul) Organizer international Summer School 'Urban Strategies for Health Promotion' at University of Groningen
2017 (Jun) Organizer international Summer School 'Traumatized Cities: Narratives, Cartographies and Recovery Strategies', together with University of Antioquia and National University of the City of Medellín/Colombia, Medellín.
2016 - 2018 Lecturer 'Imagining the City' at University College Groningen.
2016 (Sep) International Exchange mission to University of Antioquia, Medellín/Colombia, on behalf of University of Groningen/Humanities.
2015 Visiting Lecturer at dept. of Architecture History and Theory, Technical University Delft
2015 - now Collaboration (formal contract) with Dutch Alliance for Sustainable Urbanism in Africa (DASUDA), Amsterdam.
2015 BKO (Basic Teaching Qualification)
2012 - 2013 Visiting professor at Architectural Institute of Prague (Archip), Prague/Czech Republic.
2006 Co-curator exhibition 'Bogotá, From Chaos to Meta-City, 10th Architecture Biennale, Venice


RESEARCH ACQUISITIONS/FUNDS (selection)
2018 - 2019 co-applicant of approved COST (European Cooperation in Science & Technology) action 'Dynamics of placemaking and digitization in Europe's cities' (OC-2018- 2-23171; duration 2019 - 2023): https://www.cost.eu/actions/CA18204/#team.
2016 Research proposal at Dutch Organization for Scientific Research (NWO), entitled 'Health and the City. A critical survey of the health effects of architectural and urban interventions in cities in Western and Central Europe, 1948-1989' (with Cor Wagenaar, to be re-submitted in 2020)
2009 - 2013 Supervision/matching of TU Delft research project 'A digital Research Environment for European Colonial Architecture and Urbanism'.
2009 - 2011 Grant from Dutch Stimuleringsfonds (Belvedere) for research project 'Postwar transformation of historical inner cities in the Netherlands' (with Noor Mens, € 85,000).
2006 - 2008 Grant from Gratama Foundation for research in Bogotá/Colombia (€ 7,000).
2006 - 2008 Grant from the Flux-Van Eesteren Foundation for student's research in Bogotá (€ 4500).
2005 - 2009 Grant from Dutch Organisation for Scientific Research (NWO) for research, entitled 'Changed Conditions: An Inquiry Into the Disappearance of 'Bildung' from Architecture' 1965-2000' (€ 148,000).

PhD SUPERVISION (most recent)
2017 - 2021 Supervisor Pauline Bezemer: 'Mapping the City: a comparative research into historic neighbourhoods in SubSaharan African cities', University of Groningen.
2013 - 2019 Supervisor Vera Damayanta: History and Cultural Values of a River Landscape; Banjarmasin River City,
Indonesia', University of Groningen.
2007 - 2012 Supervisor Luce Beeckmans: 'Making the African city: Dakar, Dar es Salaam, Kinshasa, 1920-1980', University of
Groningen, in collaboration with Ghent University/Belgium (Jan van Gelder Prize for best art historian dissertation
2013).
CONGRESSES/LECTURES (recent selection)
2019 (Jul) 'The medicalized City: narratives and representations since the Enlightenment' at Summer School 'Urban
Strategies for Health Promotion', University of Groningen.
2018 (Feb) Session 'Cultural-historical assessments as mediators for sustainable urban architectures. A laboratory with case studies from Sub-Sahara Africa native dwelling estates'' at International Urban Conference of African Centre for Cities, University of Capetown.
2017 (Jun) 'The Map and the Territory: a traumatic Affair', lecture at Summer School 'Traumatized Cities: Narratives, Cartographies and Recovery Strategies', University of Antioquia, Medellín/Colombia
2016 (Jul) 'Hybrid repair strategies for hybrid architectures. The case of Kaloleni, a 1940s neighbourhood in Nairobi/Kenya', lecture at symposium Hybrid Architectures; Case studies on the African Continent, Centro de Investigacao Artistica, Lisbon/Portugal (20-23 July)
2014 Keynote lecture 'Similarities and differences in the planning of new housing estates in the Western welfare states and in the socialist countries in Central Europe', at congress: Re-humanizing Architecture. New Forms of Community 1950-70, ETH Zürich/Switserland.

PUBLICATIONS (selection)
Books (selection)
*M. Martin, G. Martin, A. Escovar & Goossens M. (eds) (2007), Bogotá: El Renacer de una Ciudad, Bogotá (413 p.):
https://www.academia.edu/30426732/Bogota._El_renacer_de_una_ciudad._Planeta_Editoriales._Bogota._2007
*M. Martin (2000), Opkomst van de moderne stad. Ruimtelijke veranderingen in Maastricht 1660-1905, Zwolle 2000 (288 p.)
*M. Martin (1998), Abe Bonnema Architect, Rotterdam (228 p.)
*M. Martin, C. Wagenaar & Welkamp A. (eds.) (1995), Mendini! Starck! De Lucchi! Himmelb(l)au! in Groningen!, Gent (199 p.)

Articles and congress papers (selection)
*M. Martin & P. Bezemer (2020), Building native cities in Lomé/Togo and Douala/Cameroun, 1919-1940: planning versus reality',
Planning Perspectives, Routledge – in peer review process/publication.
*M. Martin (2019), 'The Vyšehrad Cemetery. A Czech campo santo (Het Vyšehrad kerkhof. Een Tsjechisch campo santo)', Groniek.
Historisch Tijdschrift, special issue Fin de Siècle, Groningen, 189-209.
*M.Martin & P. Bezemer (2019), 'The concept and planning of public native housing estates in Nairobi/Kenya, 1918-1948'. Planning
Perspectives,
Routledge:https://www.tandfonline.com/doi/full/10.1080/02665433.2019.1602785.
*M. Martin & C. Wagenaar (2017), 'Building a New Community – A Comparison Between the Netherlands and Czechoslovakia', in:
Ákos Moravanszky, Judith Hopfengärtner (Eds), Re-Humanizing Architecture. New Forms of Communicty, 1950-1970, Birkhäuser Basel, 145-173: https://www.researchgate.net/publication/311787008_Building_a_New_Community_-
_A_Comparison_Between_the_Netherlands_and_Czechoslovakia_New_Forms_of_Community_1950-1970) .
*M. Martin & G. Martin (2015), 'Proximity, Crime, Politics and Design. Medellin's popular neighborhoods and the experience of
belonging', in: C. Klaufus & A. Ouweneel (eds), Housing and Belonging in Latin America, Berghahn Books, New York/Oxford, 43 –
78: https://www.jstor.org/stable/j.ctt9qdb7t.
*M. Martin (2007), ´La Ciudad como Construcción Física y Mental: Bogotá´, in: G. Martin, A. Escovar, M. Martin, M. Goossens (eds), Bogotá: El Renacer de una Ciudad, Bogotá, 29 – 45.


FUNCTIONS outside University of Groningen (selection):
2019 - Member Management Committee of Cost (European Cooperation in Science & Technology) action 'Dynamics of
placemaking and digitization in Europe's cities'.
2016 - 2019 Framing + implementation of future Special Chair in Architecture at University of Groningen/Technical University
Delft (Architecture) on behalf of Ir. Abe Bonnema Foundation (NL).
2015 - 2017 Member Central Welstand (aesthetics) Committee of the Province of Friesland
2014 - 2016 Member of Jury for Abe Bonnema Prize (€50.000)

ADMINISTRATIVE FUNCTIONS within University of Groningen (selection)
2019 - now Member Program Commission for Master Arts & Culture
2015 - 2016 Member Executive Board dept. Art and Architecture History
2013 - 2015 Chairman of Education Committee dept. Art and Architecture History
2012 - 2016 Head of the section Architecture and Urban History


| | |
| --- | --- |
| Last modified: | 09 October 2020 3.01 p.m. |