Nuver, of nie?
De status van dialectkennis bij Drentse jongeren
Wat is de toekomst van het Drents? Volwassenen weten het wel: de Drentse taal is belangrijk om gevoelens te uiten en je beter uit te kunnen drukken. Maar geldt dit ook voor jongeren? Kunnen zij de Drentse teksten nog begrijpen of is hun woordenschat hiervoor te klein? Gebruiken zij überhaupt nog het Drents dialect thuis of op school? Joanne van der Boom, studente Language and Cognition, zocht dit uit voor haar afstudeeronderzoek.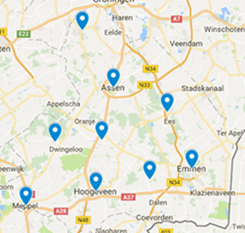 Kennis inschatten & taalvaardigheid
De scriptie van Joanne richtte zich specifiek op de relatie tussen wat we denken dat we begrijpen in dialect en wat we daadwerkelijk van het dialect snappen. Zij nam het onderzoek af bij 376 Drentse vmbo-leerlingen op 9 scholen. Joanne vroeg aan hen hoe goed zij Drents konden spreken: heel goed, een beetje of helemaal niet.
Joanne keek vervolgens of deze inschatting klopte met een aantal stellingen en een test. Denk hierbij bijvoorbeeld aan stellingen als 'Ik ken veel Drentse woorden' en 'Ik kan een gesprek in dialect goed volgen'. De leerlingen moesten onderdelen lezen in het Drents, naar het Drents luisteren en er werd gekeken welke Drentse woorden ze begrepen. Jongeren kregen Drentse woorden als 'anhemmeln' (opruimen), uitdrukkingen als 'lood um aold iezer' (het komt op hetzelfde neer) en o.a. muziekfragmenten met bijbehorende vragen om hun Drentse vaardigheden te testen.
Wat bleek: jongeren die heel goed Drents spreken, behaalden een iets hogere score op de test, maar het verschil kwam alleen naar voren op het onderdeel woordenschat. Op de rest van de onderdelen van de test scoorden alle jongeren gelijk.
Attitude
Een ander deel van Joanne's onderzoek ging over de 'attitude' ten opzichte van het Drents: wat vinden jongeren eigenlijk van het dialect? Joanne liet de jongeren fragmenten in het Drents en het Nederlands horen en vroeg wat zij van de sprekers vonden: ouderwets of juist modern? Misschien heel gezellig? Het Nederlands werd door alle groepen hoger gewaardeerd dan de dialecten.
Daarentegen werden de dialecten niet per se als 'dom' of 'grappig' beschouwd; het lijkt erop dat dialectsprekers toch als een volwaardig communicatiepartner worden gezien, alleen dat de status van het Drents nog steeds lager ligt dan het Nederlands. Opvallend is wel dat de jongeren die heel goed Drents spreken het dialect vaak positiever waardeerden dan het Nederlands. Zo vonden zij het Drents gezelliger en mooier klinken dan hun klasgenoten die zelf geen Drents spraken.
Toepassen in de klas?
Aan het einde vroeg Joanne aan de scholieren en docenten of zij het Drents als schoolvak op de middelbare school zouden zien. Docenten van diverse vakken staan er in ieder geval al positief tegenover: zij zien Drents wel op projectbasis geïntegreerd worden in hun bestaande vakken. Jongeren staan gemengd tegenover het idee: zij zien niet altijd de toegevoegde waarde van het Drents ten opzichte van een internationale taal als het Engels.
Toch kan het Drents een opleving krijgen als het samengevoegd wordt met bestaande vakken op de middelbare school zoals Cultureel Kunstzinnige Vorming (CKV). In plaats van een gewoon museumbezoek, kunnen leerlingen ook Drentse toneelstukken bezoeken of naar het Huus van de Taol in Beilen. Op deze manier kunnen scholieren rustig aan het idee wennen dat Drents dialect bij hun cultuur en onderwijsprogramma hoort.
| | |
| --- | --- |
| Laatst gewijzigd: | 06 augustus 2021 14:55 |