'Met je mond vol Nederlands'
Drie masterstudenten toegepaste taalwetenschap voerden in samenwerking met het Talencentrum van de Rijksuniversiteit Groningen en de Wetenschapswinkel Talen, Cultuur & Communicatie onderzoek uit onder Syrische (en één Iraanse) vluchtelingen hoe het leren van een vreemde taal verbeterd kan worden. Binnen het project 'Met je mond vol Nederlands' onderzochten Stephanie Berghuis, Kristy Kuik en Alies Post verschillende aspecten die belangrijk zijn voor het taalverwervingsproces: motivatie, het overwinnen van taalangst en het omgaan met feedback.
Onderzoek Kristy Kuik - Grip op je eigen leerproces: Het effect van motivatie
Het leren van een vreemde taal is soms frustrerend en demotiverend. Hoe hou je jezelf toch gemotiveerd om verder te gaan? Kristy Kuik onderzocht dat samen met een groep (Syrische) vluchtelingen die momenteel bij het Talencentrum de Nederlandse taal leren. Het stellen van kleine en behapbare doelen draagt bij aan een positief motivatieniveau in de klas, concludeerde Kristy. Het is niet alleen een handige stok achter de deur voor studenten die een nieuwe taal leren, ook docenten kunnen met Kristy's conclusies verder door samen met hun studenten realistische doelen te stellen.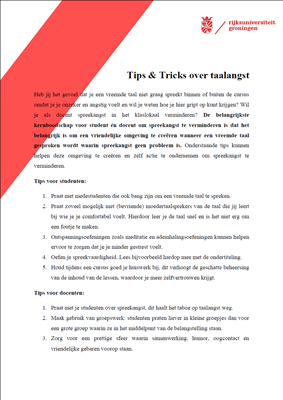 Onderzoek Alies Post - Grip krijgen op taalangst
Alies Post onderzocht in welke mate taalangst - de angst om een vreemde taal te leren - van invloed is op het taalleren. Zij voerde dit onderzoek uit bij (Syrische) vluchtelingen die momenteel de Nederlandse taal leren. Conclusie was: veel praten met native speakers waarbij men zich prettig voelt en positieve feedback geven op het leerproces vermindert het gevoel van taalangst. Het geeft niet alleen houvast aan studenten, ook docenten kunnen dit onderzoek aangrijpen door de tips hun lessen te implementeren.
Alies schreef tevens een handleiding met Tips & Tricks voor docenten en studenten.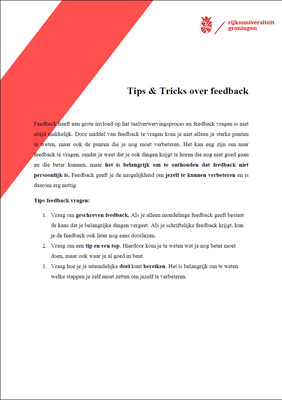 Onderzoek Stephanie Berghuis - What do you have to know about feedback to learn a language effectively? (EN)
Stephanie Berghuis examined the effect of teachers' feedback in language learning. With the help of a group of (Syrian) refugees who are learning the Dutch language,Stephanie did research on the effect of feedback on learning a new language, and also on what kind of feedback works best. The students showed her that constructive and positively oriented feedback worked the best to learn more. Also, written ánd oral feedback on their projects were considered very important.
Stephanie schreef tevens een Tips & Tricks document over feedback in het Nederlands.
| | |
| --- | --- |
| Laatst gewijzigd: | 06 augustus 2021 14:55 |