Integratie in Nederland is voor Latina's een uitdaging
In Nederland woont een aanzienlijke groep Latijns-Amerikaanse migranten, voornamelijk vrouwen. Veel van hen ervaren moeite met de integratie in Nederland. Waar komt dat vandaan? Student Europese Talen en Culturen Annetje Gleichman vroeg voor haar scriptie een grote groep Latina's en Latino's naar hun ervaringen en kwam tot interessante conclusies. Ze voerde dit project uit voor de Stichting Empower Yourself en de Wetenschapswinkel Taal, Cultuur en Communicatie van de RUG.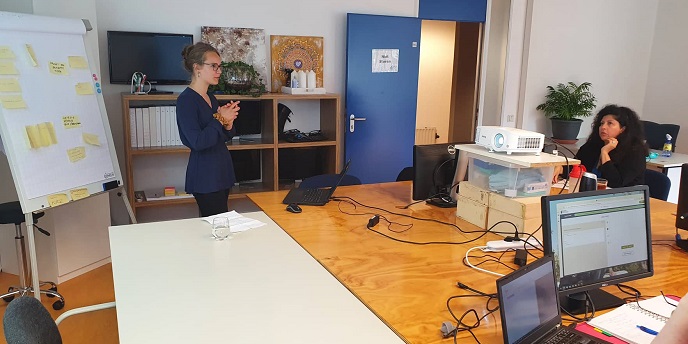 Taalangst als barrière
De Stichting Empower Yourself zet zich in voor participatie, integratie en het welbevinden van kwetsbare groepen. Latijns-Amerikaanse migranten zijn voor de stichting een interessante groep, juist omdat ze vaak niet als groep gezien worden. Ze vertonen een grote diversiteit in sociaal-economische achtergrond, nationaliteit en motivatie om naar Europa te verhuizen. Maar ze lopen wel allemaal tegen culturele verschillen en een taalbarrière aan. Daar komt nog bij dat veel latina's een kwetsbare groep vormen, omdat zij voor hun integratie afhankelijk zijn van een Nederlandse partner of werkgever.
Een belangrijk middel tot integratie en zelfstandigheid is het leren van de Nederlandse taal. Hoe is het voor deze Spaanssprekende groep om Nederlands te gebruiken? Moeilijk, aldus het onderzoek van Annetje. Ze enquêteerde 65 Latijns-Amerikaanse migranten uit 18 verschillende landen naar de ervaringen in Nederland en met het gebruik van het Nederlands als tweede taal. Annetje keek met name naar foreign language anxiety, oftewel de angst om een tweede taal te gebruiken.
Geen Spaanstalige overheidsinformatie
Daarnaast keek Annetje ook naar de ervaringen van deze groep met informatievoorziening van de Nederlandse overheid, die immers integratie ook zou kunnen bevorderen. Uit de vragen naar de informatievoorziening door de Nederlandse overheid kwam een vrij negatief beeld naar voren. De overgrote meerderheid van de Zuid-Amerikaanse Nederlanders miste informatie in hun moedertaal. Juist goede begrijpelijke informatie kan helpen bij het overbruggen van culturele verschillen en het vinden van een goede opleiding, werk en regelingen om zelfstandig te kunnen integreren. Het gebrek aan Spaanstalige informatie over Nederlandse wet- en regelgeving, Nederlandse gebruiken, huisvesting en educatie leidt vaak tot frustratie en onzekerheid.
Vrouwen vaker onzeker over Nederlands
De meeste Latina's en Latino's gaven aan nerveus en gestrest te zijn bij het gebruiken van het Nederlands in allerlei situaties. Dat geldt zowel bij het begrijpen van wat er precies van je verwacht wordt op je werk, als bij de deelname aan gesprekken. Uit de enquête van Annetje blijkt dat vrouwen vaker onzeker zijn, maar door het kleine aantal mannen dat meedeed zijn deze verschillen niet significant. Om te achterhalen of deze verschillen daadwerkelijk bestaan en waar ze vandaan komen, is meer onderzoek nodig. Annetje adviseert onderzoekers om zich vaker op deze doelgroep te focussen, zodat de situatie van deze groep kan verbeteren.
| | |
| --- | --- |
| Laatst gewijzigd: | 17 september 2021 13:43 |