Hoe dieren vermenselijkt zijn in verhalen over Reynaert de vos
Het dierenepos Van den vos Reynaerde is een van de bekendste Middelnederlandse literaire teksten. Hoewel de originele tekst niet meer zo vaak wordt gelezen, hebben veel mensen wel eens van Reynaert gehoord of kennen zelfs enkele van zijn avonturen. De vele kinderboeken die over deze vos zijn verschenen hebben ongetwijfeld bijgedragen aan de bekendheid van het verhaal. Ook in het Kinderboekenhuis zijn moderne bewerkingen van de Reynaert niet moeilijk te vinden. Jeltsje van der Mark analyseert voor haar bachelorscriptie bewerkingen uit de periode 1950 tot nu.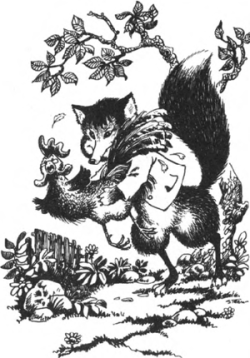 Een belangrijke reden om juist dit verhaal voor kinderen te bewerken is het feit dat Van den vos Reynaerde een dierenverhaal is. Dieren hebben een grote aantrekkingskracht op kinderen, vandaar dat er vaak dierpersonages voorkomen in kinderboeken. Om de herkenbaarheid met de jonge lezer te vergroten, geven kinderboekenauteurs hun dierpersonages vaak menselijke trekjes. De dieren hebben bijvoorbeeld kleren aan, lopen op twee poten en kunnen praten.
Naar het menselijke van de dieren in Van den vos Reynaerde is al veel onderzoek gedaan, maar over de bewerkingen voor kinderen is nog weinig geschreven. Jeltsje bekijkt vijf kinderboeken, waaronder Reinaart de vos van A.D. Hildebrand en het verhaal over Reynaert uit Simone Kramers Van Reynaart de vos tot Sint Brandaan. Ze onderzoekt op welke manieren de dieren precies zijn vermenselijkt en waar in het verhaal dat gebeurt. Ook probeert ze erachter te komen welke effecten de kinderboekenauteurs hiermee wilden bereiken. In de middeleeuwse Reynaert hebben de dierpersonages bijvoorbeeld menselijke kenmerken om de lezer een spiegel voor te kunnen houden. Is dit bij de bewerkingen ook het geval of hebben de kinderboekenauteurs een ander doel voor ogen?
| | |
| --- | --- |
| Laatst gewijzigd: | 06 augustus 2021 14:55 |