Museum aan der A
Project from Lars Kieskamp and Viktorija Zemaityte
Plan your visit to a new Museum aan de A in 2024! It is a historical meeting place that proudly tells the story of Groningen. It also gives all kinds of opportunities to visitors from all over world to engage with history through changing exhibitions, workshops, side projects with theatre and music, and lectures.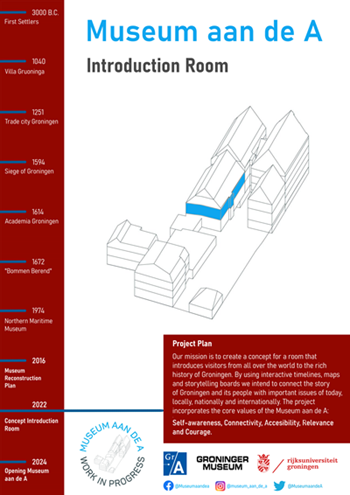 Now let's turn to our project and have a look at our vision of the introduction room for the new museum. By using interactive timelines, maps and storytelling boards we will aim to connect the story of Groningen and its people with important issues of today – locally, nationally and internationally. A new concept will also incorporate the core values of the Museum aan de A:
Self-awareness – learn about authentic stories of Groningen people and take an opportunity to exhibit your own collection in our specially designed showcase.
Connectivity – connect with the history of Groningen and each other. A planned interactive map will allow visitors to register where they come from and see how different worlds come together here.
Accessibility – we exclude no one and welcome everyone! We are gathering ideas to create equal opportunities for all to access the history of Groningen.
Relevance – the present begins with knowledge of the past, therefore the new introduction room will address topics like sustainability, climate change and political-social issues.
Courage – we will also introduce uncomfortable topics and address different perspectives.
If you have any ideas or other topics you would like to see in our introduction room or other rooms of the Museum aan de A, we invite you to visit the Northern Maritime Museum. It has an interactive board, where you can share your thoughts and express an opinion.
See you in the Museum aan de A in 2024!
Lars and Viktorija
| | |
| --- | --- |
| Last modified: | 08 March 2022 3.47 p.m. |