Communal Farming: An alternative agri-food system - A research project for Omrop Fryslân
We were a team of five students from diverse study backgrounds: Gigi Reisner (BA History), Romy van der Lingen (BA American Studies), Wera Haake (BA International Relations), Nora Bonas (BA International Relations) and Okke Verhoog (BA Media Studies). As part of the career minor of the Faculty of Arts, we collaborated with Omrop Fryslân in initiating a community-supported farm in Friesland. Our aim in this project was to lay a research foundation to facilitate the creation of a farm that connects farmers and citizens, models progressive agriculture and explores new forms of engaged journalism where the journalist can possibly mediate between groups of society.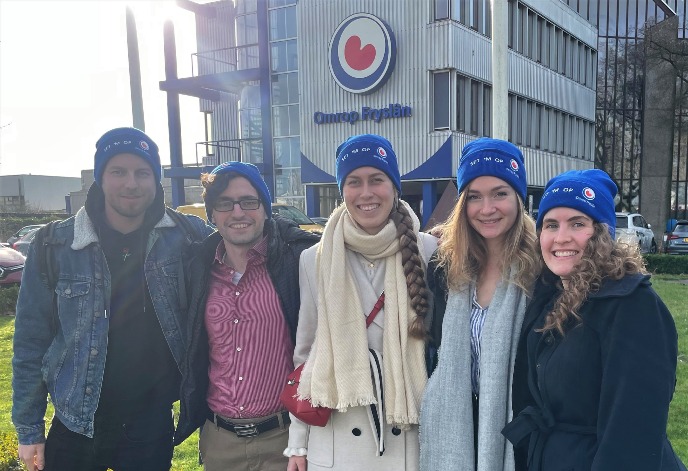 Our role ultimately entailed research on the gap between farmers and citizens, as well as the agricultural conditions in Friesland for the argumentative power of the report and project as a whole. The project basis was then formed through a study of four research directions: (Engaged) journalism, civic engagement, existing initiatives and partners/stakeholders. During the research process we involved multiple methods of inquiry:
A literature study: Relevant theory for the problem statement, on journalism and on civic engagement.
Content analysis and comparison: Websites and portfolios of existing initiatives, partners - & some stakeholders (e.g. Frisian government).
Farmer interviews: Relevant perspectives behind existing initiatives, and for the stakeholder analysis.
The most relevant takeaways were the enriching effect of engaged journalism in polarized societies, the great opportunities for combining different methods under this category and the positive effect of civic agriculture on the community.
Additionally, we learned four lessons during our analysis of existing initiatives: (1) CSA (Community supported agriculture) farmers cannot live/finance the venture purely off the subscription sum, which means that the financial sustainability of the project needs to be dealt with. (2) The workload on these farms goes beyond the usual farming activities, and thus the capacity of one farmer: They will need assistance in form of volunteers or co-workers. (3) Before the actual setup of the farm, certain practicalities have to be considered, e.g.: Is there enough citizen interest in close proximity of the farm?; and (4) there are big CSA network organizations who have compiled advisory documents that allow startup CSA farms to follow in their footsteps and benefit from their experience.
For the purpose of our partner - and stakeholder analysis, we differentiated between the assistance these parties could provide and compiled a list of possible partners to consider. They fall under practical assistance (e.g. other CSA farmers), theoretical assistance (e.g., University of Wageningen) and networking partners (e.g. CSA and Solawi network), who can offer assistance through their rich list of contacts and mediating function.
Our findings shall serve as inspiration for the project Omrop Fryslân intends to initiate. We also used these insights to give our client advice on possible new angles for argumentation in a prospective subsidy application, as well as for a toolkit where we summarize what the next steps should be and the relevant resources for these steps. Having seen the initiatives that are already there, we discovered two possible approaches for a new angle. For one, one could emphasize the novel way of reporting by combining two methods of engaged journalism: This way of reporting would have great cognitive effects on the audience and could give a precedent for a mediating role of journalism. On the other hand, one could argue that civic agriculture has an engaging effect on the community that spills over into other areas of communal life, e.g. communal politics.
| | |
| --- | --- |
| Last modified: | 21 February 2022 4.43 p.m. |