Op zoek naar sporen van het "Tesinger Cloester"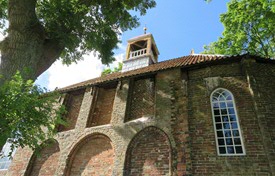 Wie Middeleeuws Groningen een beetje kent, weet dat er in de Ommelanden ruim 30 kloosters stonden. Zo ook in het dorp Thesinge, vlakbij Ten Boer. Bekend is dat daar bedrijvige nonnen liturgische meesterwerken afleverden en er een indrukwekkend waterafvoersysteem op nahielden. Maar waar stonden de verschillende kloostergebouwen precies? En wat voor betekenis had het klooster in het (religieuze) landschap? Archeologiestudenten van de Wetenschapswinkel Taal, Cultuur en Communicatie doen in opdracht van de Historische Commissie Thesinge onderzoek naar de ligging van het klooster in het historische en religieuze landschap.
Geofysisch onderzoek
De situatie in Thesinge is bijzonder, omdat het een van de vier plekken in de provincie Groningen is waar nog een deel van de kloostergebouwen bewaard is gebleven (de verkleinde kloosterkerk). Bij eerder archeologisch onderzoek bleek dat er veel sporen in de grond aanwezig zijn. Inmiddels zijn de archeologiestudenten in bezit van een handgemaakte weerstandsmeter, die ook bij geofysisch onderzoek naar het klooster in Rottum gebruikt is. Geofysisch onderzoek verstoort het monumentale landschap niet en is daarom een duurzame en goedkope vorm van archeologisch veldwerk.
Eerste metingen
De eerste metingen in Thesinge zijn inmiddels uitgevoerd. Studente archeologie, Margreet Wieske, heeft samen met een groep collega-archeologen de eerste geofysische metingen gedaan. De resultaten van dit onderzoek zijn binnen en worden nu geanalyseerd. Vinden we dan toch die kloosterzegel, die in 1581 in een molshoop is verstopt?
Uitbreiden
De Wetenschapswinkel hoopt nog de projectgroep te kunnen uitbreiden met een geschiedenisstudent, die met name onderzoekt hoe de kloosters in Groningen met elkaar in contact stonden. Ben jij een BA3- of MA-student geschiedenis en heb je een bovengemiddelde interesse in de (late) Middeleeuwen? Bekijk dan onze projectpagina met meer informatie of neem meteen contact op met Saskia Visser, coördinator van de Wetenschapswinkel Taal, Cultuur en Communicatie.
| | |
| --- | --- |
| Laatst gewijzigd: | 05 april 2019 12:10 |