Jonathan Franzen: Vrijheid
(Prometheus, 2010)
Spreker: prof.dr. Doeko Bosscher
Plaats: Academiegebouw (Offerhauszaal), Broerstraat 5, Groningen
Datum: 24 november 2011, 20.00 - 22.00 uur
Toegang: vrij, aanmelding niet verplicht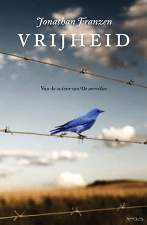 Over de lezing
Jonathan Franzen is niet alleen een schrijver van boeken, hij is ook een actieve deelnemer aan het debat over de roeping van de schrijver, over het nut van lezen en over de staat van de literatuur.
Dit heeft hem, zoals dat gaat, controversieel gemaakt. Want wie klaagt over het feit dat het heden te dage voor echte schrijvers moeilijk is "beroemd" te worden, in een wereld die geobsedeerd is door de vluchtige roem die via andere media wordt gecreëerd, krijgt natuurlijk het verwijt dat hij "elitair" is.
Elitair is hij, denk ik, niet. Franzen heeft trouwens op allerlei manieren zijn afkeer van "elitaire" literatuur betuigd. Met moeilijke literatuur bedoelt hij vooral hermetische literatuur uit de "canon", zoals Ulysses van James Joyce, volgens hem een onleesbaar boek dat juist doordat het zo opgehemeld wordt lezers afstoot. Immers, een potentieel lezerspubliek dat krijgt ingewreven dat het eerst Ulysses moet lezen voordat het als lezerspubliek serieus genomen wordt, jaag je weg uit letterenland. Men zal aan het lezen van dat onleesbare werk beginnen, het boek ontmoedigd na tien pagina's opzijleggen, en concluderen dat men kennelijk voor gebruik van andere media dan "het boek" in de wieg is gelegd. Waarna dit publiek nooit meer een boek inkijkt.
Vrijheid een elitair boek noemen mag je logischerwijs alleen als je vindt dat Patty met haar liefde voor de beste vriend van haar man, een liefde waar ze dus eigenlijk niets mee kan, verwikkeld is in een elitair probleem. Dat lijkt me enorme onzin. Ook al gaat het boek over mensen die niet gekweld worden door grote geldzorgen of door andere sores die u en ik misschien wel ontmoeten (in een dagelijkse strijd om het werk gedaan en het eten gekookt te krijgen), behandelt het geen typisch elitaire thema's. In tegendeel, zou ik zeggen. Het boek gaat over zeer basale dingen, waar ieder mens mee te maken krijgt. In een wereld die van vrijheid aan elkaar hangt, maar waar de een zijn vrijheid de onvrijheid van de ander dreigt te worden, en waar het woord "vrijheid" als het uit de mond van bepaalde politici komt veel argwaan wekt, moet een mens gewichtige keuzes maken. Welk kompas heb je daarbij tot je beschikking? Ik denk dat Franzen vooral zijn best heeft gedaan ons daarover uitsluitsel te geven.
Is Vrijheid een goed boek? Dat is natuurlijk een kwestie van smaak. Franzen speelt – zoals elke auteur van een roman? – een spel met de lezer. Vind je dat hij dat goed doet, dan zul je zijn boek goed vinden. Of wordt het boek door u, als lezer, vooral beoordeeld op het intrigerend gehalte van het vertelde verhaal? En vindt u het spel dat met u gespeeld wordt helemaal niet interessant, sluit u zich ervoor af, en lukt het Franzen daardoor ook niet het spel met u te spelen? Schrijvers en lezers vormen een dynamisch geheel van aantrekking en afstoting. Op dit aspect van lezen en gelezen worden zal ik in mijn voordracht ook ingaan. Misschien is het belangrijker om een goede lezer te zijn dan een goede schrijver en kan een minder goed boek met goede lezers hetzelfde bereiken als een goed boek met minder goede lezers.
| | |
| --- | --- |
| Laatst gewijzigd: | 16 december 2019 11:44 |