Over Spraakmakende Boeken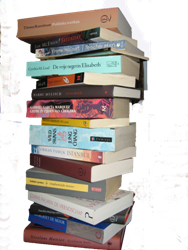 Spraakmakende Boeken is een jaarlijkse reeks van zeven lezingen over literatuur voor een breed publiek. Op zeven vaste avonden wordt een literair werk besproken dat op het moment sterk in de belangstelling staat. Vooraanstaande specialisten die veelal verbonden zijn aan de Faculteit der Letteren van de Rijksuniversiteit Groningen, verzorgen deze lezingen. Spraakmakende Boeken bestond in 2019 25 jaar!
Ook dit seizoen hebben we nog te maken met beperkingen vanwege de corona-crisis. We zullen er steeds voor zorgen dat iedereen die dat wil de lezingen veilig kan volgen: in de zaal wanneer het mag (met aanmelding) en anders via een opname. U zult de lezing via deze website kunnen bekijken, ca. een week via de opname. Bij het programma 2021-2022 vindt u een link naar de opnames.
Voor wie?
De serie richt zich op geïnteresseerde lezers: van deelnemers aan leeskringen tot verstokte alleen-lezers, van scholieren-die-voor-hun-lijst-lezen tot ouderen-die-weer-tijd-hebben. Bij de titelkeuze wordt overlegd met de Stichting Literatuurclubs Drenthe. (Voor meer informatie over de SLD: http://www.literatuurclubsdrenthe.nl/) De toegang is voor iedereen gratis.
Wanneer?
De lezingen vinden plaats op verschillende donderdagen van 19.45 - 21.30 uur in het Academiegebouw in Groningen (zie locatie) en worden op woensdagavond herhaald in de Centrale Bibliotheek Leeuwarden.
Opzet
De kern van de voordrachten bestaat uit een interpretatie van het betreffende werk; verder wordt er aandacht geschonken aan de schrijver en zijn of haar oeuvre, aan de plaats van dat oeuvre in de literatuur van het betreffende taalgebied en aan de ontvangst van het werk.
De opzet is zodanig, dat zowel personen die het betreffende werk hebben gelezen, als ook anderen de besprekingen kunnen volgen. De lengte van de lezingen is ongeveer twee maal drie kwartier, waarbij in de laatste helft gelegenheid zal zijn voor discussie.
Contact
Heeft u vragen of suggesties? Neem dan contact op met Saskia Visser.
| | |
| --- | --- |
| Laatst gewijzigd: | 19 augustus 2021 09:33 |