SEA ASEAN news 2019-2020
December 22, 2020
On December 22, the Director of SEA ASEAN, Prof. Ronald Holzhacker delivered a key-note address to the Urban Research Forum (URF) webinar titled 'Regional Development Corridors: Urban-Rural Linkages in Indonesia.' Scholars from UGM and ITB also presented key-notes, joined by Indonesian Minister of Transport, Mr. Ir. Budi Karya Sumadi.
The title of Prof. Holzhacker's presentation was 'Sustainable Corridor Development in Indonesia: Broadening from Economic Integration to the Global Goals 2030' based on joint research and close consultation with Prof. Bobi Setiawan, UGM. The presentation can be found
here
. The poster can be found
here
. More than 600 participants registered for the webinar.
December 10, 2020 - Cum Laude dissertation and defense Isti Hidayati
SEA ASEAN is very pleased to congratulate Ms. Isti Hidayati, for her successful Phd dissertation and defense on the morning of December 10 in the historical Aula of the University of Groningen. She was awarded the highest distinction given for a PhD at the university,
PhD cum laude. The title of her dissertation is:

Understanding mobility inequality:
A socio-spatial approach
to analyse transport and land use
in Southeast Asian metropolitan cities
(Cases of Jakarta and Kuala Lumpur)

Her promoters and supervisors for the PhD were Prof. Claudia Yamu, Prof. Ronald Holzhacker, and Dr. Wendy Tan, who warmly congratulated her successful defense.
Isti has now returned to her position at Gadjah Mada University, Indonesia.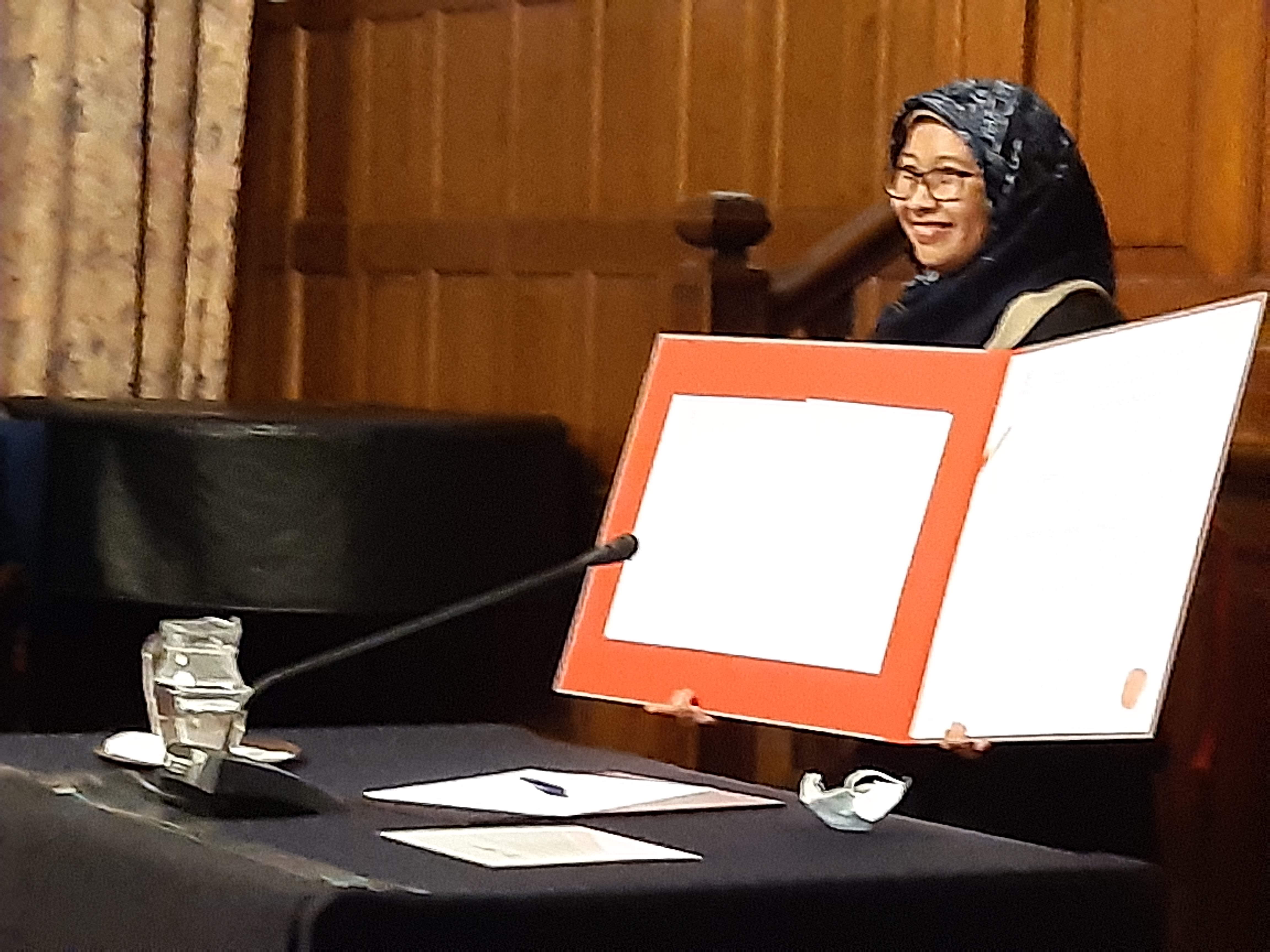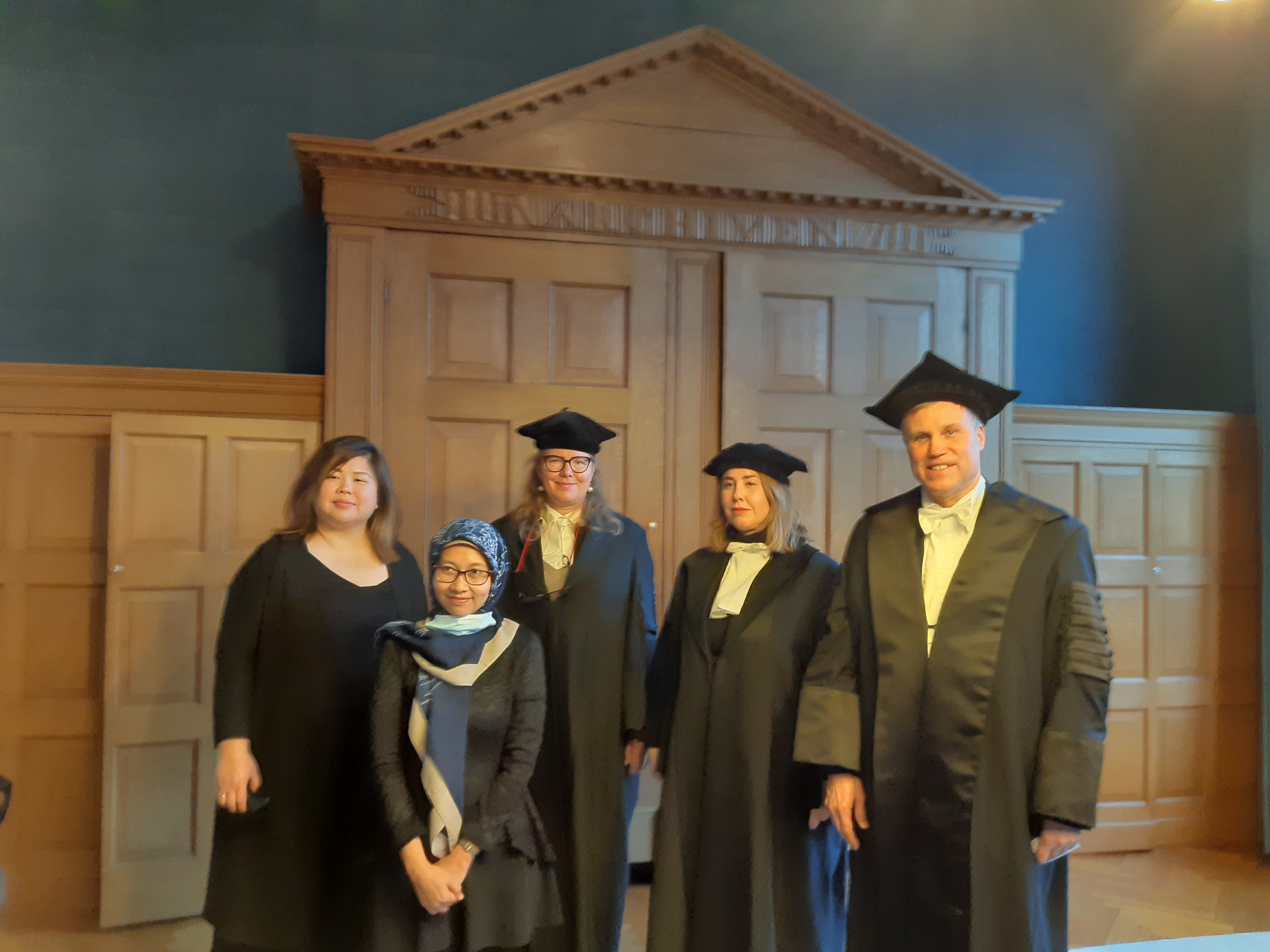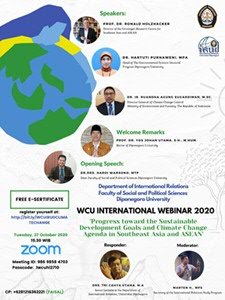 October 27, 2020
SEA ASEAN and its director participated in a webinar with students and faculty from Diponegoro University in Semarang, Indonesia. Some of the other speakers were the head of the Environmental Science PhD program at the university, and the Director General of Climate Change Control, Ministry of the Environment and Forestry, Indonesia. There were 275 on-line participants for the on-line event. Prof. Holzhacker discussed the search for critical synergies between the sustainable development goals and climate change in Southeast Asia.
October 2020: European Research Days 'How to Prepare a Good Phd Research Proposal' for High Quality, Innovative Research with Social Impact
The European Union in cooperation with EURAXESS organized a series of webinars for 'European Research Days' in October 2020. The session highlighting study opportunities between Indonesia and The Netherlands, was the best attended live seminar in the series, and also is available for later viewing. The session was organized by Peter van Tuigl, Director of Nuffic/Neso Indonesia and brought together a number of scholars from across the Netherlands and Indonesia.
The director of SEA ASEAN, Prof. Ronald Holzhacker delivered a presentation on 'How to Prepare a Good PhD Research Proposal.'
See the EU brochure and the powerpoint attached for additional information.
October 2020: EU BRECIL Project: Increasing social science research capacity in Southeast Asia
The SEA ASEAN research centre and its director, Prof. Ronald Holzhacker, are involved in the EU project 'BRECIL' focused on improving social science research at leading universities in Malaysia and Laos. On October 16, 2020 the team participated in an EU Research Webinar for this project, focused on effective research governance to increase the quality and social impact of social science research in Southeast Asia. Prof. Holzhacker delivered a presentation and powerpoint focused on 4 key themes for effective research governance at universities.
Central vs Decentralized research governance
Top down versus bottom up, role of central administration vs. faculties/departments.
Talent development
How to assist individual talented researchers who conduct research
Quantitative vs Qualitative governance
Around the world we see a lot of attention for quantitative research governance, often meaning simply counting articles. We also focus on more qualitative aspects of research governance.
Societal impact
Social science research may have a great impact on policymaking, stakeholders, attention to the most vulnerable.
Download more information about the BRECIL project and the powerpoint or visit https://aei.um.edu.my/erasmusdays-webinar-on-brecil#
November 1, 2019
Diani Indah Rachmitasari, SEA ASEAN PhD candidate, conducts research about thepowers and recommendations of the Indonesian Ombudsman's in conducting systematic reviews, specifically with regard to supporting public services for people with disabilities in Indonesia. She recently made a very well-received presentation at the Nationale Ombudsman of the Netherlands conference in the Hague, 1 November 2019, where she shared best practices from the Indonesian Ombudsman's activities related to compulsory recommendations from systematic reviews in reducing maladministration and reforming public services.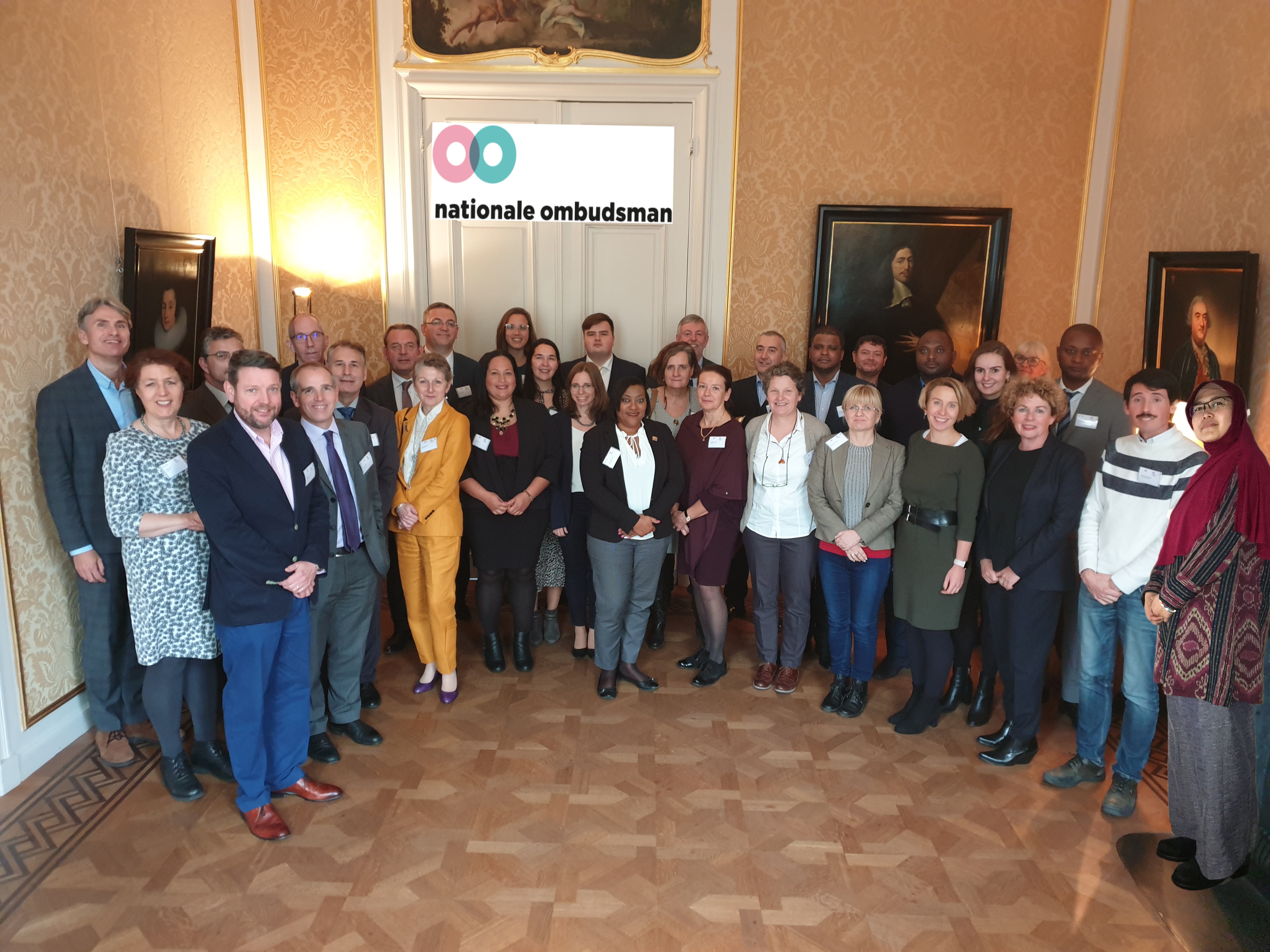 October 21, 2019
Opening today of the EU BRECIL program on 'Increasing social science research capacity' in Malaysia and Laos, with 35 scholars and administrators. Here the opening address by Prof. Oscar Couwenberg, Dean of the Faculty of Spatial Sciences. You can find the programme and more background information on BRECIL
here
.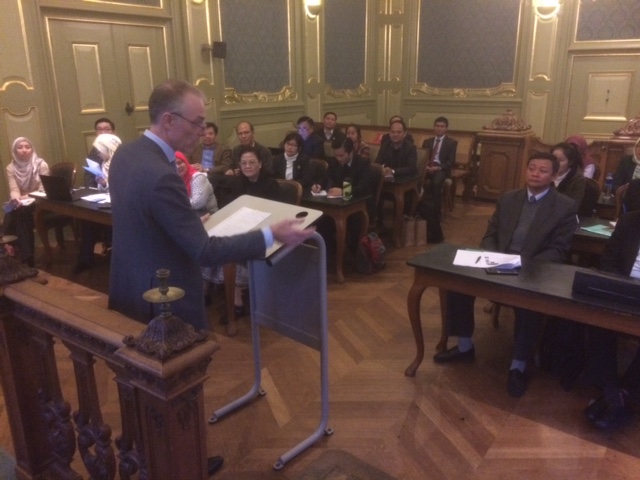 October 17, 2019
Research Day in the Department of Spatial Sciences and Environment

Ron Holzhacker from SEA ASEAN helped organize with colleagues Stefan Verweij and Emma Puerari our annual Research Day for the Department. We christened it the 'Crack of Thunder' Research day, with a Lightning Round of introductions, a Thunder Round of qualitative cluster analysis to see what we share in common in terms of Theory, Methods, and Empirics, then a Magnetic Round where we explored our differences to see if opposites attract in our approaches. We closed with a Sparks Round to share our joys and intrinsic motivations in doing research, individually and with our colleagues as part of a team.
In the photos below, our department chair Prof. Jos Aarts is seen introducing the day, and later Ward Rauws was discussing the different dimensions of the Methods we typically use across the department. Later Terry van Dijk, Emma Puerari and Ron Holzhacker were seen seated in a circle on the floor, exploring ways in which research related to citizen involvement, preferences, and action can be presented to city officials, urban planners and designers, to really make a difference in the built environment and the livability of cities.
This discussion was helpful to the EU innovative training network proposal currently being prepared by Ron Holzhacker, Terry van Dijk, and Ina Horlings in the department, looking at climate mitigation, adaptation and the Sustainable Development Goals, implementation by cities across Southeast Asia. Finding ways to bridge between citizens and policymakers, in cities faced by climate change and the need to consider measures for climate mitigation and adaptation, is critical to protecting the most vulnerable and maintaining the liveability of cities.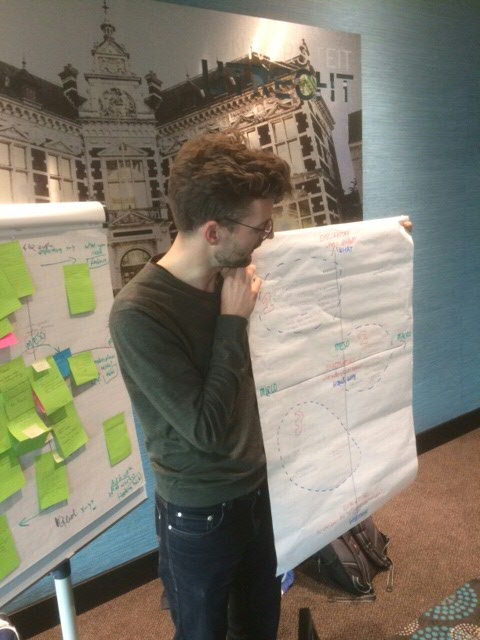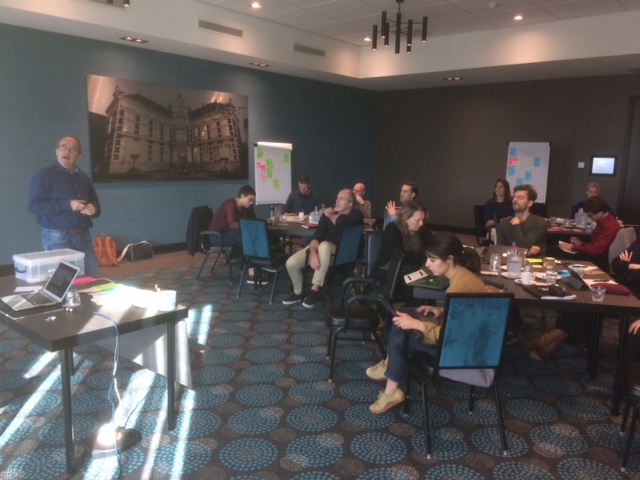 October 16, 2019
Prof. Ronald Holzhacker engaged and presenting and discussing with diplomats from the Foreign Ministries of countries across Southeast Asia, as well as those representing ASEAN. He spoke about the Sustainable Development Goals, and ways to not only move from the Global Goals to national and regional plans of ASEAN, but also down to the local level for implementation by cities across Southeast Asia. The event was part of a two week course offered by the Clingendael Academy in the Hague called 'Diplomacy and Regional Cooperation for ASEAN Countries and ASEAN Secretariat.'
October 10 Annual SEA ASEAN conference.
The theme of this year's conference was 'Governance for Sustainable Development in Southeast Asia' and featured a key-note address by the Thai Ambassador to the Netherlands, and scholar Dr. Andreas Ufen from the GIGI Institute of Asian Studies and the University of Hamburg. Ten PhD candidates from Thailand, Vietnam, and Indonesia from our SEA ASEAN centre also presented, organized into two sessions, the first on comparative research and regional ASEAN studies, and the second on national and sub-national research with implications for governance, development, and the realization of the SDGs.
I wish to draw your attention to the upcoming fall conference October 10-11 of our Southeast Asia Centre SEA ASEAN, titled 'Governance for Sustainable Development in Southeast Asia.'
Our PhD candidates from the region, and invited speakers from Thailand, the GIGA Center of Asia Studies, Hamburg, and the University of Groningen will be participating. The political key-note will be at 16.00 at the Old Court Room, Oude Boteringestraat 38 by the Ambassador of Thailand. You can find the programme
here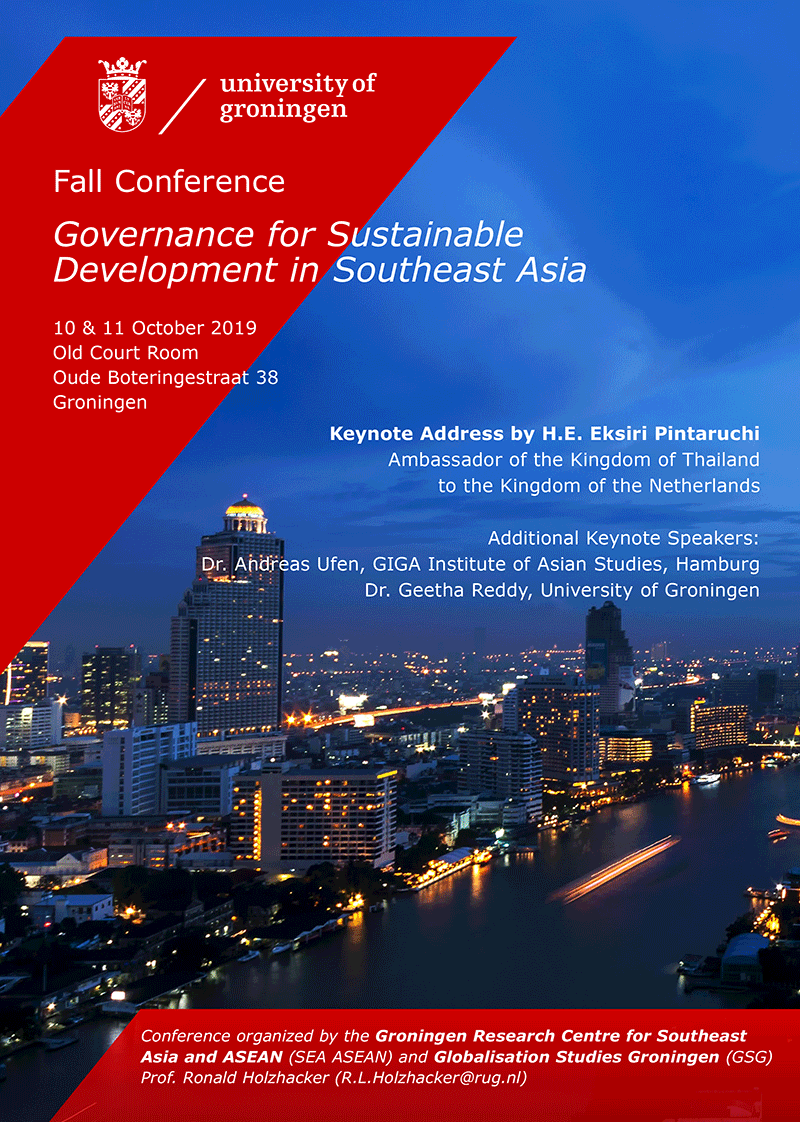 26 September 2019
Prayoga Permana, a Ph.D Candidate in International Political Economy at the University of Groningen represented SEA-ASEAN as a resource person in the seminar on "the ASEAN Outlook on the Indo-Pacific: Potentials of the Partnership for the Netherlands and the EU". Prayoga set the scene by explaining the current challenges of ASEAN Open Skies implementation and the importance of accelerating regulatory convergence among the ASEAN member states while negotiating the ASEAN-EU Open Skies. The Seminar was held at the Indonesian Embassy in the Hague to discuss possible way forward of future cooperation between ASEAN countries, the Netherlands and the EU. Over 40 diplomatic officers from Asia-Pacific and the Netherlands have attended this event.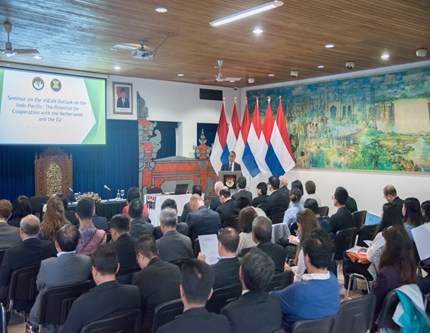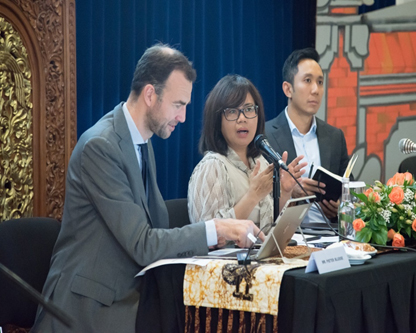 September 16, 2019
Our SEA ASEAN esteemed PhD candidate from Thailand, Naim Laeni, presented a poster at a special event today of the Global Center on Adaptation (GCA) at the University of Groningen. The event was attended by Minister van Nieuwenhuizen, Dutch Minister of Infrastructure and Water Management. He was able to make an oral pitch of his poster to her, titled
'Institutional Design for the Transition to Flood Resilience in Developing Countries.'
Following this special event with the Minister, the Dean of Spatial Sciences, Prof. Oscar Couwenberg and the Director of SEA ASEAN, Prof. Ronald Holzhacker, had a meeting with the CEO of the Global Center on Adaptation, Prof. Patrick Verkooijen, concerning collaborative research related to synergies between climate adaptation and implementation of the Sustainable Development Goals on cities in Southeast Asia.
July 18, 2019
SEA ASEAN PhD candidates from Indonesia, Thailand, and Vietnam were invited on a pleasant summer Thursday afternoon, to enjoy a cool refreshment with coffee and cake with the University of Groningen President Jouke de Vries. The President inquired about their research, their upcoming publication plans, and whether they were enjoying their summer in the city and the surrounding countryside. After the reception in his office, he invited us all to the university garden, for a bit more of a friendly chat and a photo shoot opportunity under the big tree. We were pleased later to see the Twitter account updates by the President, as well as the PhD candidates, with the photo.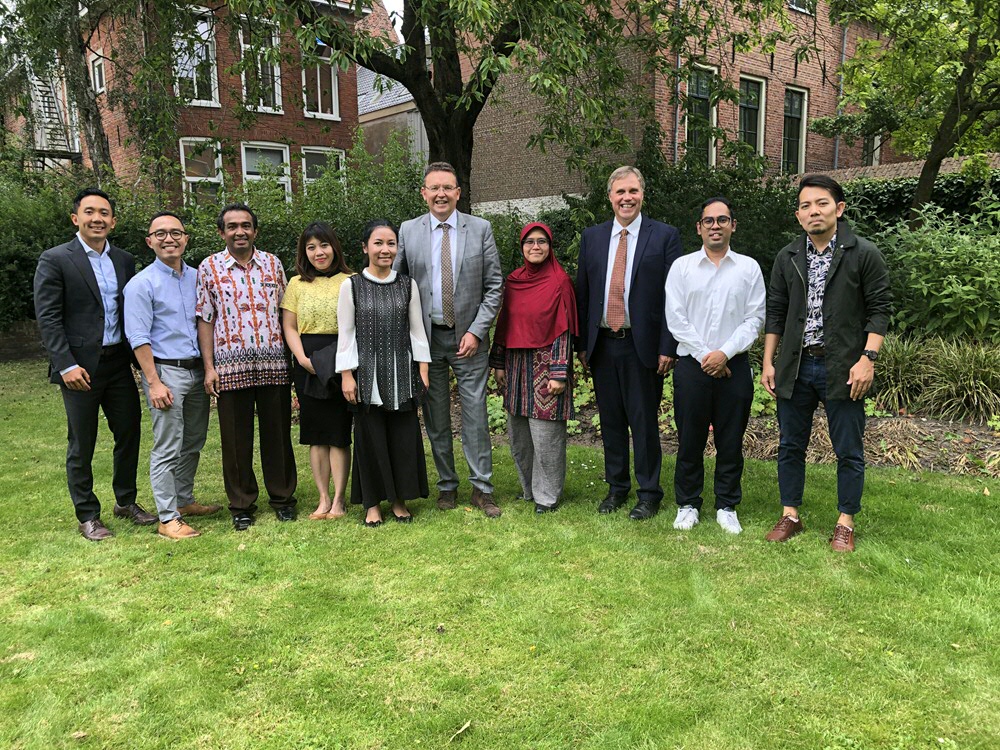 January 24, 2019
Many of the SEA ASEAN team were present today for the PhD defense of Kuswanto. He did a brilliant job of defending his dissertation 'Inward Foreign Investment and Decentralizated Governance System in Indonesia.' Here Kuswanto being congratulated by his promoters, Prof. Herman Hoen and Prof. Ronald Holzhacker. Kuswanto will soon return to his position in Jakarta, with the Home Ministry of Indonesia. Congratulations!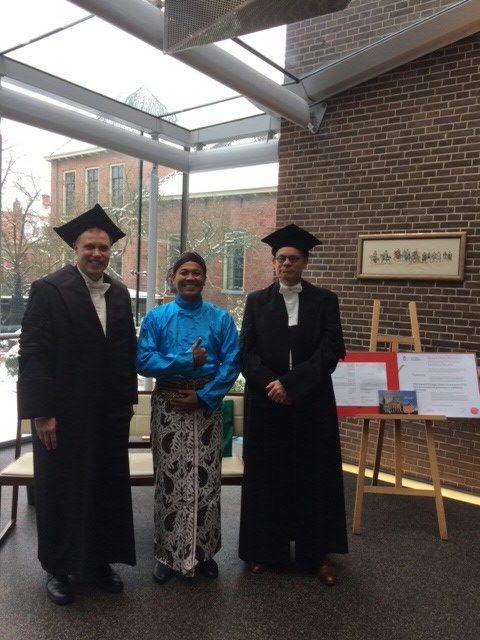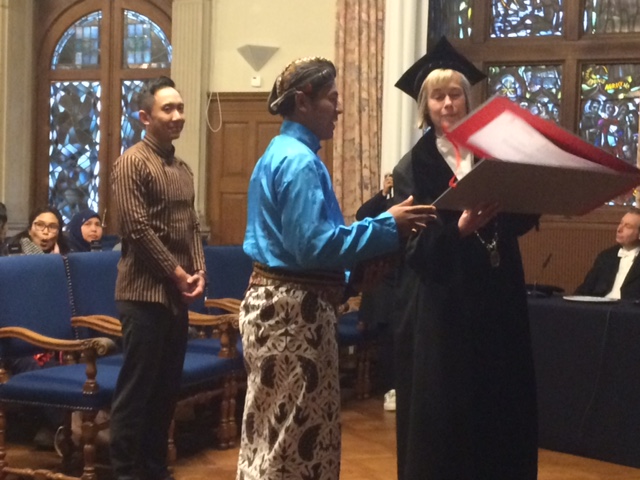 January 13-15

The Director of SEA ASEAN, Prof. Ronald Holzhacker, had a busy week visiting and lecturing at the University of Washington, Seattle. He first met with Prof. Jan Whittington, one of our long time collaborators on a student exchange program between Urban Planning in Washington and Spatial Sciences in Groningen. She also has been recently engaged with the World Bank and Indonesia. Ron then met Prof. Scott Fritzen from the Evans School of Public Policy & Government, who is affiliated with Washington's Southeast Asia Center, Jackson School of International Studies, and has long term experience in China and SE Asia. Finally, Ron met Prof. Celia Lowe, director of the SE Asia Center, and delivered a lecture on the sustainable development goals and SE Asia. This event also served as the US book launch of our new book with Brill publishing, launched in Brussels at the end of October and Jakarta in November.
| | |
| --- | --- |
| Last modified: | 09 December 2022 11.04 a.m. |