Groningen Research Centre for Southeast Asia and ASEAN (SEA ASEAN)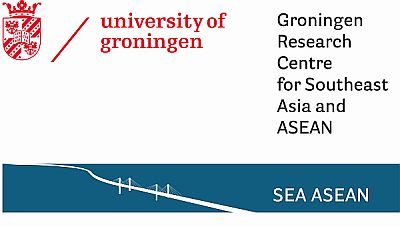 Interdisciplinary
The aim of the SEA-ASEAN centre is to further inter-disciplinary research on contemporary Southeast Asia and ASEAN.
Highly Networked
We build on the successful framework of inter-faculty cooperation within Globalization Studies Groningen (GSG) and will serve side by side with our sister organization the Centre for East Asian Studies Groningen (CEASG) in the broad study of Asia.
Quality Research
We aim to bridge high quality scholarly research, with policy relevance and a concern for societal outcomes, in the study of the nations and societies of Southeast Asia and ASEAN as a regional actor.
Focus
Middle-Income and Transition. A special focus is placed on middle-income developing countries in the region with a democratic tradition - Indonesia, Malaysia, Philippines and Thailand - as well as countries in economic and political transition, especially Vietnam and Myanmar.
---
January 24, 2019
Many of the SEA ASEAN team were present today for the PhD defense of Kuswanto. He did a brilliant job of defending his dissertation 'Inward Foreign Investment and Decentralizated Governance System in Indonesia.' Here Kuswanto being congratulated by his promoters, Prof. Herman Hoen and Prof. Ronald Holzhacker. Kuswanto will soon return to his position in Jakarta, with the Home Ministry of Indonesia. Congratulations!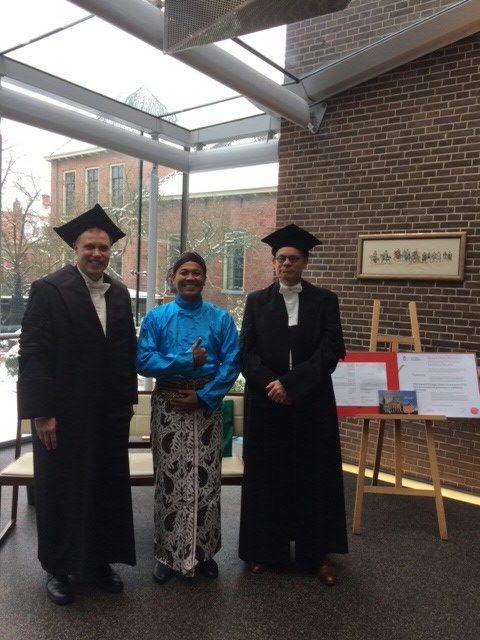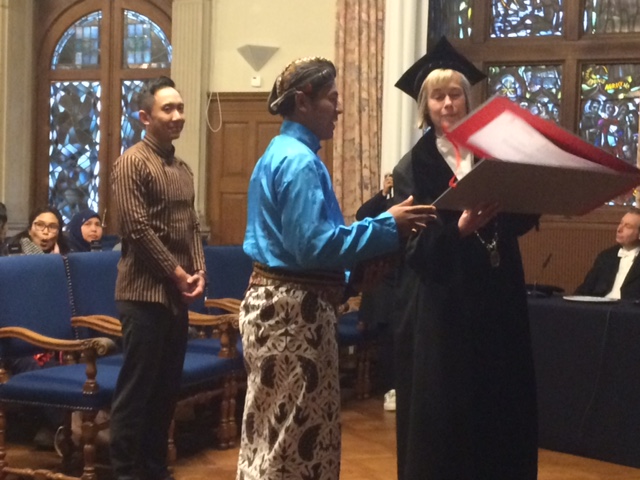 January 13-15

The Director of SEA ASEAN, Prof. Ronald Holzhacker, had a busy week visting and lecturing at the University of Washington, Seattle. He first met with Prof. Jan Whittington, one of our long time collaborators on a student exchange program between Urban Planning in Washington and Spatial Sciences in Groningen. She also has been recently engaged with the World Bank and Indonesia. Ron then met Prof. Scott Fritzen from the Evans School of Public Policy & Government, who is affiliated with Washington's Southeast Asia Center, Jackson School of International Studies, and has long term experience in China and SE Asia. Finally, Ron met Prof. Celia Lowe, director of the SE Asia Center, and delivered a lecture on the sustainable development goals and SE Asia. This event also served as the US book launch of our new book with Brill publishing, launched in Brussels at the end of October and Jakarta in November.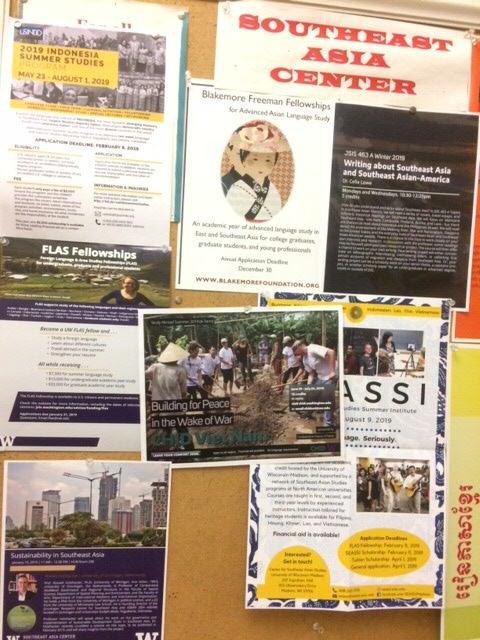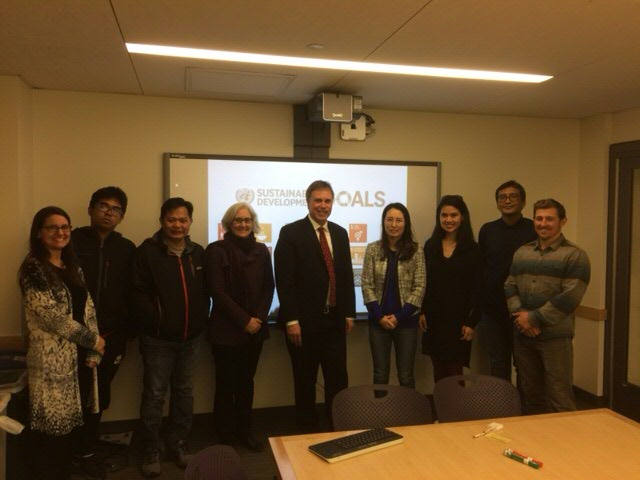 November 26, 2018
Wonderful visit by Gadjah Mada University, School of Postgraduate Tourism Studies, including Dr. Adji Kusworo, alumni of our Spatial Planning department. The delegation from UGM was joined by the Indonesia Ministry of Tourism, including Mr. Cecep Rukendi, Head of Bureau. The visit focused on master exchange and tourism research with Cultural Geography, Tourism section, led by Dr. Arie Stoffelen, and a visit by the professors, officials, and accompanying Indonesian students to the Leeuwarden campus. Welcome delegation and meetings included Dean Oscar Couwenberg, Dr. Paul van Steen, and SEA ASEAN director Prof Ronald Holzhacker. Agreement was concluded to accept up to five students each year into a master exchange program between UGM and UG.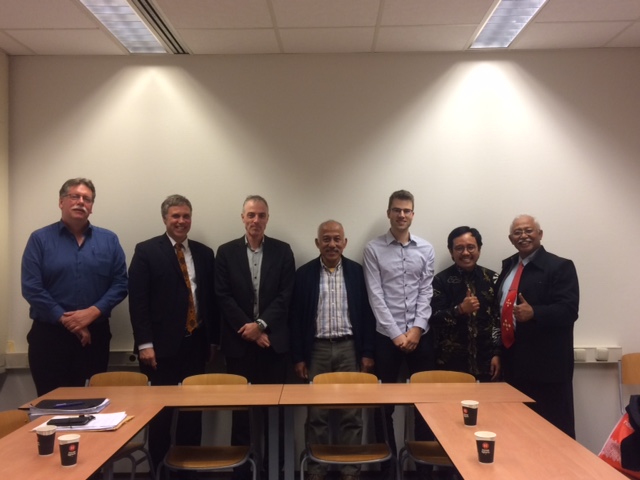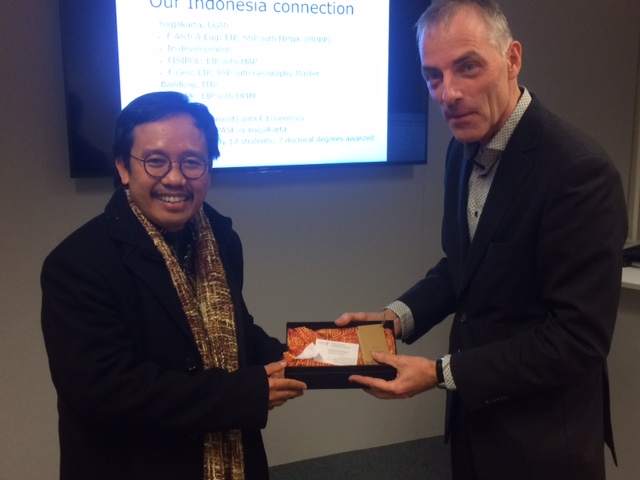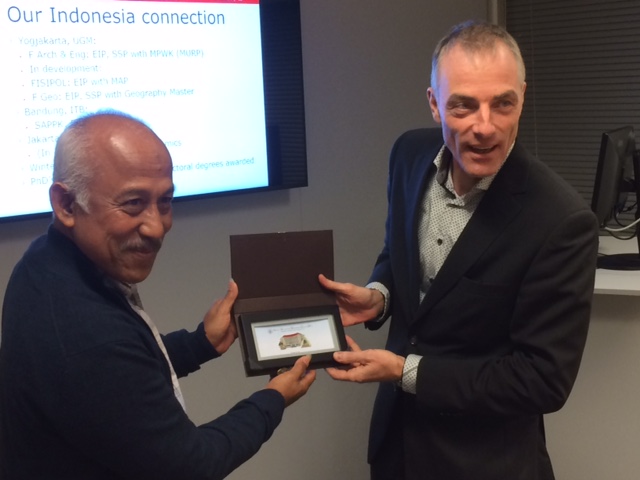 November 9, 2018
Our Groningen alumni office and Patricia Poppendick coordinated with NUFFIC to organize an alumni event with Indonesians graduates from Universities across the Netherlands, including 25 from the University of Groningen. It was wonderful to see so many familiar faces. The event came at the conclusion of the annual student recruitment fare held at the National Library in Jakarta. The academic theme of the evening was 'Sustainable Communities for Circular Economy.' As the Indonesian Minister for the Environment, Ms. Siti Nurbaya Baker entered the event to deliver a key note address, SEA ASEAN director Ronald Holzhacker introduced her to the alumni from the University of Groningen who gave her a warm welcome.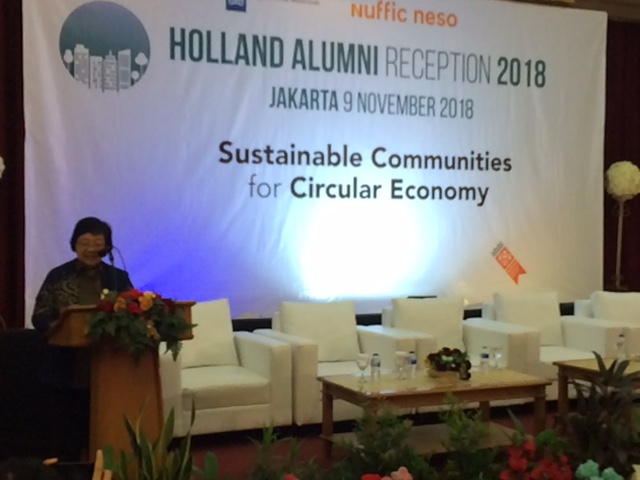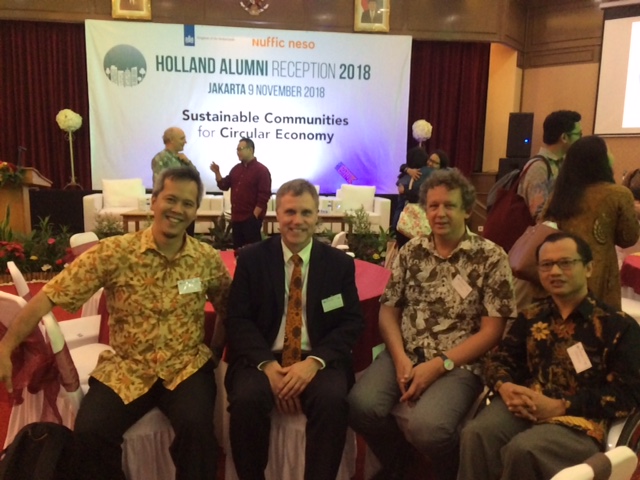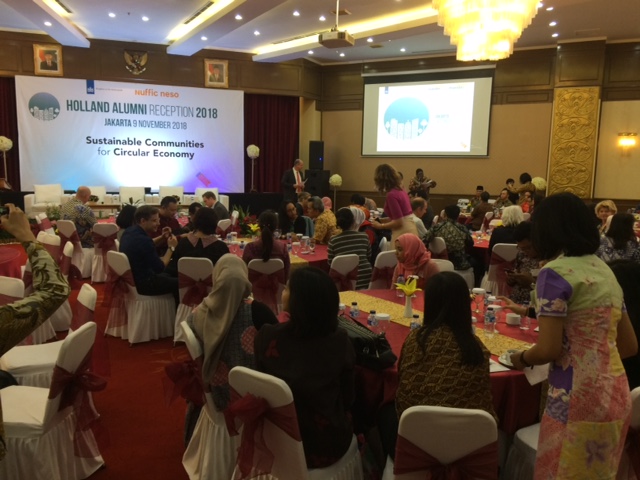 November 9, 2018
SEA ASEAN director Ronald Holzhacker visited the NUFFIC student fair held at the National Library of Indonesia. Here with Ponti Caroline from the UG Jakarta recruitment office, we were discussing the opportunities for a prospective bachelor student to study in the Planning department at the Faculty of Spatial Sciences. The student's mother was very kind to serve as the photographer! Prof. Holzhacker also interviewed two excellent prospects for the PhD, one former master graduate from Groningen from the humanitarian action program (NOHA) now working on behalf of children's rights for UNICEF, and a master graduate from Spatial Sciences currently working for the Indonesian home ministry. Both are interested in conducting research related to the sustainable development goals, looking at the synergies across the various goals, and multi-level governance approaches to implementation.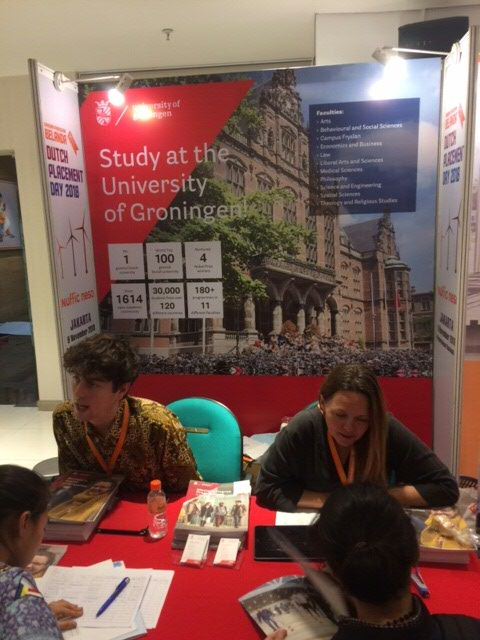 October 30, 2018
​​On 30 October 2018, the Embassy organizes a dinner reception for the participants of the SEA ASEAN Fall Conference 2018 ​​by University of Groningen. The Conference was held from 29 - 31 October 2018 in Brussels as a capital of Europe and was part of the University's effort to bring closer institutions and actors in the context of EU - ASEAN relationship.
October 17, 2018
The University of Groningen honored the (former) Secretary General of the United Nations, Mr. Ban Ki-moon with an honorary Doctorate degree on October 17, 2018. The ceremony in the historic Martini church in Groningen was focused on his contributions toward the Global Goals 2030 and the sustainable development goals. The Director of SEA ASEAN, Prof. Ronald Holzhacker and some of the SEA ASEAN scholars from across Southeast Asia were present to congratulate him on this festive day.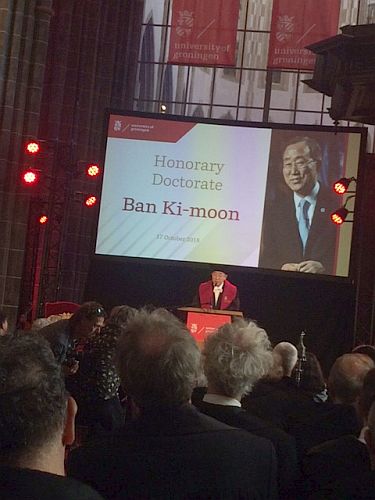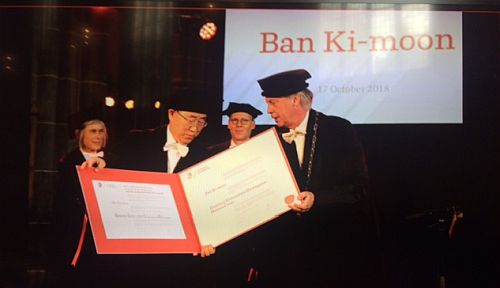 October 19, 2018
Engagement of the UG in the international fulfillment of the Global Goals:
Groningen Research Centre for Southeast Asia and ASEAN organize major conference Challenges of Governance for Innovation, Resilience and Sustainability
---
September 13, 2018
Judge Pangalangan of the International Criminal Court spoke to SEA ASEAN and faculty and students of the Law faculty on September 13, 2018 in the Old Court Room. The Judge's important speach on 'The Rule of Law in Asia' was delivered as part of the SEA ASEAN Distinguised Speaker Series. This was followed by a meeting with the President of the University, Sibrand Poppema, Prof. Aurelia Colombi Ciacchi, PhD candidate Stanati Netipatalachoochote, and SEA ASEAN director Prof. Ronald Holzhacker.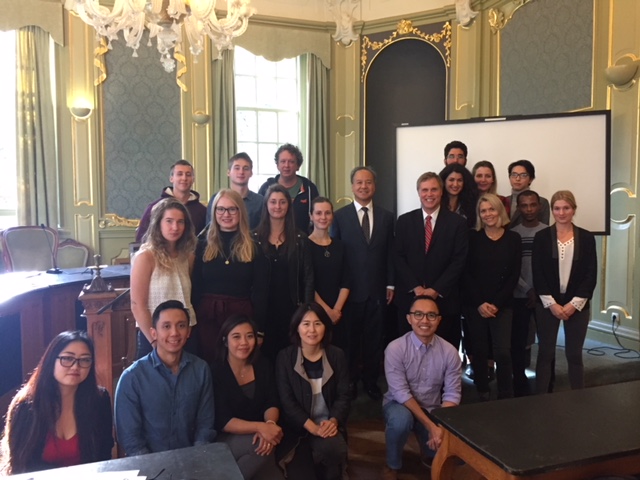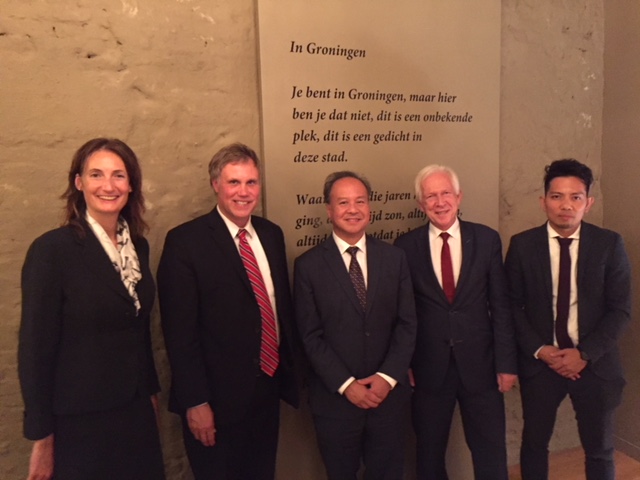 SEA ASEAN Distinguished Lecture Series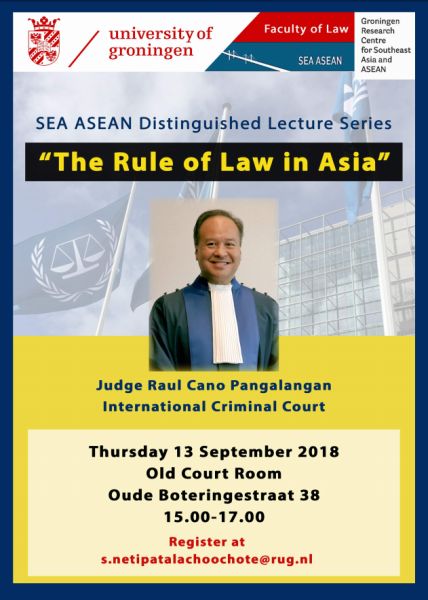 Challenges of Governance for Innovation and Sustainability
Preliminary program for the conference on Challenges of Governance for Innovation and Sustainability, 29th - 31st October 2018: download program
"The conference showcases leading thinkers and policymakers around challenges of governance for innovation, resilience and sustainability. The scope will focus on ASEAN-EU relations and dialogues, exploring the longstanding political and cultural relationship between both regions in light of a sustainable common future. Building upon SEA ASEAN's key mission is to bridge both regions through research, recruitment and social impact, this conference will serve as a platform to engage our partner institutions within the ASEAN and EU region in an open dialogue and serve as the launch platform for SEA ASEAN's upcoming publications."
July 17, 2018
Visit and lecture by Ronald Holzhacker at Kyoto University, Center for Southeast Asian Studies (CSEAS), about the sustainable development goals, with the Director Prof. Yoko Hayami.
For older news, please go to our news archive:
| | |
| --- | --- |
| Last modified: | 04 July 2019 10.02 a.m. |