Gezondheid vs geluk, waar ligt de norm?
| | |
| --- | --- |
| Date: | 12 October 2018 |
| Author: | Sanne Visser |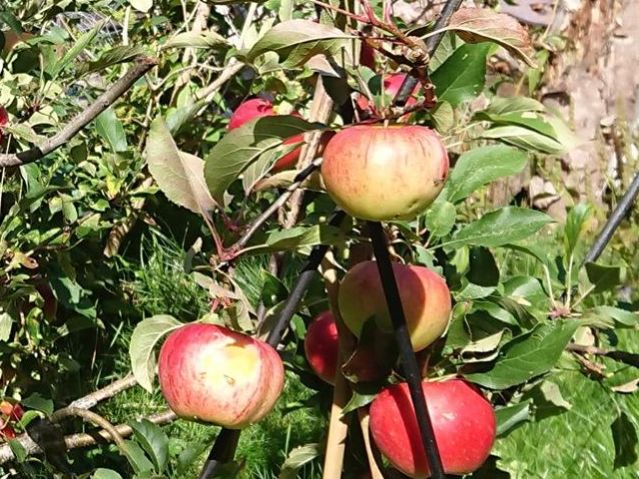 'Weet wat je eet', 'elk pondje gaat door het mondje' en 'doe gezond eet een appel'. Aan adviezen over eten en gezondheid geen gebrek. Het debat over voeding en gezondheid wordt over het algemeen ingegeven door wat acceptabel en verantwoordelijk is en wat niet. Wat is acceptabel en gezond en wanneer 'mag' je daarvan afwijken?
Voor een onderzoek naar voedingskeuzes in Oost-Groningen heb ik me de afgelopen jaren verdiept in de omgeving, setting, normen en waarden rondom eten en overgewicht bij gezinnen in die regio. Niet alleen vragen over eten bleken een belangrijke rol te spelen, maar ook vragen die te maken hadden met de identiteit van de regio. Zoals: waarom worden wij nou weer onder de loep genomen? Wij voldoen niet aan de norm?
Drie generaties van een familie hebben we geïnterviewd in Oost-Groningen. De intergenerationele context, de lokale context en de multidimensionale blik op eten bleken belangrijke aandachtspunten.
Op meerdere manieren kijken naar eten
De boodschap die veel wordt uitgedragen vanuit politiek, gezondheidszorg en samenleving is dat gezond eten goed is voor je lichaam, je gezond en wellicht ook gelukkig maakt. Dat gezond gelukkig maakt lijkt een gegeven, maar of gelukkig ook gezond maakt of gezond is, is een andere vraag. In gesprek met kinderen, ouders en grootouders bleken de afwegingen voor eten veel complexer, en zeker niet alleen gericht op een gezonde uitkomst. Iedere ouder en grootouder kan wellicht iets herkennen in de afwegingen die dagelijks voorafgaand aan en aan de eettafel worden gemaakt. Daarbij bleek geluk, blijdschap en harmonie in het gezin, en vooral van de kinderen, het regelmatig te winnen van de gezondheid van eten.
In het gezin worden afwegingen gemaakt op basis van de waarden die men op dat moment prioriteert en de mogelijkheden die het gezin heeft (geld om eten te kopen, gezondheid van kinderen en ouders, faciliteiten in de omgeving).
Intergenerationele context
Niet voor niets hebben we gesprekken gevoerd met zowel ouders, kinderen als hun grootouders (wanneer zij betrokken waren bij eetsituaties). Ik constateerde net al dat gezondheid en geluk dicht bij elkaar kunnen liggen, maar ook mijlenver uit elkaar wanneer verschillende generaties hun stem laten gelden. Dan gaan meerdere stemmen op om beslissingen te maken over geluk en gezondheid. De autonomie van de verschillende generaties speelt een belangrijke rol in het ontwikkelen van eetpatronen. Waar moeders vaak als leidend worden gezien in het huishouden, blijken de kinderen en vaders vaak impliciet en expliciet veel invloed te hebben op de boodschappen die moeder uit de supermarkt thuisbrengt.
De lokale context
Naast deze afwegingen was er aandacht voor de normen die de gezinnen, specifiek in Oost-Groningen, zelf van belang vonden. Wat werd als acceptabel en normaal gezien? De meeste gezinnen die hun eten beschreven, deden dat in termen als gewoon et'n of flink et'n. De norm is 'gewoon eten', waarin verstopt zit dat mensen hun eigen keuzes willen maken. Deze regionale insteek, waarin gezinnen zich graag identificeren met de traditionele eetpatronen, die gezien worden als 'goed' en 'gezond', zijn ook ingebed in de lokale cultuur, waarin gezinnen aangeven graag gebruik te maken van kennis van voorgaande generaties, die binnen de regio zijn opgegroeid.
Yanna: "We kiezen wat we kennen, dat zijn natuurlijk de aardappels, het vlees en wat groente. Dat vinden ze alle drie het lekkerst. En ook in die volgorde, haha. Die kanten op [zuiden] is meer pasta's, dat soort spul allemaal, dat doen we hier niet. Er wordt weinig buitenlands gegeten. Ik ben er zelf ook niet dol op."
Verder kijken
Uit het onderzoek zien we dat voedingsadviezen te veel gericht zijn op alleen de gezonde uitkomst. Er is meer aandacht nodig voor de complexe werkelijkheid waarin voedingskeuzes worden gemaakt. Wat lokaal past, in het gezin past en binnen hun mogelijkheden past. Er wordt nooit gevraagd: word je gelukkig van de voedingskeuzes die je maakt? Verder kijken dan de norm die er blijkbaar is, is soms meer nodig dan gedacht om de gezinnen en hun identiteit in waarde te laten.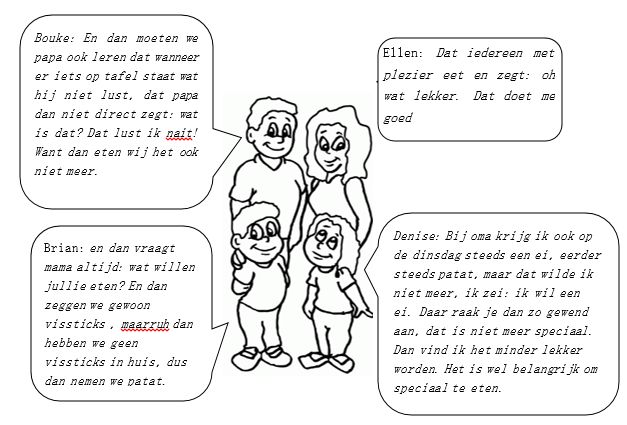 About the author
Sanne Visser
Comments