Planning as futuring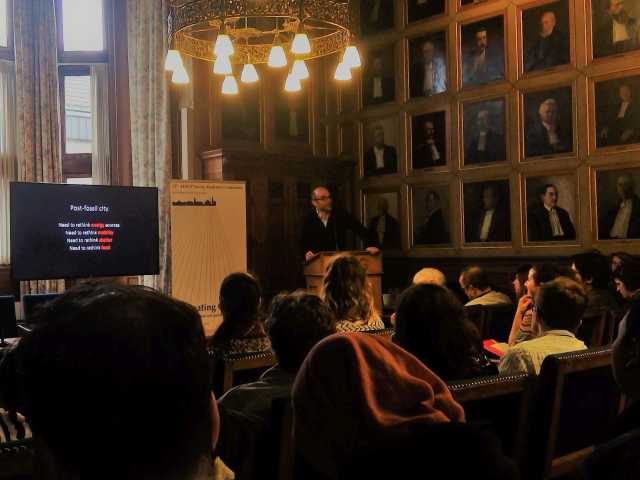 Bringing planning back in: Imagination, Futuring and Democracy
Spatial Planning Lecture & AESOP YA 2018 Conference Keynote by prof. Maarten Hajer
You can be interested in planning, but if you want to know how it works, you should just be at the tops of politics. This is how prof. Maarten Hajer, a prof by a special appointment at Utrecht University, started his speech. Making planning great again, and this was the central point of the keynote, requires looking differently at how planning can ignite our imagination, enhance our capacity to act and keep within democratic processes. Hajer proposes that planning is and should be fundamentally about futuring. Futuring as an activity which facilitates different scenarios over new possible ways of organising in the future. The technique of futuring is about creating fictional expectations. Such expectations can forge a consensus amongst people. Let them see and allow them to imagine how the future will look like. Here, I would say, effective futuring also prompts informal associations, enhanced capacities and shared imaginary that go beyond creating fictional expectations and land practical solutions.
But what do we need to be able to master the art of futuring? "People are persuaded by facts but enticed by perspectives". Perhaps, this was the most photographed slide of the presentation. Simple sentence. Strong statement. In fact, social sciences, and planning in particular, in the past heavily relied on scientific quantification, numbers and complicated statistics to convince society and policymakers that planning matters. We don't need no dry statements and statistics. Words and peaks that go up and down. Without proper narratives, numbers are just numbers, quickly forgotten. Futuring shows how facts and fictions create shared imaginaries, change aspirations and enforce transformation in sustainable urban governance. World expos, biennales and exhibitions are potent tools to show how futuring works. That is where the critical and creative come together to think about and find solutions for the future of our cities. Here, I couldn't agree more that planners, will only but benefit from hanging with illustrator, writers, artist and other creative professionals at large. A very fresh example of futuring, which prof. Hajer mentioned during the keynote is Places of Hope which will explore how we can shape the future of the Netherlands together. You can visit Places of Hope from 4 April to 25 November 2018. The exhibition is part of the Leeuwarden Cultural capital of Europe 2018 activities.
Hajer's inspirational speech critically reminded us that there has been growing disappointment in planning but also that planners themselves are disappointed with their contribution to society, especially when it comes to showing ambitions and perspectives for future development. Good planning is about futuring, articulating various features and visions of the future and thinking about how to organise planning processes democratically. The problem that remains is one of plurality. Futuring and imagining lead to multiple versions of the future and various imaginaries. In times of eroding trust and accountability, where experts are dismissed, and alternative facts deliberately offered, how do we know which prospects are feasible, how do we know which imaginaries are trustworthy and whose interest those futures and imaginaries serve? However, we need to be hopeful. Hopeful for the future and hopeful as researchers. The planning of tomorrow involves careful articulation on the imagery of urban futures and coordinating with policy making and public administration. For those interested in the challenges for urban living and its governance in the future, the UN Environmental Programme report "The Weight of Cities: Resource Requirements of Future Urbanization", co-authored by prof Hajer, might be a good read.
Comments