A sustainable network: 10 years of collaboration with Rijkswaterstaat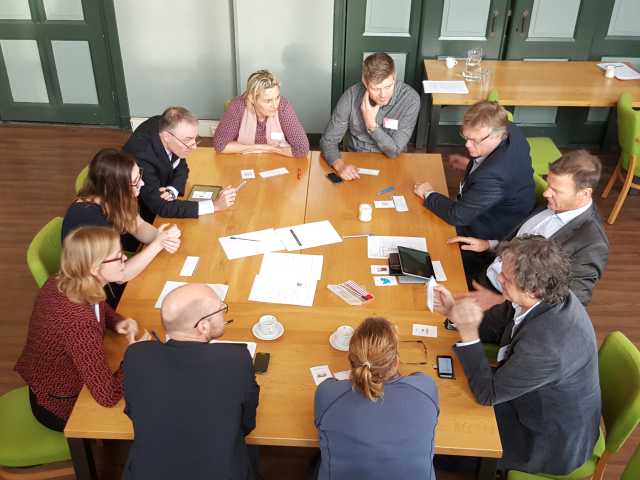 Last Wednesday (November 22, 2017), the Symposium 'Sustainable Networks' (in Dutch: Duurzame Netwerken) was organised by the Department of Spatial Planning & Environment to celebrate the 10 year collaboration between the department and the Rijkswaterstaat agency, part of the Ministry of Infrastructure & the Environment. More than 100 participants from the national government, the northern provinces, municipalities, consultancies, construction companies and our faculty joined to hear more about the output of 10 years of research, as well as to explore together future infrastructure planning challenges. Among the participants, multiple alumni from our faculty participated. Next to a plenary session, two rounds of interactive workshops were organised by researchers from the Department of Spatial Planning & Environment, related for instance to energy, resilience, project management, renewing of infrastructure networks, and public-private partnerships.
Drs. Bas Eenhoorn (representing the Stichting ter bevordering van de Ruimtelijke Wetenschappen) stressed in his opening speech the importance of taking a "spatial angle". For both the Ministry and Rijkswaterstaat, this angle has grown in importance, reflected in terms such as the living environment, sustainability, and integrated transport and land-use approaches. This rise was one of the key reasons to start a collaboration, started by the late professor Henk Voogd and the former head of the Rijkswaterstaat agency Bert Keijts. Jos Arts was appointed in 2007 as honorary professor to bridge the worlds of practice and academia.
As professor Jos Arts discussed in his talk, the collaboration with the University of Groningen could help Rijkswaterstaat to educate potential employees who are familiar with this "spatial angle". Moreover, the collaboration gave rise to fundamental research, in which PhD researchers could reflect more deeply on recent developments in infrastructure planning practice. Examples include the rise of programme management, "area-oriented" forms of infrastructure planning, residents' perceptions of living nearby highways, and public-private partnerships. In addition, project-driven research is executed for teams within Rijkswaterstaat that require knowledge in the short term.
Currently, the original research group of professor Arts and his four PhDs has expanded into a group of about 10 researchers that include postdocs, PhDs, and assistant professors. As the symposium showed, the group is complemented with a large network of practitioners and alumni working either at or commissioned by Rijkswaterstaat. Bas Eenhoorn therefore noted that the 10 year anniversary demonstrated the topicality of the research group's name "sustainable networks": seen not only in the physical sense, but definitively also in its social connotation.