Rethinking Car Dependence: Public Spatial Planning Lecture by Hans Jeekel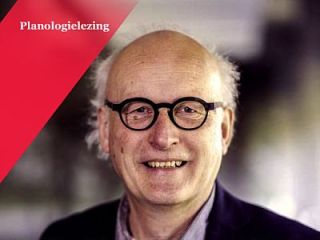 Municipalities that strive for sustainability simultaneously plan highly mono-functional areas that create a high degree of car dependency. In a church (Doopsgezinde Kerk) filled to the brim with students and staff of the Faculty of Spatial Sciences, professor Hans Jeekel of the TU Eindhoven discussed how the way planning has designed and created spaces for years, can no longer be considered sustainable.
Commercial zones along highways that are almost inaccessible by public transport, 'Vinex' neighborhoods which - due to their distance from city centers further- encouraged car dependency, and a countryside in which public transport is subject to ongoing marginalization: the issues Jeekel describes are pressing, especially in the light of discussions on sustainability. Solving such issues requires changing the conventional approach to studying mobility, based on 'predict and provide': predict the traffic demand and facilitate accordingly. New approaches focusing on sustainable and smart mobility and on the "city as a place" are required. But how did we get here in the first place?
According to Jeekel, the rise of car dependency in planning stems from a neo-liberal ideology. Margaret Thatcher once said: "when a man of over 26 is still on the bus, he can consider himself to be a failure." It is the car that fits in a system where everybody is to be happy in their own way, and, again in the words of Thatcher, "there is no such thing as society." It is in this line that accessibility is framed as accessibility: driving from Amsterdam to Rotterdam in 67 minutes instead of the expected 55 means a loss of 12 minutes. Minutes which can be used more economically. But, Jeekel stresses, the realization of more locations along highways results only in more congestion, and as long as cars with 5 or 7 seats still carry on average 1.38 person, we are dealing with a problem of transporting air.
The solutions are clear. Avoid travelling by the most CO2 emitting modes of transport (mainly the car), shift to lower carbon modes (electric car, public transport, bikes), travel with more persons per car and when possible avoid travel altogether. But how are the research centers on planning in the Netherlands contributing to this agenda? According to Jeekel, the East-West axis of planning research stands firm: both in Nijmegen and in Amsterdam sustainable mobility and reducing car dependency are on the agenda.
On the North-South Axis, in Groningen and Utrecht there is room for improvement. Utrecht seems to have lost touch of content, focusing strongly on process. In Groningen, the conceptual level of planning theory in complex societies is less directly related to what can be seen in the field, in the landscape and in cities. Jeekel challenges planners here to work on creating landscapes that produce sustainable mobility. Open the debate on the under-usage of cars, clean up highway locations, introduce 'Mobility as a Service' and institute a right on mobility for all citizens, comparable with rights for health care, education or housing. The old ways, building highway locations and transporting mostly air in single occupant cars, will in some years be considered as stupid as smoking in public places.
Hans Jeekel is Chair of Societal Aspects of Smart Mobility at the Eindhoven University of Technology and also affiliated with Rijkswaterstaat as strategic advisor.